Earbuds are a great way to enjoy your music or podcast, without the bulk of headphones. They are also very convenient and portable to carry with you, making them popular among users who love to listen to music on the go. As there are many option are available on market, it can be very difficult to choose the best pair for you,
To help you make an informed decision, we have crawled the internet for the best earbuds available on user review. We have gone through different factors such as sound quality, calling quality, battery backup, design, comfort and price.
You might be wondering which earbuds will be the best and worthy, don't worry we will walk you through the different earbuds explaining each earbud's features in detail so you can easily choose the best based on your preference.
Things to look for When Buy Earbuds
Comfort
Comfortable Earbuds are the most important thing in the ear. Because you will wear them for a long continuous time. So, they need to provide you with a good comfortable time.
If earbuds are giving you pain in the ear after a short time of use, what is the purpose of switching?
Earbuds should feel comfortable. So consider this point before buying a pair of Earpods.
Connectivity
If you can't wander around without your mobile phone, what is the purpose of BlueTooth, right? As you can get rid of wires you can get rid of keeping the mobile phone in your hand or pocket.
A good Bluetooth range of these ear pods gives you the liberty that you don't need to stay stuck to your mobile phones.
Battery life
You definitely need good battery life ear pods so you can roam without caring about charging them again and again.
You just can't stop a meeting or binge-watching just because of the battery life.
This is one thing you need to care about which was not an issue in wired earphones. We could just use them as long as we liked. We will review the battery life of ear pods as well as the case.
Audio/Call Quality
This is a must-review feature, ear pods' audio quality can't be matched with wired earphones. But there are superb innovations in this field too.
Definitely, as technology is increasing in truly wireless stereos, their qualities are also progressing.
You can find awesome audio and call quality too. Some ear pods do have good audio quality but the calling experience ain't that smooth.
So, you may be buying these pairs for enjoying the gaming/music sessions or wired free calls, just be specific about what you need.
And if you are ready to pay a handsome amount for this tiny cute little thing, you will find good calling and music/gaming experience in one ear pod only.
Control
Some ear pods provide different control on the left and right sides of buds, and I found it pretty interesting. Most of the ear pods have the same kind of control on both sides.
The placing of the controlling buttons is mostly the same, this matters cause if controls are not easy and comfortable, you will not find them good to use.
There are a few ear pods that will respond to just gestures and whoaa!
You don't even need to press the buttons, they have added an attractive way – just swiping and touching will do.
Price
This is a must considerable point when making a buying decision. Our mission is to help you in finding the best wireless earbuds at the best price which can fulfill your wishes and needs.
We have reviewed ear pods on the basis of different budgets. Just go through my detailed chart at the end so you can decide which is the best fit for you.
You can choose wisely as per your choice and needs after reading this detailed review of the best ear pods.
I will give you a YES-NO analysis of every single earbud, which will give you an easy and best decision-making key. Now let's discuss the detailed review of a few selected earbuds:-
JBL C100 TWS
Realme buds air
Lenovo HT10 Pro
Boat AirDops 201
MIVI DuoPods M40
Top 5 Best Earbuds You can buy without thinking twice
1. JBL C100TWS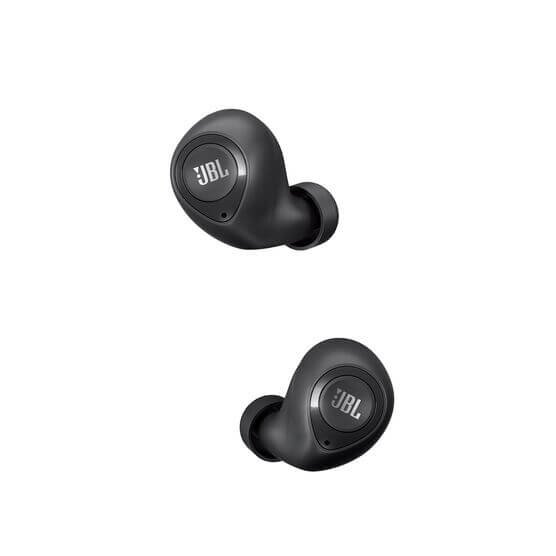 It definitely provides the Signature JBL sound that you just can't have enough of, its awesome sound quality makes you fall in love with your playlist again.
Also, if you are already a JBL lover or not, you will appreciate these truly wireless Earbuds for the sound and audio.
It doesn't come with noise cancellation so some users found it a little troubling for making calls otherwise the sound doesn't lose the brand track.
These Earbuds come with a full in-ear design and are available in only white color. The Earpods give you average battery life -but Just takes only 15 minutes to get up to 1 extra hour of use.
From the second you tune in, your music turns on, you don't need to press any button to turn it on.
And it will get automatically connected to your mobile as you will take them out of the case. Also, you can even use one earbud alone.
The Bluetooth range of this pair is quite good which helps in instant connection and there is no lag while using. Therefore, it can be a great option for the best Earbuds to buy
Things to consider before going for it:
| | |
| --- | --- |
| Best Things | Bad Things |
| In-ear fitting | Feels painful after a Long time use |
| Sound Quality | The call quality (no noise cancellation) |
Unique feature-
Signature JBL sound can't be compared with any other earbuds.
2. Realme buds air
This is within budget and still has so many awesome features.
Although it looks like Apple AirPods, Realme buds air will surprise you with its awesome features.
You will enjoy every single beat that plays in this, you won't skip any beat while using this pair of earbuds.
Realme enhances its Earpods eligibility by adding this feature – it's called "smart in-ear detection", which means if you will remove the Earbuds from your ears music will stop and will continue as you put it back.
As it is a natural gesture when we talk to someone and I have just fallen in love with this feature.
If you are a gaming person there is something special for you too. It provides you with a gaming mode and it's called super latency mode, which will help you enjoy your games more and more.
You can feel every action of yours in your game. Just long-press on both earbuds together and welcome to the gaming music mode. Therefore, it is on our list of the best earbuds to buy.
You can call it Truly Wireless Stereo (TWS) as it gives you wireless charging too, with realme buds air – no more tangling with wire. It comes with a half-in-ear design and is available in three different colors- black, white, and yellow.
Things to consider before going for it:
| | |
| --- | --- |
| Best Things | Bad Things |
| Wireless Charging | Earbuds Battery |
| In-ear detection | Audio Quality (Weak Noise isolation) |
Unique feature-
Smart in-ear detection
A boosted Gaming Mode experience.
3. Lenovo HT10 Pro Earpods – best Earbuds to buy
The imprisoning feature of these amazing earbuds is their EQ Technology. Yes, you read that correctly, this feature was not explored before by brands.
Also, the Lenovo HT10 Pro gives you built-in EQ(equalizer) that allows you to change the EQ mode as per your listing preference.
Press the right earbud three continuous times and the mode will be changed.
Also, the bass quality is good in equalizer mode which enhances the music quality. And if you press the left side earbud three continuous times it will open your voice assistant.
Therefore, it can be a great option for the best earbuds to buy.
This pair of earbuds comes with good battery life and a comfortable all-in-ear design. Auto Sync is also available in this earbud as others, which makes it easy to connect.
It's a truly wireless stereo (TWS) you can use one pair at a time and you can connect another pair to another mobile phone if you want to.
Overall it's a decent product in this price range. It has to offer so many features to you, which aren't available in others. This new entry of earbuds is quite impressive yet needs to explore its market.
Things to consider before going for it:
| | |
| --- | --- |
| Best Things | Bad Things |
| Bass Boost Equalizer Feature | Vocals are not clear in boost mode |
| Earbuds Battery | Weak Noise isolation |
Unique feature-
Mesmerizing design
EQ Technology.
4. Boat AirDopes 201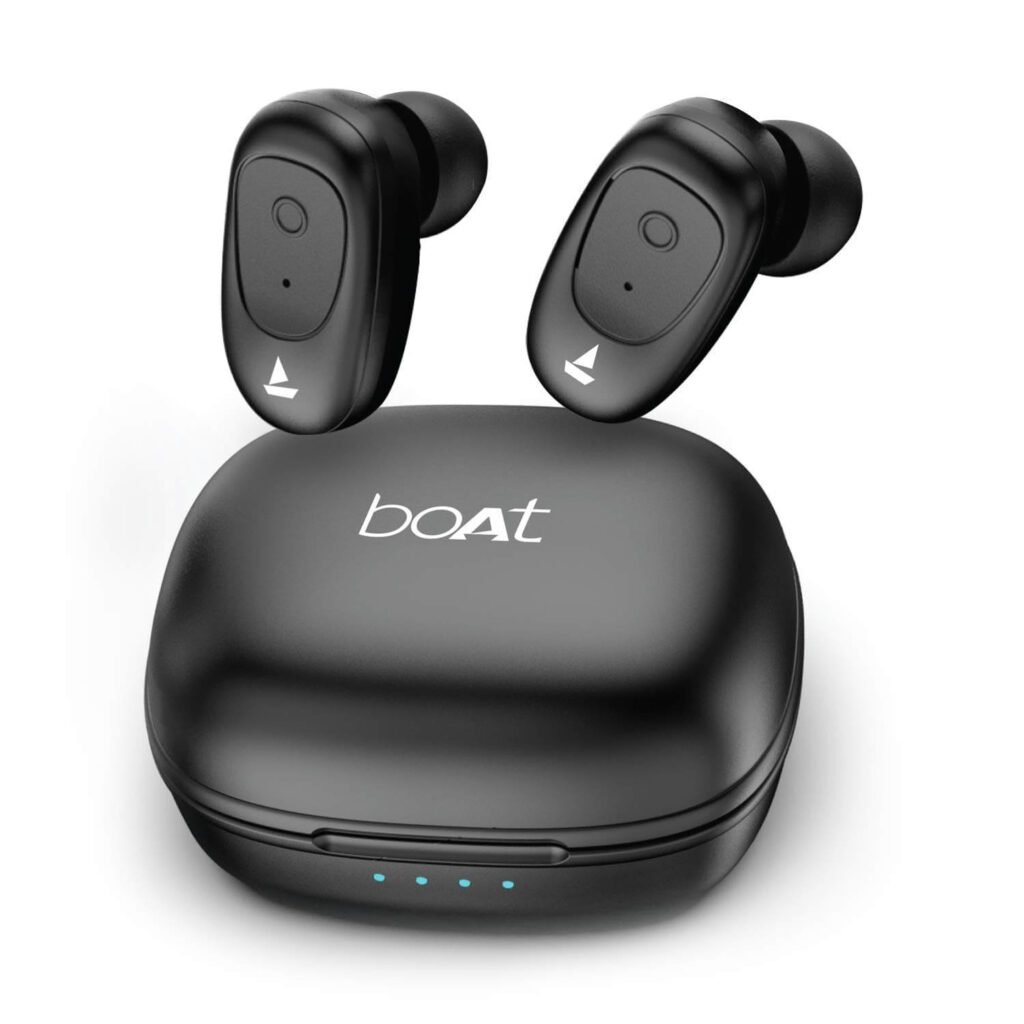 If you are not the one who is willing to spend a lot on these truly wireless stereos, I agree that for some people other ear pods are a bit expensive. Boat AirDopes are the best ear pods to buy on a low budget.
You will be comfortable with the decent sound of these earbuds. Its experience with music is quite okay and according to the price.
It is actually a good sound if you are not comparing it to wired earphones. It fits perfectly in your ear and gives you a clear sound. Although boat AirDopes 201 doesn't come with noise cancellation.
But, you won't be hearing so much outer noise.
You can connect them seamlessly to any device like mobile or laptop like other AirPods. Audio and call quality and above the price, so using this piece is quite a nice experience overall.
Also, you will get a decent range and average battery life in this price range. Go for this if you are searching for a low-budget best Earbuds to buy.
Things to consider before going for it:
| | |
| --- | --- |
| Best Things | Bad Things |
| Decent budget ear pods | High and Low volume Quality |
| Good Mid | Range audio |
Unique feature-
Available in dazzling colors – active black, furious blue, raging red, and viper green
5. MIVI DuoPods M40 – best Earbuds to buy
The design of MIVI DuoPuds M40 looks elegant and it feels comfortable for wearing for long hours it gives you an easy fit in the ears.
Finally, with this product, you can enjoy every bit of your music at a decent price. You can feel the music with its amplifier bass which makes your music better.
With their eye-catching design, these Earbuds have something else to offer, Which is surely gonna grab your attention at very first sight.
It has easy and convenient touch controls for your music and other use.
You don't need to press the buttons for any controls. So you won't be feeling them getting pushed inside the ears every time you change and control.
Therefore, it can be a great option for the best earpods to buy.
If you are going for gaming and music Earbuds, you must go for this pair of earbuds. Also, they will work best for you in this price range.
But If you're thinking about buying it solely for calling purposes, I personally won't suggest it to you.
Things to consider before going for it:
| | |
| --- | --- |
| Best Things | Bad Things |
| Sound quality for music | Call Quality |
| Easy Touch Controls | Connectivity breaks sometimes |
Unique feature-
Eye-catchy Touch controls and amazing fit in the ears
| | | | | | | |
| --- | --- | --- | --- | --- | --- | --- |
| Product | Price | Earbuds battery | Case Battery | Audio Quality | Comfort | Call Quality |
| JBL C100 TWS | 3,999/- | 5 Hrs | 12 Hrs | 4.5 Star | 3.5 Star | 3.5 Star |
| Realme buds air | 1,999/- | 3 Hrs | 17 Hrs | 3.5 Star | 4.0 Star | 4.0 Star |
| Lenovo HT10 Pro | 2,499/- | 8 Hrs | 40 HRs | 4.0 Star | 4.0 Star | 4.0 Star |
| Boat AirDopes 201 | 1,199/- | 3 Hrs | 12 Hrs | 4.0 Star | 3.5 Star | 4.5 Star |
| MIVI DuoPods M40 | 1,299/- | 6 Hrs | 18 Hrs | 4.5 Star | 4.0 Star | 3.5 Star |
Conclusion
In conclusion, finding the right pair of earbuds can make a significant difference in your listening experience. As earbuds are a great way to listen to your music, podcast and take phone calls on the go but many users get confused to choose the best one. So in this article we have provided the list of the best earbuds to buy based on users' reviews. There are pairs of earbuds in this list that will fit your needs and budget, starting from entry level options to premium level. So you can easily find the best one for yourself.
FAQs
Q: Are expensive earbuds worth the investment?
Expensive earbuds often come with advanced features such as noise cancellation, exceptional sound quality, and long battery life. However, budget-friendly options can also offer decent sound quality and functionality. It ultimately depends on your needs and budget.
Q: What should I look for when choosing earbuds?
When choosing earbuds, consider factors such as sound quality, comfort, durability, battery life, and connectivity. Decide which features are most important to you based on your lifestyle.
Q: Can I use earbuds for exercise?
Yes, many earbuds are designed for exercise and come with sweat and water resistance. Look for earbuds with a secure fit and comfortable design to prevent them from falling out during workouts.
Q: What is noise cancellation, and should I look for it in earbuds?
Noise cancellation is a feature that eliminates background noise, allowing you to focus on your audio. If you frequently use your earbuds in noisy environments or want to reduce distractions, look for earbuds with noise-cancellation technology.