Hey, Are you a vlogger and want to know about the best vlogging accessories? Then this article is definitely for you.
Here you will get to know about some best vlogging accessories that you must have. If you are shooting outside then these things should be always in your backpack.
Most people love when they are traveling. They click some amazing pictures of nature animals and themselves so some vlogging accessories that are must be there when you are traveling outside.
Let's get to know about some vlogging accessories that you must have.
Top 10 vlogging accessories
Here are the top 10 vlogging accessories that you must have:
A travel tripod is a really essential vlogging accessory because you don't need to hold your camera.
You can use your tripod and it will help you to click the picture at a perfect angle. Tripods help you to shoot anywhere.
Traveling tripods also help you to stay stable. While the Gorilla part has a tendency to fall over if you are not careful.
With the use of a tripod, you can easily make videos, click amazing pictures, and shoot according to you.
Read More: How to get wifi while camping
Light is a must whenever you are clicking a picture or shooting a video.
Most of the time when you are shooting in a room, they are dark and the Auditorium looks very horrible, it can be a disaster while recording night scenes.
Sometimes a camera that has good low light performance tells you to have to struggle to keep your eyes so low enough to keep your footage looking perfect but still it doesn't perform that well.
A remote Camera shutter is basically a wireless device that helps you to click a picture. It is a time-saving device and also makes it easier to shoot with a cheap remote.
This remote allows you to click a self-portrait and also allows you to shoot the thumbnail photos that you need.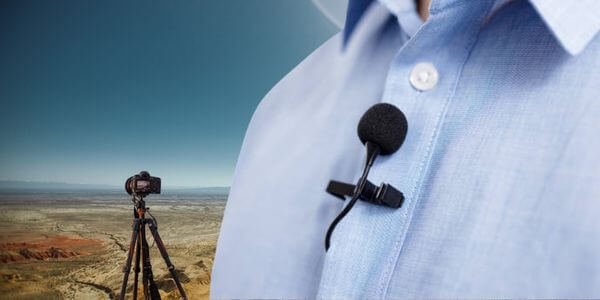 Personally, I love shotgun mics that are set on top of the camera.
They are very convenient to capture great audio. If you are a blogger then this is a must that you can have.
If you are using a Lavalier microphone then you don't need to use any other microphone.
You can take this device anywhere if you want. As it's a weightless device, I often used to carry it whenever I go anywhere.
There are various types of lenses for different types of pictures.
If you are traveling anywhere make sure that you have extra lenses in your backpack so that according to the situation you can take a perfect picture or a perfect video.
Wide angle lenses are difficult to get close up of anything so make sure that you are using a perfect lens for the picture that you want to take.
The most important thing whenever you are traveling is to carry headphones with you.
Headphones are like our daily needs. Headphones are a device that is basically used to disturb no one around you.
Headphones are also used to fix sound issues before you get to your editing suite.
In the market or in the offline stores you can choose from thousands of products. But make sure that you are choosing the best for yourself.
Read More: Best Wired Headphones
Have you ever thought that you want to shoot a blog or click pictures?
One day I decided that but when I hold my camera in my hand, my hands start shivering and it's a big risk of dropping it. So, a hand strap for the camera is a need.
With the help of a hand strap, you can easily get a grip on your camera so that you might not have to worry about your camera slipping from your hands.
With the help of a camera hand strap, I don't even have to worry as much. I can easily hold my camera and it will be okay whenever I'm running or even walking.
When you are using a camera, you have to carry many tools like screwdrivers, scissors, knives, players, and Allen wrenches. So to keep them you must have a multi-pocket tool.
You can use it whenever you and you don't have some kind of basic tools so you can use it easily.
The drone is a way that provides the context that no other camera can.
It always allows you to view the location from a different angle. You can easily see your surroundings from a higher level.
Drones are really affordable and even so portable that you can take them anywhere. You can also add a drone to your personal traveling backpack.
If you are shooting a running blog then you may get some shaky results and it will look uncommon.
And it might not give you the results that you want if you want a great shot then the major is that you are having a camera gimbal.
The cameras nowadays are very technical and according to men's needs.
So if you want to take smooth and dynamic shots like in Hollywood movies, then use camera gimbals.
You May Also Like
Final thoughts
I hope with the help of this content you have got those top 10 accessories that you must have as a blogger.
There are various products that are available online and on offline platforms.
Make sure that you are choosing the best for yourself as if you are getting a local product it will have no guarantee.
I hope this content is useful to you. If you are having any issues or queries in your mind then feel free to ask them in the comment section. Solving your queries is my duty.
I will be glad if you like this content and also share this content with your friends and family so that they will also get to know what are the top vlogging accessories.