Peoples love to watch cartoons as they give them a lot of memories of their childhood. It doesn't matter if you are an adult or old and not a kid anymore. We all have a kid alive inside us forever and these cartoons help to relive all these beautiful past memories. So would also you like to Watch Free Cartoons or anime, I know you are a big big big anime Fan! What else you can ask for, A good site to watch your favorite cartoons for free.
Here I'm gonna share these best free cartoons sites that will let you allow you to watch your favorite for free. That dream of cartoon land makes it a bit easier to wander in the real land.
Anime is fun, energetic, entertaining, and most importantly heart touching. If you are a 90's kid it will be an amazing nostalgic ride for you.
There are a number of websites that allow you to stream cartoons online, choosing the one that serves you well is quite a painstaking task and when you are in the mood of enjoying the best cartoon you don't want to take stress in finding the good and free online cartoon websites.
So let's get started to:
Live your childhood again with these 8 best sites to watch free cartoons online
Here, I have made you a list of my favorite and free cartoon streaming websites:
Kisscartoon
Gogoanime
Animeultima
Watchcartoon
Cartoon Network
Disney Junior
Toonjet
Nick
Let's take a closer look at these free cartoons streaming websites to an amazing weekend watch:
1. Kisscartoon
Kisscartoon is one of the largest and cartoon streaming websites among the same platforms that allow you to watch free cartoons. This website is quite popular among all cartoon fans.
They provide free cartoons in HD quality which is astonishing. If you are a cartoon lover, I guess you have already tried this one as they have a phenomenal collection of old and new anime.
This cartoon library serves you amazingly while providing you an easy user interface. They don't ask for signup before watching any cartoon which is an add-on quality we all would like to have.
I have found every genre of cartoon or anime series here, like – romance, fantasy, sci-fi, adventure, comedy, and many more. I hope you enjoy your day here.
Read More: How To Share Amazon Prime Videos with Family?
2. Gogoanime
Gogoanime is a remarkably free website to watch online cartoons. Firstly you will fall in love with the design of the website which is clean-clear and marvelous.
I would Literally name this one as my favorite website just because they do not load you with so many pop up and advertisements.
They have given us four options to easily scroll, and find a watch among all the available anime, which includes – popular, new season, movies, and anime list.
You will find all the anime dubbed in English for free which is pleasantly amazing. As an ad on they provide us day and night themes. I hope you enjoy their services.
Do you want to read about: How To Cancel Xbox Live Gold Membership?
3. Animeultima
AnimeUltima has been serving us, cartoon lovers, since 2008, and from back then to till now they have become better in that.
If you want to interact with other anime lovers while finding and watching your favorite cartoon, then you have reached the right. They allow us to connect people worldwide and you can enjoy discussing and sharing all the anime.
One thing that I fell in love with is they give us updates about any upcoming movies and shows or next episodes which makes us aware of all the new anime which is approaching us.
4. The Watch cartoon Online
https://www.thewatchcartoononline.tv/
So many people love it in terms of its spectacular design and features and yes their immediate responses to their users.
They provide a hassle-free user interface which is rare when you are searching for free online cartoon streaming plus they have a wide range of anime that is not available anywhere.
In terms of pop-up advertisements, they win too, they don't have so many ads popping on which is pleasant. They don't ask you for any signup so if you are getting super bored just go to watch cartoons now.
It's one of the best free cartoon websites yet not available in some countries but you can always have VPN access for that.
let's know that: How To Stream Xfinity on Fire Stick and Fire TV?
5. Cartoon Network
https://www.cartoonnetworkhq.com/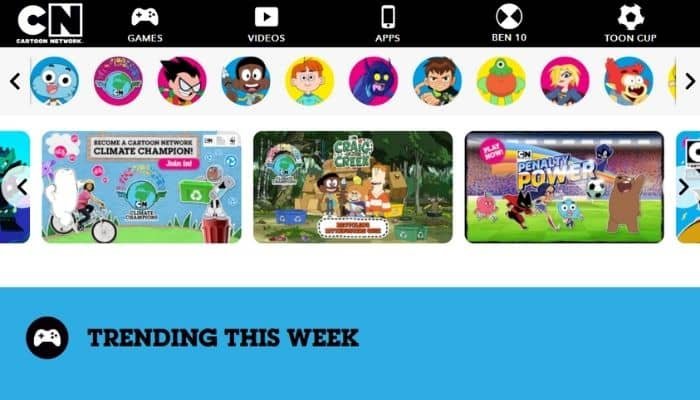 They provide all the shows or movies in HD quality that are ever aired on Cartoon Network. They have millions of users around the world and they are satisfied with the amazing features and content of the website.
The best part is that you can search videos by characters including genre and other categories. There are no annoying pop-up ads while watching any cartoon videos or shows.
Kids and even adults can enjoy some games with their favorite characters. You can also enjoy all the shows and videos of anime on their mobile app too. This is indeed the best out of any online sites and apps to watch free cartoons.
6. Disney Junior
https://disneynow.com/all-shows/disney-junior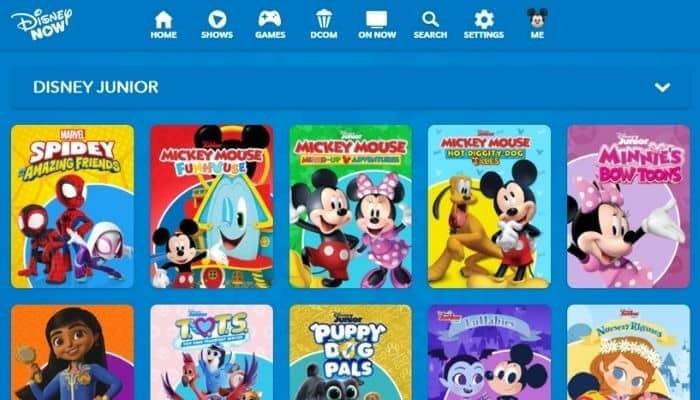 Disney Junior is quite different from other cartoon streaming online sites, there are so rare pop-up advertisements to irritate the hell out of your senses.
They have so much anime content which is updated on a day-to-day basis and all the content is easily available on your android too.
This is one of the premium websites for streaming online cartoons for free and it is a fantastic treat to all your anime cravings. They have serving best to their tagline which says "where the magic begins."
They have all the content suitable for kids and adults too which is free to watch without any sign-in. You might have to access VPN to watch it in some countries.
The Important Topic is: How To Get Netflix Student Discount?
7. Toonjet
You will find legendary classics cartoons shown which are enough to push you down to memory lane. This is also free to use and the best online cartoon site but gives you some extra perks after signing in.
Are you a 90's kid? like me, then this is gonna give you some other kind of joy while enjoying those 80's and 90's cartoons. This is one of the popular websites which also provides mobile applications for enjoying all the shows.
8. Nick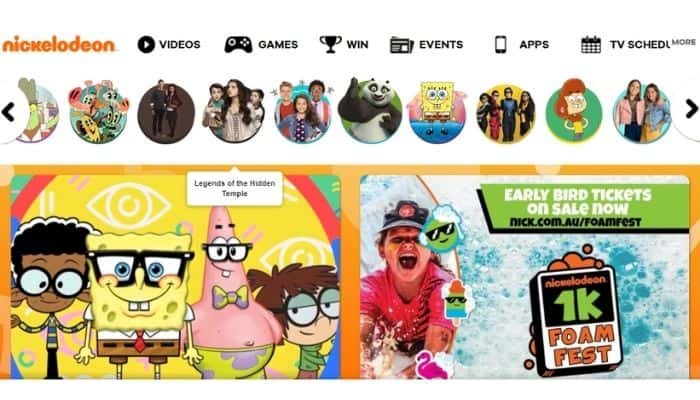 Once you will start watching any content online you will find your day ending with it too. You will also have lots of games and activities there to enjoy your time.
Their user interface is simply straightforward and easy to enjoy for kids and adults. They have all their special anime series which you can enjoy endlessly.
Moreover, You can search from all the content to find your best watch. They have all the features like HD quality content, free unlimited access to Nickelodeon content, no signup required, fewer advertisements. Keep enjoying and keep loving all the anime.
Read More: How To Make Saddle Minecraft?
Conclusion
Kids or adults, you can fall in love with anime all over again despite your age. Now go kill your boredom and enjoy all the free cartoons and anime.
So, here is your answer to "How To Watch Free Cartoons. You can choose the site for your best online cartoon watching experience to watch free cartoons. I wish you happy anime.
Keep watching, Keep Reading.