Are you a passionate football fan seeking the best streaming websites to watch your favorite matches? It is annoying when you end up spending more time searching for the live sports streaming website that is showing the match rather than actually watching the match. Look no further! I have compiled a list of the best football streaming websites to ensure you never miss a moment of your favorite teams and leagues.
Before we get started, it's important to remember that there are numerous leagues and contests going on and that each website can have broadcasting rights for particular events. choosing the appropriate website for the game you want to watch is so vital.
Without further ado, here is a list of the top football streaming websites available today.
8 Best Football Streaming Websites
You can watch the complete match on these websites that will stream the match live. These sites will enable you to enjoy the complete match without missing any part of it. You no longer have to surf the entire internet just to reach a site where you can watch the match.
However, there are certain factors that you have to take into consideration. Like the competition/championship in which the match is being played. There are different leagues going on and different teams participate in them.
Your favorite team may belong to Spain or France. Each country has a different league, and there are continental leagues that bring the best of the teams around the continents and make them compete with one another.
So, I will go ahead and provide you with the list of the websites, and I will also mention all the important events in the football world that the site is going to be idle for. Make sure that you visit the website that is showing the game that you wish to watch. Now, since that information is out of the way. Let's begin with the list:
The first one is one of the best websites there for watching football. However, it is also good for watching many other sports as well. It usually has a great picture quality which you can enjoy on any screen irrespective of the size.
The picture quality in Live Soccer TV is definitely something that is going to amaze you. And also, shows almost every league out there in football. Another huge advantage that this website has is that it is available free of cost. The only drawback would be the ads.
This website also has a mobile application available. Another drawback would be that it is not available in every country. So, if it is not working for you, I would recommend downloading a VPN and using that to access the website or the app whichever you prefer to use.
Another great website, almost similar to the first one. However, this one does not have an app. But that may be a drawback, but the advantage that it has is equally huge content.
This website is accessible from all over the world, hence, you do not have to use any VPN or any additional software that you would use to cascade your location. You would have to sign up for this website. It is free of cost, so you do not need to worry about that.
Another advantage is that the website has a community interaction option. It also provides you with updates, and news from the footballing world, and this will keep you glued to the website if you are a football fan.
This is one of the major Sport streaming platforms out there in the world. Just the sort of platform that you would expect from a brand like Sony. The app does not have all the footballing action from the world, but it does hold broadcasting rights to some of the biggest leagues in the world.
Sony Liv may not be free, but considering the quality of the content that it has to offer, any football fan would think that the cost is definitely worth it.
Well, let's start with Italy's Serie A. Ronaldo may have left but the league is still considered one of the toughest, and the teams in the league have some of the biggest fan following in the world. Ligue 1 has Messi and other superstars of the world playing in that league.
It also has the rights to the German League, i.e. Bundesliga. If these aren't enough, then here comes the big one. The Champions League is the continental title of Europe. Every major team in Europe plays for the title.
Another major streaming platform is almost at the same level as Sony Liv. They may not have the continental title, but they have the world's biggest league, and the most-watched leagues in the world under their belt. The English Premier League.
Matches from English clubs are available on Disney+Hotstar and also, and the champions from the last 3 champions league have been English clubs. So, the English clubs may be rising to glory once again.
If the teams aren't one of the biggest reasons why the app is so much in demand. Well, it may be the Ronaldo's reunion effect. Alex Ferguson may have left a long time back, but the Portugal son that he had brought is back, and the club that most would have considered way past their glory days is now once again eyeing to win every title they are competing for.
I just love enjoying my favorite football matches with Hotstar on Amazon Firestick But there is one reason that some are not going for this option is that it is free. If money is not your setback then I assure you that the cost is worth it.
Now this will remain a shocker for most people and for most football fans. This is the part of Facebook that lets you stream live content like Youtube. But this was taken to a whole new level a few years back when Facebook managed to land the broadcasting rights for La Liga.
The Spanish league back then was considered to be one of the toughest leagues and one of the biggest leagues as well. They had the broadcasting rights for La Liga back when the two giants of the game used to play in that League.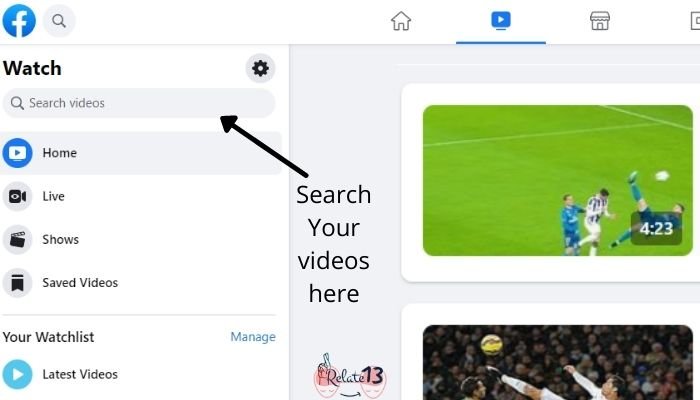 That's right, both Messi and Ronaldo were featured in Barcelona and Real Madrid respectively back then. And that was the time when people started to notice Facebook Watch. Just search for your favorite available content and enjoy it like I just found this video and really enjoyed it a lot.
It no longer has the right to broadcast La Liga in some countries but it is considered one of the best free-to-stream platforms out there for certain matches which are usually streamed on the official Facebook page of the league or the teams.
This is one of the biggest websites to watch sports, not only football. The website has various other things to offer as well which you can make use of when you are not busy streaming a live match.
News from various sports is available on Sky Sports which will make sure you remain updated. And the website is free of cost. Of all the free websites that I have mentioned so far, this one would be considered the best merely due to the fewer ads that are shown on this website.
And also, the huge advantage is that this is one of the websites that include streaming facilities for other sports than football.
Just like the previous one, this website is definitely top-class. It may not have as many features as the last one but it is not to be considered less in any manner.
The only reason why this is not considered the best is merely due to the fact that it is not entirely free of cost. Don't get me wrong, most of the content that is available on the website is available free of cost.
However, there are certain features that are only accessible to Sports Plus members who have a paid membership. If you neglect this matter, this website definitely hangs on the second number on the list of the greatest football streaming websites.
8. SportRar
Another great website for streaming football. It does offer the option to stream a few other sports as well. However, since we are focused on streaming football, I would give this website the best rating possible for two major reasons.
First, it is free of cost and is easily accessible anywhere in the world. So you do not need to use any VPN or anything. And the second reason would be the option of streaming the match in high quality.
Now, you must be wondering, aren't most of the websites offering that already? But here is a big advantage, SportsRar offers high quality without any ads.
You May Also Want to Read About:
Conclusion
That is the list of the websites that I have managed to assemble for streaming live football matches from all around the world. I hope that you are able to enjoy your favorite matches. Now, you are able to watch every bit of action as it unfolds.
I believe your search is ended here but if it didn't Live Sport Streaming sites might help you. Now, you won't end up getting mad at yourself for not being able to find the sports streaming website that was showing the match earlier.
FAQs
How to watch live football matches?
To watch a live football match, you can tune in to a TV channel or a streaming service that has the broadcasting rights for the match. Some popular options include ESPN, Sky Sports, and NBC Sports.
Which app streams football for free?
There are several apps that stream football for free, such as Live NetTV, RedBox TV, and Mobdro. However, it's important to note that some of these apps may not be legal or reliable.
Is Live Football TV free of cost?
Live Football TV is a free app that streams football matches, but it's important to check if the app has broadcasting rights for the specific match you want to watch.
How can I watch a match for free?
There are several ways to watch free matches, such as through free streaming services or by using trial versions of paid streaming services. However, it's important to ensure that the source is legal and reliable.
Which app streams Premier League?
The official Premier League app, NBC Sports, and Sky Sports are some of the apps that stream the Premier League. However, you may need a subscription to access some of the content.