No Limits Magic Build is a popular Kodi add-on that offers a vast selection of TV shows, movies, live TV channels, and more. It's a complete package that can transform your Kodi or Firestick device into a powerful streaming machine. If you're wondering how to install No Limits Magic Build on your Kodi or Firestick device, you've come to the right place. In this guide, we'll provide you with step-by-step instructions on how to install No Limits Magic Build on Kodi and Firestick.
Kodi No limits magic build can bring your entertainment level one step up. By installing no limits, you can enjoy the cluster-free performance of Kodi and Firestick. It is the best build you can install to stream unlimited content.
No limits build uses Aeon Nox 5: Silvo skin to provide you with your own Kodi setup that is completely customized. This is where you can customize everything you wanna watch on Kodi.
This guide is all about how you can install the No limits magic build on Kodi and Firestick. Remember, Currently, you can only install No limits on Kodi 18 Leia (18.2 to 18.9 version) as it is not available for the Kodi19 version yet. Also, The software is updated regularly by developers from time to time.
No limits is a third-party app and hence cannot be downloaded directly on Kodi. To install it, Firstly you need to enable the third-party sources to function on the app.
This procedure is wholly based on your priorities as third-party apps make your device vulnerable and your IP address is visible to all, the users, the Government, and ISPs. To prevent that from happening, ensure you have a secure VPN on your device when using third-party sources in Kodi.
So without further introduction, Let's begin the process of Installing the No limits magic build on Kodi.
How to install No limits magic build on Kodi?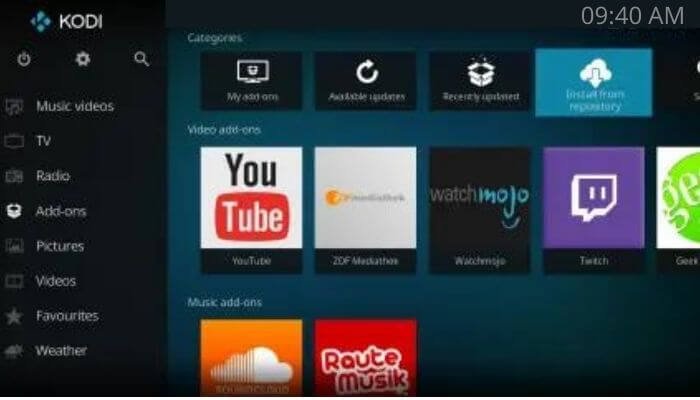 Streaming videos and audio on Kodi is a great experience but it will make your fun 2x entertaining if streaming it on Firestick. The Firestick provides you with a direct connection to your favorite streaming services and apps without the need for any extra subscription charges.
In brief, The steps are comprised of three parts,
Enable Unknown sources
Add Build Source
Install No Limits from No limits wizard
A detailed description of the No limits magic build installation procedure is here. Walk through the steps carefully to enjoy unlimited free streaming on Kodi.
Read More: Install Black Panther Kodi Build On firestick
Step-1: Allow third-party app (Unknown source)
As mentioned earlier, Firstly you need to Allow third-party apps from unknown sources. For that, Go to the system settings and then on the system. Click on add on and it follows with unknown sources.
Now tap on the unknown sources to enable it.
A message will appear on the screen as a warning alert. Follow with

Yes

.
Step-2: Installing No Limit Build Wizard
On Kodi's home screen. Click on the Settings icon from the left pane.
Choose file manager from the given options

and then tap on add source.
Choose "None" in the given blank. For adding the source link copy-paste the given link – https://www.nolimitswiz.appboxes.co/, and on the media source field write "Kodi has no limits". Now click on Ok.
Return to the Kodi main screen and click on the add-on. Click on the package installer icon at the left top of your screen.
Now Choose "Install from the zip file" and then choose "Kodi No Limits".
Select the given plugin for Kodi 18 Leia, "plugin.video.nolimitswizard18.zip".
After a few seconds, a notification will appear on your screen regarding the no-limits Wizard complete installation.
Step-3: Install No Limit Build On Kodi and Firestick
Now since no limits wizard installation is completed on your device, you can install no limits magic build on Kodi or firestick. In order to do that
Now on the home screen click on "Add-ons".
And then "Program Add-ons" and select "No Limits Wizard".
Click on continue after extracting the zip file.
Select the Build menu and then click on the No limits firestick Lite XXX section.
Click on standard install and then confirm.
It will automatically start downloading the package. wait for a few seconds to install and then click on no thanks for the message prompt on the screen.
Click on reload profile and then on Ok a to finalize the installation.
That's it! You have successfully installed the No limits magic build on Kodi. I guarantee you, You won't need more than 15 minutes to complete the 15 Steps of the installation procedure.
How to install No limits magic build on Kodi firestick?
The only pitfall you will get is having a VPN service on your Firestick to maintain the anonymity of your device.
I will recommend you go for the best VPN. Presently, the most effective VPN is ExpressVPN. It offers a 30-day free trial and once you have the subscription you can also get a refund if you don't like the services (which is a rare case).
Firstly, install Kodi on your firestick device as you install any other App. Don't forget to enable apps from unknown sources before installing Kodi. You will find the option in the developer options.
FAQs
Kodi No limits magic build is not working on my Firestick, What to do?
If you also find such issues as Kodi no limit build is not working in your firestick. You can give it a try to reboot or restart Kodi again.
Usually, the option works but in case it doesn't work for you, you can install No limits magic build on Kodi again on your device. It will take hardly 10 to 15 minutes to reinstall it.
How to uninstall the limits build on Kodi in order to install it again?
To uninstall the limits magic build, launch Kodi and go to the add-ons. Now go to my addons and select no limits wizard. Finally, click uninstall from the bottom left of the screen.
What are the alternatives to Kodi No limits magic build?
You can use Durex, Wookie build, Schism Tv, Dominus Build, and many more as alternatives to Kodi's no-limits magic build.
You may also like:
The sum up
Kodi no limits magic build it is a great media player and it will enhance a smooth entertainment experience for you. It is the best Kodi add-on that you can use on Firestick also. By following the steps outlined in this guide, you can quickly and easily install this popular build and enjoy its many features and benefits.
Whether you're looking for a more streamlined interface, a wider selection of addons, or just a smoother streaming experience, No Limits Magic Build is definitely worth checking out. With its user-friendly interface and vast array of content, it's no wonder that so many Kodi and Firestick users choose this build as their go-to option. So why not give it a try and see for yourself?