JibJab Alternatives | JibJab is a well-known site for creating digital ecard, music videos, and gifts for any celebrating event.
But do you know there are lots of similar sites like JibJab out there? Here in this blog, we will talk about the best free eCard Sites Like JibJab in 2022.
JibJab, An American digital studio located in Los Angeles, California. Formerly known for social and political satire.
Jibjab used to produce short commercials for companies like Nickelodeon, Sprout, Qubo, Sony Etc in 2004.
Later in 2016, Jibjab started making its personalized e-cards and messaging services.
So in layman's language if we understand, At Jibjab Studio, you can create personalized cards and things that can make people laugh.
It includes JibJab branded satires, messages, and ecards and has a distributed network of thousands of artists around the globe.
So, in this context, I have researched several other eCard sites like JibJab.
Though JibJab is the oldest ecard site on the internet, let's discover what other free JibJab alternatives have to offer and you must try each one that I am going to mention below.
7 Free eCard Sites Like JibJab | Free Alternatives Of JibJab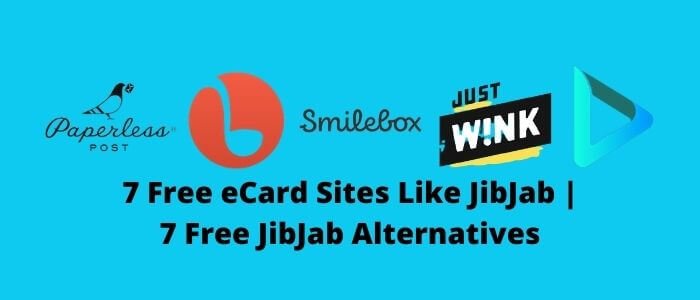 Smilebox is one of the 7 Free eCard Sites Like JibJab that lets you create any design you want, with their slideshows, cards and collages, and beautiful invitations.
It's really easy to use and it allows you to create beautiful cards in minutes. Just select the favorite design you want.
It gives you the freedom to customize any template with your text, photos, and music.
It offers you endless ways to create your unique and creative design. The slideshow provides you the flexibility to upload an unlimited amount of pictures.
You can download your creativity in high resolution. Gives you the option to upload your music or choose from its library.
You can customize just any design available on Smilebox.
The most amazing feature I like is, that you can use Smilebox on your mobile device and share instantly with your friends.
With all these amazing features I can say that Smilebox is one of the best eCard sites like JibJab.
Paperless Post is another website among 7 Free eCard Sites Like JibJab and an amazing ecard site like JibJab.
When I used it, it was just like WOW! And it is, with its amazing outlay, design, and wide range of templates. This site is worth it.
This site offers you to create online invitations no matter what the moment is and with different invitation styles like flyers, cards, etc.
Paperless Post offers you to send text message invitations with instant RSVP tracking.
This free JibJab alternative offers hundreds of free templates for every occasion. It allows you to upload your design and customize it with a Paperless post and send it through.
This site has a wide range of categories to choose from.
But there is a drawback here, you will be able to send your cards for free to up to 50 recipients.
After you have reached the threshold limit, you will need to buy coins to create and send your e-card.
Another one of the best free JibJab alternatives is Punchbowl. One of the 7 Free eCard Sites Like JibJab.
Just an apt free ecard site that I would surely recommend with a large menu to offer, you can also add your video message.
You can even personalize invitations or greeting cards from your mobile device and send them as a text or email.
I have used gift cards from brands. You can include a gift card from renowned brands like Amazon, Apple, Doordash, Lululemon Sephora are a few mentioned.
You can delight kids with its amazing characters like Frozen, Peppa pig, Mickey Mouse, and many more.
Out of my personal experience, this website caters to all and can be the best option for free eCard sites like JibJab.
Just Wink cards and greeting is another free ecard site like JibJab.
In a competitive world just like any other ecard site. Just Wink has a lot to offer, you can add a picture from your album and iCloud or click on the spot.
Allows you to customize the templates just the way you want them by choosing color and font, you can even autograph your card in your handwriting.
It offers you a wide range of the best free ecards just for every occasion.
One of its great features is that it gives the option to schedule your e-cards in advance, so you can send the cards at the right time and date.
With the desktop version, you can use the Just Wink app on your mobile device.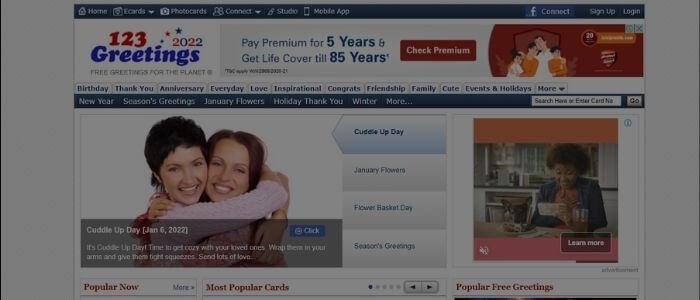 Well, who doesn't know about 123greeting, one of the best free JibJab alternatives that know very well how to do that?
Though its interface still reminds me of the 90s, that doesn't matter when you are getting a massive range of ecards.
From beautiful animated creations to static greetings, this free site like JibJab does a great job for you.
Reminds and schedule cards that you want to send in the future and don't want to miss an important occasion.
It offers you a wide range of email greeting cards and doesn't charge a penny for any of its templates or ecards.
It's been a long time since I have used this ecard site like JibJab. You just name a card and 123greetings has you covered.
If you haven't tried this one yet. You are missing a lot.
Crosscards is one of the best free ecard sites like JibJab that offers you spiritual, religious, and faith-based messages.
CrossCard has many free email greeting cards to offer. It blends the template designs with heart-warming text whether you want to encourage or motivate someone.
Also, you can create wishes for a birthday, anniversaries, etc.
One of the great features of Crosscards I like is that you plan your Bible readings.
You can download a PDF of the same and can email it, or share it on Facebook and Pinterest.
These features make this site to be in my list of 7 free ecard sites like JibJab.
Also under the download section, you are provided with a Prayer Guide and Scripture Writing Guide.
Furthermore, you can use the Wallpapers, Monthly Calendars Wallpapers for Phones, Facebook covers, and much more.
You will surely love its easy-to-use interface and the categories are well organized.
Render Forest can be one of the 7 free ecard sites like JibJab. You will need an account to move further with your card creation.
Also, free accounts allow free previewing in 360p quality with a watermark.
You will need a subscription plan if you want to export High-definition content without any limitations.
Just similar to free sites like JibJab, it has a lot to offer with its free account, you will be able to export unlimited 360p 1-min videos.
The free account just for your home or personal use would be enough as it also provides PNG logos, low-quality mockups (unlimited), free website on the Render Forest domain.
Limited graphic designs, color customization, and link sharing (presentation).
So basically it provides you with more features depending upon what type of requirement you have.
You may also like:
Conclusion
Mentioned above are the 7 best eCard Sites Like JibJab that offer you free ecards creations for just any occasion.
On some sites, you get the option to schedule your e-card for the future. That won't let you get embarrassed by your loved ones in case you forget an important occasion.
All these websites are capable of creating every kind of card you are looking for.
From my personal experience, I have used all these free JibJab alternatives and will recommend you try each one of them.
Let me know your views in the comments below. "Keep your family happy".