In today's era, Video files arrive in many different formats, so it's crucial to have a tool that can convert them into the format you need. The good news is that video converter offer a wide range of other capabilities in addition to converting the video file format. Editing tools, bulk conversion options, and compression techniques are some of these. These are helpful resources for people who enjoy watching videos, make material, or need to convert videos for their own use.
In this article, we'll explore the benefits of video converters, their essential features, and how to choose the best one for your needs. Whether you're a beginner or an experienced video editor, this guide will help you navigate the world of video conversion and find the perfect tool for your needs.
What are Video Converters?
If you are playing a video file in a not supportable media player then you will be required to use these tools. Video converter websites help you to convert the video file format to other formats. These websites also can be handy to reduce the file size, which can save your device's storage.
Let's Talk About 5 Best Online Video Converter tools
Below we will share top sites for video converts with their top features and cons. Find out below.
1. Any Video Converter
Any Video Convert is one of our best sites to convert file formats. This tool supports both Windows and Mac and it has some unique features that make this software different from others.
If you are watching a video on any social media platform like Facebook, YouTube, Instagram, or any others, and you download the video but that video is not supportable on your device. This tool helps in this case.
It supports more than 15 video inputs including MPEG, VOB, WMV, H264, H265, 3GP, 3G2, MKV, MOD, M2TS, RMVB, AVI, MOV, FLV, F4V, DVR-MS, TOD, DV, MXF, OGG, WEBM, any 4K video and many more.
In the output case, it allows you to convert videos in more than 15+ formats including MP4, AVI, MKV, M4V, WMV, MPG, ASF, M2TS, 3GP, FLV, SWF, MOV, GIF, and WEBM.
Pros:
Multiple video input and output options are available.
Fast to process.
Available for Windows & Mac.
Multiple filters are available.
Online & Offline work.
Cons:
2. Freemake Video Converter: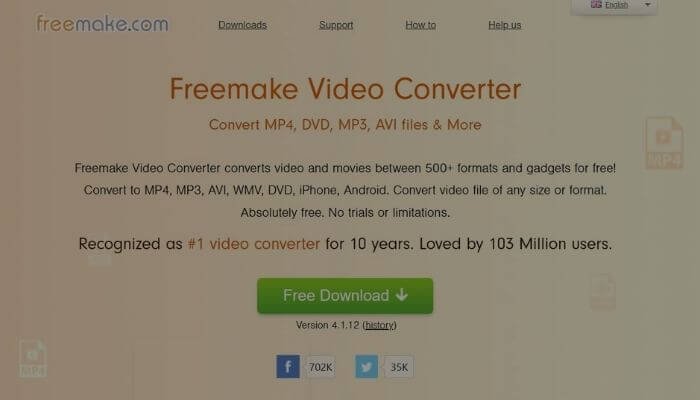 Freemaker video convert tools also do the same task as the above one does. This is completely free to use, so no need to spend a single penny on it.
This has some unique and different features that are why we keep it to our second number. Freemaker video converter offers you to convert your video format from 500 different formats.
This tool enables you to convert to MP4, MP3, AVI, WMV, DVD, iPhone, Android, and many other formats. All the popular video formats you can remember, are covered by the Freemaker video converter.
Not only that but with the help of this tool, you can edit your videos and give them a professional look. You can pull any video from online websites and convert them as you need.
Pros:
500+ different video format supports.
Basic editing is available.
4k and HD video are also supported.
Cons:
Available only for Windows.
Some features are locked.
3. Free HD Video Converter Factory
Our next website is Free HD Video Converter Factory. This is one of the easiest tools that can solve all your problems regarding video converters.
With the help of this tool you can simply choose the video or drag it from your device, choose the output resolution and file extension, that's all you have to do. Within a few seconds, your will video is ready to use.
This tool allows you to do basic online editing as well so that you can give a decent look to your output video, you can do a couple of things while editing video (Cropping, Impressive effects, cutting the video, and many more).
If you are stuck extracting the file from any video, no worries, this tool will help you in this scenario.
Pros:
Video Extractor available.
Video editing feature available.
Fast and user-friendly.
Cons:
1080P doesn't support it.
Only for windows available.
4. HandBrake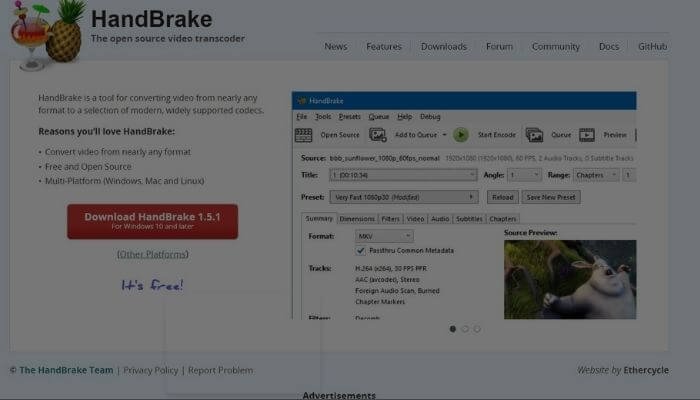 Handbrake tools for those who work on different operating systems. You can take access to this on Mac, Windows, and Linux.
To be honest, Handbrake is best for Mac users but this tool can be very useful for Windows and Linux users. The interface of the tool is comparatively tougher than the above one.
But if you are a regular client of a video converter then this thing doesn't affect you. You can convert any video to any format because it has a bunch of output and input formats.
The Handbrake tools are very amazing for converting videos.
Pros:
Supports multiple operating systems.
Different types of format support.
Amazing interface.
Cons:
Mainly for Mac users.
New users find it difficult.
5. Free Video Converter
Free video converter comes on the top among all in terms of easy interface. This is only available for Windows users, iOS and Linux users can't get access to this tool.
You get a simple interface after installing it on your computer. Simply drag a file to convert and you have the option to choose from.
This tool provides an option to change the video quality if you want to. The free video converter has a decent output and that will be enough for you I guess.
The processing time is fast so you don't have to wait the entire day to convert a large file. The only drawback we can see on this tool is when you convert any video with the help of this tool, you get a watermark on the video, otherwise, this tool is superb in all aspects.
Pros:
Fast processing.
Various outputs are available.
Batch conversion
Cons:
Only for windows.
Watermark on the output videos.
You may also like:
Conclusion
So that's it! These 5 video converter websites are some of the best ones and generally create the desired output. However, everyone has their own needs and wants to do things a certain way.
We have checked and given a trail on different types of tools for 5 Best Video Converter Websites and finally, we have come to this point where we can guide the best video converter websites.
We have these video convertor websites with their pros and cons, so you will easily be able to access what you need.
If you have any questions or suggestions regarding this, you can leave us a comment below.