No longer want your Best Buy account? Here are tips on how you can delete it within a few steps.
In recent years Best Buy is not living up to the mark. And you might have decided to leave or delete your respective account.
What to do, let us look at how you can get rid of your Best Buy account. Without further ado let us get started.
Ways to delete your Best Buy Account?
Before we start let us look at some of the methods that we are going to look at.
Delete Best Buy via The Official Website.
Delete via Email.
Delete via BestBuy Customer Service Forum.
Delete via Direct Call/Chat.
We'll discuss each of the methods in detail;
Method-1: Delete The Best Buy Account Via The Official Website
One of the common ways to delete your Best Buy account is through their official site. Let us look at the steps that need to be implemented.
Click on the link below
https://www.bestbuy.com/sentry/confirm/residency?context=ca&type=delete
2. Scroll Down and Click on Confirm
3. Now you will be redirected to Best buy login page. Sign in to your account.
4. A form will appear on your screen. Fill in the details like your name, email, and phone number, best buy ID.
Whether you are contacting about an order or not, and a detailed summary of what you want.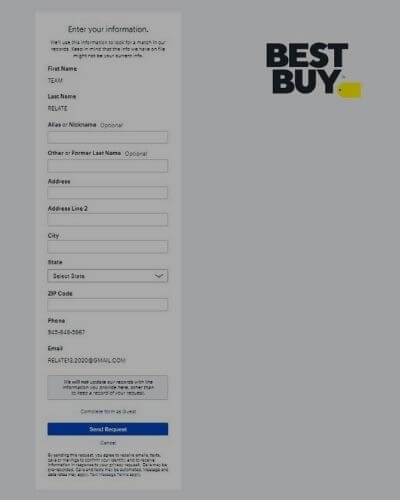 5. Now Click on Send Request
6. After this, you will receive an email confirming your request. Best Buy customer care will start the process of deleting your account.
It will take almost 15-20 days to delete your Best Buy account. Till then, your account will remain inaccessible.
That's it! Your account will be gone once the process completes including your purchases and personal data.
Method-2: Delete your Best Buy Account Via Email.
Alternatively, you can use your registered email to delete your best buy account in case you didn't remember your login credentials.
For removing your best buy account via email, walk through the given steps,
1. Compose an email to [email protected].
2. In the subject section, enter Request for account deletion.
3. And for the body part, Describe briefly the appropriate reason why you want to delete your account.
Also, don't forget to mention your name, contact no., and address registered to the account.
4. Once sent, you will receive a confirmation letter from the customer service department for considering your request.
Method-3: Delete The Best Buy Account Via The Customer Service Forum.
Best Buy offers a customer service forum to resolve the issues of Best buy users. You can seek help from any of the support team members and ask them to delete your account.
Once your request is considered, they will send you a private message to process it further. Complete the instructions given by the customer service department and there you go.
Your best buy account will be deleted soon.
A quick tip: Remember not to mention any personal details that will affect you, if publicly accessible.
Method-4: Delete The Best Buy Account Via Chat Or Direct Call.
If any of the methods didn't work, you can call or chat directly with any of the Best Buy customer care members. One of the reasons you should prefer this method is to protect your privacy.
This is hopefully the easiest and quickest way to delete your account.
You can visit the Bust buy contact page and choose the most preferable option for you. (Chat/call).
The wrap-up
I hope this article was able to help you with how to delete your Beat Buy account. We have shown you different ways how you can delete the same.
If you still have any doubts feel free to reach out in the comment section down below. We will be happy to assist you.
FAQs
How can I stop my Best Buy Credit card account?
You can choose either the live chat option or compose a mail to Best Buy regarding the same. They will get back to you as soon as possible.
How long does it take for my account to delete?
It should take them around 15 to 20 days. If it exceeds more than that contact them.
If I request to delete my account will my order history remain?
No, once your account is deleted everything related to it would be deleted including your order history.
Can I create an account using the same email id used in my previous deleted account?
Yeah, you can. There is no rule that you can't use your deleted email id to create a new account.