If you no longer need your best buy account, then we are here to show you how you can delete best buy account in just a few easy steps.
Whether it is because of your deceased partner or for yourself, it is necessary to get rid of accounts that are no longer in use. For deleting the best buy account or formerly known as the reward zone account, you are just one request away.
For this, you have to send a private deletion request to the Best buy customer support. This can be done in several ways. Stick to the guide to find out more.
Ways to delete your own best buy account?
Make your life simpler by getting rid of the best buy account. It can be deleted in many ways. Some of the few methods are dictated below;
Best buy official website.
Contacting via email
Best buy customer service forum
Contacting via direct call/chat.
We'll discuss each of the methods in detail;
Method-1: Delete the best buy account via the official website
Now you will redirected to Bust buy login page. Sing in to you account.
A form will appear on your screen. Fill in the details like your name, email, phone no. best buy ID, Whether you are contacting about an order or not, and the detailed summary of what you want?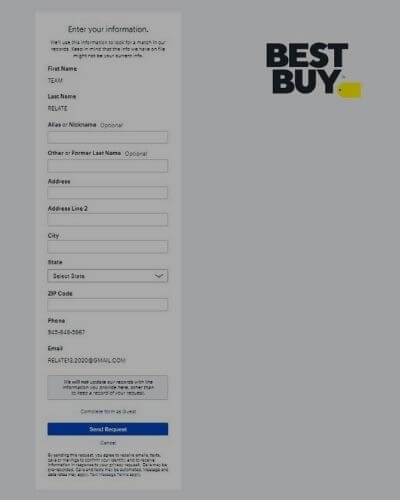 Now Click on Send Request
After this, you will receive an email confirming your request. Best Buy customer care will start the process of deleting your account. It will take almost 15-20 days to delete your Best Buy account. Till then, your account will remain inaccessible.
That's it! Your account will be gone once the process completes including your purchases and personal data.
Method-2: How to delete Best Buy account using Email?
Alternatively, you can use your registered email to delete your best buy account in case you didn't remember your login credentials. For removing your best buy account via email, walk through the given steps,
Compose an email to mybestbuy@bestbuy.com.
In the subject section, enter Request for account deletion.
And for the body part, Describe briefly the appropriate reason why you want to delete your account?
Also, don't forget to mention your name, contact no., and address registered to the account.
Once sent, you will receive a confirmation letter from the customer service department for taking your request into consideration.
Method-3: How to delete the Best Buy account using the customer service forum?
Best Buy offers a customer service forum to resolve the issues of Best buy users. You can seek help from any of the support team members and ask them to delete your account.
Once your request is considered, they will send you a private message to process further. Complete the instructions given by the customer service department and there you go.
Your best buy account will be deleted soon.
A quick tip: Remember not to mention any personal details that will affect you, if publicly accessible.
Method-4: How to delete the Best Buy account using chat or direct call?
If any of the methods didn't work, you can call or chat directly with any of the Best Buy customer care members. One of the reasons you should prefer this method is to protect your privacy.
This is hopefully the easiest and the quickest way to delete your account.
You can visit the Bust buy contact page and choose the most preferable option for you. (Chat/call).
The wrap-up
They all are the given ways you can use to delete your best buy account. If you are looking for privacy, you should opt for the last method given here.
Hope you find this article useful. Keep reading, keep growing!