Are you also looking for a way to change your Roku account on tv? Well, you have landed in a perfect place.
Roku is a popular streaming player that is compatible with almost all devices. You can customize Roku, purchase any favorite channel to include on your playlist, or remove some.
Just like any other device, Roku also needs a Roku account to start streaming the channels and shows. While it is free to create an account, you need to link any payment method with it whether you buy anything or not. This often leads to switch the Roku accounts.
Whether It is unexpected visitors or replacing old with new devices or you cease to use the Roku services. This all will require changing Roku accounts. The guide here will cover all the major aspects of how you can use the Roku account on your devices.
Is it possible to switch to a Roku account?
Although you can connect as many devices as you want with one Roku account, it is unable to connect one device with several Roku accounts. You can only use one Roku account on a device and can switch accounts between the devices.
Either you can unlink your device with the Roku account or erase all the information in the account. Both ways you can replace your existing Roku account with the new one.
There is no need to mention that you will lose all your favorite channels and preferred shows once you erase all the data from your account. Therefore, think wisely before making any decision.
how to change Roku account on your device?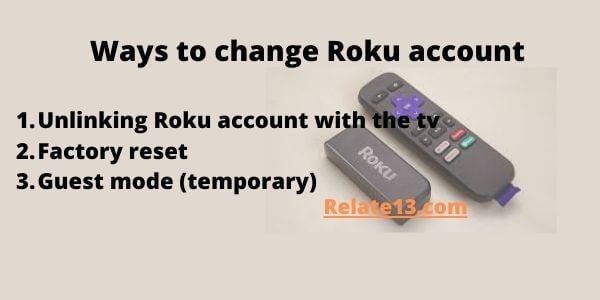 No matter what the reason for switching a Roku account, There are basically three ways you can use to change the Roku account on your tv.
Unlinking Roku account with the tv
Factory reset
Guest mode (temporary)
There is no need to worry as we have discussed each of the methods in detail. Laidback and read the full guide to know more.
How to unlink the Roku account with tv?
When you set up your Roku account on TV, you would have to complete the activation process which involves linking your account with the tv or creating a new one.
The way you link your tv with the Roku account, Similarly, you can unlink it. Unlinking the Roku account from the device will disconnect tv with that account. But you can use that account on different devices as well.
Prerequisites: A smartphone/ tablet / laptop with a stable internet connection.
The steps you can use to unlink or deregister your account with the TV are:
Log in with the Roku credentials.
Go to your 'profile' and click on the 'Linked devices' option.
All the devices that are linked to your account will catch your sight. 
Now click on the devices that you want to unlink and click on the "unlink" button.
Confirm the action and that's it. Your tv is not connected to any Roku account at the moment. 
Now set up or log in with the new credentials on your tv. 
Note: This won't affect any customization settings on your device. You can use the same account on other devices also.
How to perform a factory reset on the Roku device?
The alternate method you can use to change your Roku account is the 'Factory reset'. But this erases all the data of your account including your Roku account linked with the Tv. Walkthrough the steps to Factory reset your Roku device.
Turn on the Roku device and go to the 'Roku remote home page'.
Go to the bottom and click on 'settings'.
Choose the 'systems' tab and then 'advanced system settings.
Once clicked on advanced system settings, you will see a factory reset option. Click on factory reset and then reset all factories.
This will erase all the data in your Roku device. You can also use an alternative method to factory reset your device. This will only need your Roku device and can be completed in a snap of time.
You can see a button on your Roku device. hold it for almost 20 seconds and leave once the light blinks. This will perform a factory reset on your device and your device will change completely as it was in the initial stage.
How to use Guest mode on tv?
This feature proves quite useful when you have frequent visitors to your home. Everyone wants to see their favorite playlist of channels. In that case, you can use guest mode to change your Roku account for a specific period of time. Once the session expires, their Roku account will automatically be removed from the tv and go back to the account that was there.
To use this awesome feature, go after the below steps;
Navigate to the home screen of your TV.
Scroll down and go to the 'settings '. Click on the 'system'.
Choose the 'guest mode' and then select 'enter guest mode'.
Enter the required pin. Select and confirm.
That's it! Now you can use the separate guest account specifically for your guest. The count will automatically be removed once the session expires.
Alternatively, you can exit the mode by pressing the Roku remote start button. select to disable guest mode. Enter your pin and exit the guest mode.
Can the Roku account be deleted permanently?
Yes, it's possible. If you wish to delete your Roku account once for all, you can deactivate your account permanently. Once you delete your Roku account there is no going back. It cannot be reactivated again. Also, cancel all the subscriptions of your Roku account if you have any.
To delete / deactivate the Roku account permanently, use these steps;
Login to Roku's official website using your smartphone or laptop.
Once you log in, scroll down till the end. You will see a list of connected devices.
Unlink all the devices connected there.
You will also find a document regarding deactivating the account. Click on it and confirm the deactivation.
This will completely deactivate the Roku account and you cannot use this account on any other devices from now on.
You may also like:
Conclusion
To conclude the article, I have mentioned all the ways you can use to change the Roku account on TV. You can also deactivate your account if you don't use it.
If you are looking for an easy way you can unlink your TV with the Roku account with the aforementioned steps without any hassle.
Hope you find the article useful.