There can be a lot of reasons why you want to change Roku account on your Tv. Well don't worry in this article we will be looking at how you can easily change your Roku account on your respective TV irrespective of which brand and model you are using.
As we all know that to watch or stream Roku you need Roku account. Though there is no charge to create Roku account still you have to pay for the stre
Is it possible to switch to a Roku account?
Although you can connect as many devices as you want with one Roku account, it is unable to connect one device with several Roku accounts. You can only use one Roku account on a device and can switch accounts between the devices.
Either you can unlink your device with the Roku account or erase all the information in the account. Both ways you can replace your existing Roku account with the new one.
There is no need to mention that you will lose all your favorite channels and preferred shows once you erase all the data from your account. Therefore, think wisely before making any decision.
How to change Roku account on your device?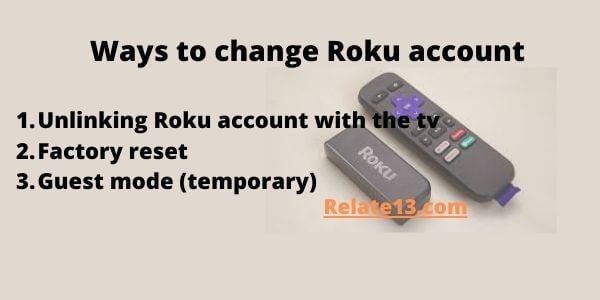 No matter what the reason for switching a Roku account, there are basically three ways to change your Roku account on your TV.
Unlink your Roku account from your TV
Factory reset
Guest mode (temporary)
Don't worry, we've covered each method in detail. For more information, relax and read our complete guide.
How to unlink the Roku account with tv?
To set up a Roku account on your TV, you'll need to complete the activation process. This includes linking your account to your TV or creating a new account.
Just like you link your TV to your Roku account, you can also unlink it. Unlinking your Roku account from your device will unlink your TV from that account. However, this account can be used on another device.
Requirements:
A smartphone/tablet/laptop with a stable internet connection.
The steps you can use to unlink or deregister your account with the TV are:
Log in with the Roku credentials.
Go to your 'profile' and click on the 'Linked devices' option.
All the devices that are linked to your account will catch your sight.
Now click on the devices that you want to unlink and click on the "unlink" button.
Please confirm the action. Your TV is not currently linked to your Roku account.
Set up your TV or log in with new access data.
Note:
This does not affect device customization settings. You can use the same account on other devices.
How to perform a factory reset on the Roku device?
Another method you can use to change your Roku account is to do a factory reset. However, this will erase all data on your account, including the Roku account linked to your TV. Follow the steps to factory reset your Roku device.
Turn on your Roku device and go to "Roku Remote Home Page".
Go all the way down and click Settings.
Select the System tab, then select Advanced system settings.
Click on Advanced system settings and you will see factory reset option. Click Factory Reset, then reset all factories.
This will erase all data on your Roku device. You can also use another method to factory reset your device. This only requires a Roku device and can be done in no time.
A button will appear on your Roku device. Hold for about 20 seconds and exit as soon as the light blinks.
This will factory reset your device and completely change your device to its original state.
How to use Guest mode on tv?
This feature is very useful if you have frequent visitors at your home. Everyone wants to see their channel's favorite playlist. In that case, you can use guest mode to change your Roku account for a period of time.
When your session expires, your Roku account will automatically be removed from your TV, and you will be returned to your original account.
the mode by pressing the Roku remote start button. select to disable guest mode. Enter your pin and exit the guest mode.
To use this great feature, follow these steps:
Go to your TV home screen.
Scroll down and go to Settings. Click System.
Select "Guest Mode" and select "Enter Guest Mode".
Enter the required PIN. Select and confirm.
That's it! Now you can use a separate guest account just for guests. The count is automatically deleted when the session expires.
Alternatively, you can press the Roku remote to exit the mode
Can the Roku account be deleted permanently?
Yes. It is possible. If you want to permanently delete your Roku account, you can permanently deactivate your account.
Once you delete your Roku account, there is no going back. It cannot be reactivated. Also, cancel any subscriptions on your Roku account. Alternatively, you can press the Roku remote to exit the mode
To delete / deactivate the Roku account permanently, use these steps.
Login to Roku's official website using your smartphone or laptop.
Once you log in, scroll down till the end. You will see a list of connected devices.
Unlink all the devices connected there.
You will also find a document regarding deactivating the account. Click on it and confirm the deactivation.
This will completely deactivate the Roku account and you cannot use this account on any other devices from now on.
You may also like:
FAQs
Can I change my email in the Guest mode?
Yes, you can if you have turned on the Guest mode on Roku you can login to other email. But do remember once you have logged out or disable the Guest mode on Roku. Chances are that your email that you have used would also logged out.
I forgot my password on Roku. What to do now?
Don't worry just click on the forgot password and you would be able to generate new password with the help of your registered email address.
Conclusion
At the end of the article, we have covered all the methods you can use to change your Roku account on your TV. You can also deactivate your account when you are not using it.
If you're looking for an easier way, you can easily unlink your TV from your Roku account with the steps above.
I hope you found this article useful. If you have any unanswered questions, feel to reach out I down below.
Until then, keep reading to know more.