The feeling of helplessness and loss when you lose something precious and you don't know how to recover or get back your precious thing?. It is the same as you might feel when you don't remember your Snapchat password or user id.
It is very frustrating when you are unable to login back to your Snapchat account or any other account. You are left with two options, either to restore your account or to give up your account forever and make a new one. I bet you don't want to choose the latter one, especially if you have hundreds of streaks with your friends.
In this article we are going to discuss how you can recover your snapchat account in a few steps. Follow this guide and quickly recover your Snapchat account to start the fun again;
Steps to follow to recover your Snapchat account.
To recover the Snapchat account, first, you have to understand the origin of the problem. There are three scenarios in which you might have to recover your snapchat account.
1. First one and the most common one is when you forget your password.
2. Second one when you forget your username which most of us do,
3. And the last one which rarely happens is when your account is hacked by someone and you are kicked out from that account.
Once you have identified your problem this will solve half of your problem then accordingly you can take steps.
Do not freed, we will be mentioning all the solutions for all the three scenarios. So without further due let us get started.
Scenario-1: How to recover your Snapchat account in case if you have forget your password
If you are someone who tends to forget a lot and your password and username are one of the things which you most often forget. Then do not worry, just follow these steps and you are good to go.
Follow these steps so you can recover your account by resetting the password.
1. Open your Snapchat app on your smartphone and click on the login option. Fill in the required details like your username or email in the given blank.
Do not fill the password section. Leave it as it is. Once you are done click on the option called forget password which is given right under the password box. (As mentioned below)
2. Your screen will now display "please select, how you want to reset your password?" You will have two options which you can opt from. First one is you can recover you password from email or second one is via Phone number (OTP).
Through this two you can recover you lost password quickly. In this we will show you both ways how you can recover you password.
Recover your password via Email
If you have opt for this option the following steps you need to follow to recover you password.
1. Once you have selected the email option this will directly direct you through next page in which you have to put your email address in which you have register. Fill in you email id and once you are done.
Step-2: You will receive a recovery password on your email from Snapchat. This email will contain the link to reset your password, tap on the link and enter a new secure password. Now you are ready to use you snapchat again.
Recover your password via phone number
If you have opt for phone number option then you will have to follow these steps:
Step-1: Enter your mobile number and click on the continue button.
2. Once you have hit enter, You will be asked how you want to verify your phone number either via message or call.
3. You can choose which ever option is convenient for you. If you choose SMS you will get OTP via SMS ( it is easier). Otherwise, you can also use the call option, you will get call from snapchat service and they will tell you the OTP passcode.
4. Enter the OTP provided to you and proceed to reset your password. Now you are ready to use you snapchat again.
Scenario-2: Recover Snapchat account in case you forget both username and password.
If you forget the username or email you use to log in with your Snapchat account. Try the options below;
1. Make a list of all the valid emails you use to open your Snapchat account on your phone and log in.
2. Enter your email and tap the forget password option right under the password box.
3. It will ask you how you want to reset your password. On the next page enter your email address and click the submit button.
4. If your email address is valid then it will proceed with the process otherwise, it will give you an error regarding email address is invalid
5. Keep trying different email addresses until you get the right one to proceed with.
Scenario-3: How to recover in case your Snapchat account is hacked or stolen.
If you think your Snapchat account has been hacked or someone has stolen it. This might be a little difficult to recover and this also depends on whether the hackers made changes to your account or not. like your password.
Suppose you are already logged in to your account then the easiest thing will be changing the password instantly.
Just in case you are logged out, Directly login in and check if the hacker has change your password or not. And if not , Contact Snapchat support help immediately. They will give you an account recovery form, fill it and cross your fingers. Hope you might be able to recover.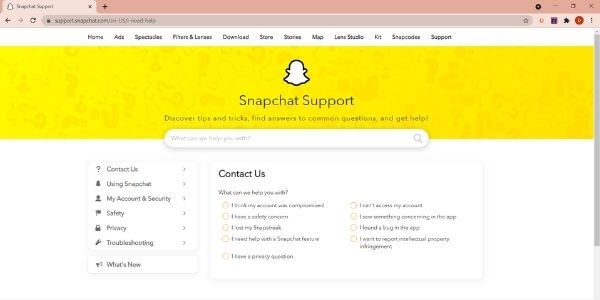 What if I do not have access to my Email or phone number that have used for my Snapchat account?
Well, If you don't have access to you email anymore then we won't help you to restore your account. There are only two way in that case if you want to recover your snapchat account:
1. Try to access your email by resetting your email pasword.
2. Contact Snapchat support for help. (But i'm not sure if they will help you or not without you registered email or phone) But atleast you can give it a try.
How to secure your Snapchat account
It's quite possible to get your account hacked. To deal with this problem Snapchat offers you with its high-security options that you can use to secure your account to the best.
Most Snapchat users do not complete their profile and they don't know how to play with securing options. You secure your Snapchat account by performing the following options;
1. Enable two-factor authentication
Under Snapchat settings, you will see a option called two-factor authentication tab. It's always wise to use two-factor authentication as it will decrease the chances of your account being hacked.
If in case you have opt for this option then when ever you try to login to you snapchat account the app will requests you to fill one time code every time you log in.
2. Update your email id and number
Creating a Snapchat account is easy, but you also need to update your email id and phone number to keep updated with your Snapchat account.
While opening the account, just enter the name, birthday, phone number, and details and it will automatically create a Snapchat account. Some may also use the fake ids but once your ID is hacked you can't use the fake email address to recover it.
So, make sure your email id and phone number are well updated and verified. If you are not sure, go to the app and setting tab and see if you have done it or not.
3. Use strong passwords
Well, this is a general tip but not many people follow it. You should always create a strong password using a password having a combination of different special characters, alphabets, and numbers.
This will make it difficult for the hackers to hack your ID otherwise if you use a short and random password the breacher will take no time to enter your account and change it manually.
You can also use third-party apps to set strong passwords.
You may also like:
Final thoughts
I hope after reading this article you were able to recover your Snapchat account successfully. If there is anything you are unable to understand then mention it in the comment section below.
Make sure to use the settings feature to secure your account. Because Snapchat is will known for its security reasons, Make sure to utilize it fully!