Snapchat is fun when we converse, post stories, make streaks, and suddenly one day you are logged out. Now you are unable to log in again. I know it's frustrating and painful when we lose our Snapchat account either by forgetting the password, username or when someone else hacked it.
Never mind, No one can steal your account until you let them do it. Follow this guide and quickly recover your Snapchat account to start the fun again;
Procedure to get back your Snapchat account
To recover the Snapchat account, first, you have to understand the origin of the problem. You have lost it, you have been hacked, or logged out from the account automatically.
This will solve half the problem when you understand the problem.
Do you have your password? Or do you have your username or did you forget it? Do you have a recovery ID? All these things matter while recovering the Snapchat account.
How to recover your Snapchat account when you forget the password
If you know the username of Snapchat but don't know the password to log in. Do follow the steps and you can recover your account by resetting the password.
 Go to the Snapchat app on your smartphone and tap on login. Fill in the username or email in the given blank. Leave the password, and Tab on the forget your password option right under the password box.
 A screen will pop up asking, "please choose how you want to reset your password?" there will be options regarding your mail or phone number for recovering. We'll show you via both methods.
Email 
Choose the option email.
While going to the next page enter your email address and click the submit button, if you wish to use your email.
You will receive a recovery password email from Snapchat. This email contains the link to reset your password, tap on the link and enter a new secure password.
Recover using the phone number
After completing step 1 you will be asked to choose, how you want to reset the password?
This time you can use your phone number,
Enter your mobile number and tap on the continue button.
Choose how you want your phone number to be verified either via the message or call option.
You can use either option. If you choose SMS you will get OTP with SMS ( it is easier). Otherwise, you can also use the call option, they will call you and tell you the OTP passcode.
Enter the OTP provided to you and proceed to reset your password.
Recover Snapchat account if both username and password are missing
If you forget the username or email you use to log in with your Snapchat account. Try the options below;
Make a list of all the valid emails you use to open the Snapchat app on your phone and log in.
Enter your email and tap the forget password option right under the password box.
It will ask you how you want to reset your password. On the next page enter your email address and click the submit button.
If your email address is valid then it will proceed with the process otherwise, it will give you an error regarding email address is invalid 
Keep trying different email addresses until you get the right one to proceed with.
How to recover a stolen or hacked Snapchat account
If you think your Snapchat account has been hacked or someone has stolen it. It might be a little difficult and it depends on whether the hackers made changes to your account or not.
Suppose you are already logged in to your account then the easiest thing will be changing the password instantly.
Just in case you are logged out, login in and check if the hacker does not change the password. If this is so, Contact Snapchat support help immediately. They will give you an account recovery form, fill it and cross your fingers.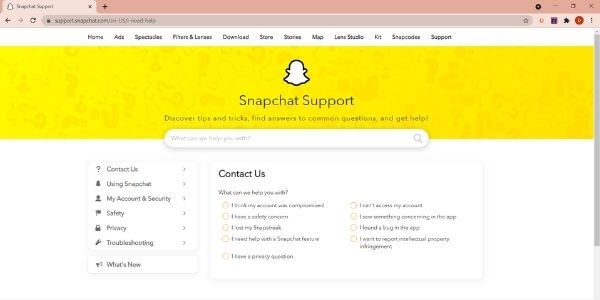 How to secure your Snapchat account
It's quite possible to get your account hacked but Snapchat allows you high-security options that you can use to secure your account to the best.
Most Snapchat users do not complete your profile and don't know how to play with securing options. You secure your Snapchat account by performing the following options;
Enable two-factor authentication
Under Snapchat settings, you will see a two-factor authentication tab. It's always wise to use two-factor authentication as it will decrease the chances of being hacked. Also, In the future, the app requests you one time code every time you log in.
Update your email id and number
Creating a Snapchat account is easy, but you also need to update your email id and phone number to keep updated with your Snapchat account.
While opening the account, just enter the name, birthday, phone number, and details and it will automatically create a Snapchat account. Some may also use the fake ones but once your ID is hacked you can't use the fake email address to recover it.
So, make sure your email id and phone number are well updated and verified. If you are not sure, go to the app and setting tab and see if you have done it or not.
Use strong passwords
Well, this is a general tip but not many people follow it. You should always create a strong password using a password having a combination of different special characters, alphabets, and numbers. It will make it difficult for the hackers to hack your ID otherwise if you use a short and random password The Breacher will take no time to enter your account and change it manually.
You can also use third-party apps to set strong passwords.
The final words
I hope after reading this article you have recovered your Snapchat account successfully. If there is anything you won't understand or find difficult, mention it in the comment section below. Use the settings feature to secure your account.
Snapchat is known for its security reasons, Make sure to utilize it fully!