By the start of the year 2022 Windows 11 has been able to reach to 190 countries and using Windows 11 version is much better and much flexible in terms of productivity. One of such features of Windows 11 is Zip files. In today's article we will be looking at how you can unzip a zipped file easily in your respective computer (Windows 11).
Zipping a file on Windows 11 means compressing the huge data into the smaller format. This way you would be able to save a ton of storage by compressing the larger version. And to zip a file it can be zipped into any format irrespective of which format you are going to use.
Plus, they are easily accessible to you and time saving. All you need to do is whether your computer has been upgraded to windows 11 and if it does then straightaway you can implement this.
So, what are you waiting for if you want to know how you can send 10 or more then 15 files together without manually adding then to your email then read more to know more!!
Without waiting much let us move on to our next part of the segment.
How to Unzip a File in Windows 11?
Windows has a built-in ability to compress and decompress files, so you don't need to download or install any third-party apps or software to access this functionality.
To unzip a compressed file or folder, follow the given instructions. First, browse to the compressed folder in file explorer where you unzip/extract the file or folder and specify –
1. Extract All –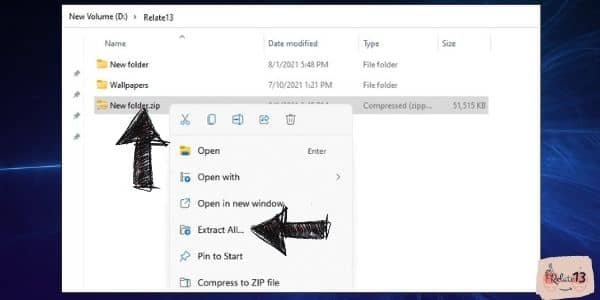 Press and hold or right-click the folder.
Click on Extract All.
Or alternatively, you can just select the folder and look in command bar.
In command bar, you will find the option – Extract All, click on it.
Now, select the destination path where you want to extract the zip content.
By default, the destination of the zipped folder is the same as zipped file path, but you can change the destination path.
Fill the checkbox below "show extracted files when complete".
Now click the Extract button that appears at the bottom right corner.
2. Extract Selected –
To unzip only selected or a single file out of the zip folder –
Open the zipped folder by double clicking it or right click>open.
Copy the selected files and then paste them to a desired location.
Or drag the file or folder from the zip folder to a desired location.
And that's it!! You've successfully unzipped/extracted the files or folders from a zipped format.
How to Create/Compress a Zip File?
Compressing any folder as a zip file is just as simple as unzipping them, but for you, I have written the steps in detail here –
First Method
To create a zip file, first, browse all the files you want to add in ZIP format in file explorer/manager.
Drag the cursor over the file and double click or right-click on the file.
A drop-down menu appears.
Select the Compress to ZIP file.
A new file with the same name appears in the exact same place. (Rename it if you want.)
Second Method
You can also create a zip file by right-clicking in the blank area on your desktop/desired location.
And then click on new.
Click on the compressed (zipped) folder.
You will notice a new zipped folder appears on the desktop.
Now, the zip file is created, select and drag your files into the same folder.
Third Method
You need to select the files you want to compress.
select the files at once>Right click>Send to>compressed (zipped) folder.
Keep a note that all the files being selected are copied into the zipped folder.
There are many ways to perform this simple task like you can create a folder and then copy files in that folder. Or you can select all the files first and then create a folder. Either way, it's easy to create a zip folder on the device.
With zipping files, you can use it as a backup file and just extract zip files when you need to use them. Moreover, I would like to share that an empty folder cannot be compressed.
You May Also Read:
Final Words
Compressing and decompressing files in Windows 11 is bread and butter. However, if you are a beginner, it is okay to take your time. Compressing and decompressing files is the most useful tool because compressing files saves disk space and also saves time.
Well, I mentioned the step-by-step process of extracting files from zip format.
But if you have any doubts or questions, feel free to ask them in the comments section. Good luck with your studies!
FAQs
Can I zip my images?
Yes, very easily. Just follow the normal steps like how you zip your other files. Go to files> Double clicks that image> select compress. This way you can effortlessly zip any file or images.
Is there any third-party app to unzip a file in windows 11?
You can use 7-Zip, PeaZip, Zipware , CAM UnZip, and Unarchiver.
If I zip my images will the picture quality be deteriorated?
No, the quality image would remain same. Just your storage data would be compressed.