Avast is a popular antivirus software that provides protection against various malware and viruses. Although Chromebooks are known for their security features, adding an extra layer of protection is always a good idea. Avast offers its services for Chromebooks, and this article will guide you on how to install and use it on your Chromebook.
Installing Avast on your Chromebook is a straightforward process. Chrome OS has its own antivirus security but it's better to be careful so you'll have to go for extra protection from malware. However, as Chromebooks run on Chrome OS, which is a different operating system from Windows or macOS, the installation process might differ.
On the other hand, Avast is the well-known antivirus in the market with millions of satisfied users. Once installed, you can use Avast to scan your Chromebook for any malware or viruses that might have found their way onto your device. Avast offers features such as real-time protection, a web shield, and a virus scan that will help protect your Chromebook from various threats.
In this article, we will provide step-by-step instructions on how to download and install Avast on your Chromebook.
What are the Features of Avast Online Security?
There are very helpful features of Avast Online Security that you need to know.
It has over 435 million users worldwide.
Identifies every type of threat.
Providing services for more than 30 years.
Top quality antivirus.
It is very easy to install and use.
Provides security to your Wi-Fi network.
It protects your device from malware attacks.
Provides 6-layer security to your device.
Also available in a free version.
Pricing:
Free Antivirus: $0
Premium Security: $4.19/month for 1 PC and $5.79/month for 10 devices.
Ultimate: $69.99/year for 1 PC and $79.99/year for 10 devices.
Avast One: $4.19/month for individuals and $5.79/month for family
How to install Avast for Chromebook?
If you are going for Avast for your Chromebook OS, you can download Avast easily on the Chromebook via two methods one of them is downloading it from the Google Play Store.
1. Download Avast antivirus from Google Play Store on Chromebook
Prior to using this step ensures that your Chromebook has the most updated version of the OS. In the older versions, Google Play Store is not available and hence you cannot download it using Google Play Store. But don't worry, you can download it through the next method given further.
For downloading using Google Play Store, follow the directions to accomplish the task;
1. Go to the Google Play Store on your Chromebook and open it through the launcher.
2. On the top search bar enter Avast antivirus for Chromebook, it will show you different results related to it.
3. Click on the Avast for Chromebook software which will look original. It will directly take you to the official page of Avast antivirus software
4. Find the install button and click on it.
5. Now, Antivirus will start installing on your Chromebook. Once finished, you can click on open.
6. After opening it will ask you to set up your account by signing in. If you are already a user of Avast for Chromebook, then fill in the given credentials and log in to your account.
You have successfully downloaded Avast for Chromebook. If you are facing some difficulty while installing it through Google Play Store, then you can skip it and move towards the next method.
2. Install Avast antivirus using the Chrome extension
Even if you don't have Google Play Store you can download it through Chrome extensions.
You will be able to get an anti-virus application installed on your Chromebook in the form of Chrome extensions. It is easily available in the Google Web Store.
To accomplish this task follow the given direction
You should launch the Chrome web store on the Chrome operating system.
Head over to the left pane and Tap on the option apps and extensions
Locate Avast antivirus using the search bar
After finding click on the button on the right to add it to Chrome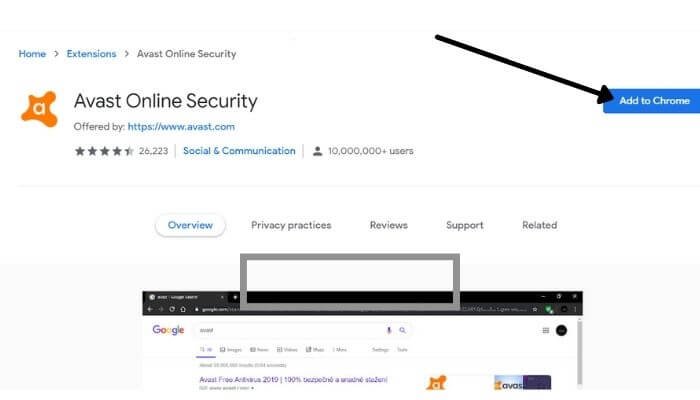 How to use Avast for Chromebook?
Once you've finished installing it, Launch the Avast for Chromebook application either through the extension or via the installed app.
On the first window itself, it will greet you with some permissions prompters asking for accessing the files and everything.
After allowing the permissions, proceed further with the scan now button.
It will now check the applications and see whether Avast needs an update before scanning. If so, the First update, and then it will scan all the files and folders regressively and check for the virus and malware in your Chromebook.
It also provides a premium version of the app if you want to enhance the security of your files, and an ad-free interface blocking your sight, a VPN for privacy. The Premium version performs extensively with a slew of novelties.
If you are not accustomed to the premium version you can also use the free version. It offers a bunch of other things which you can do with Avast on your Chromebook.
It boosts RAM which is very necessary for your device's performance and speed. It also cleans junk files that may be utilizing your system memory.
Whenever you are in a public place and connected to a public Wi-Fi, scanning your Wi-Fi connection is also important, so it does for you.
Besides this, it also offers a feature called photo V for our pictures and confidential images full stop for grade 8 security and maximum protection from Malware attacks the contents of the photo vault will not be compromised.
What do we suggest about Avast Antivirus?
Internet safety is something very important nowadays. When you use the Chrome web store version of Avast antivirus, it won't extend your security fee. It will stay confined to the extremities of the Chrome browser. Whenever you visit any site or if there are any cookies using the site you will be notified immediately.
The phishing scams and the malicious content of third-party suspicious websites all are protected using the application version.
But if you are looking for something that keeps your whole operating system safe, then we suggest only the play store version as the Avast browser extension to use. It will sometimes deny malicious content.
Conclusion
Indeed Chromebook is a secure operating system but sometimes we need some extra and Avast gives you that extra protection that is necessary for your device.
You can put your worries to rest with top-notch antivirus software like Avast. Avast comes in both extension and application versions and protects your Chromebook from malware attacks and also protects the whole operating version.
I hope now you know how can you download and install Avast on your Chromebook. If you still have doubts then let us know.
Frequently Asked Questions
Which is the best antivirus software for Chromebook?
There are lots of Antivirus software available like Norton, Avast, Kaspersky, etc, but Avast antivirus is the best among all of them.
How much money do I need to pay to use Avast Antivirus for 1 PC?
There is also a free version available of Avast antivirus. But if you want better security for your Chromebook then you can choose Premium Security or Ultimate plan which costs $4.19/month and $69.99/year respectively.
I am using a Chromebook, so can it be hacked?
It is not possible because Chromebook is a Google Product that comes with high security of the operating system.