Preferring Best buy over others for electronic items can be quite useful for you if you are a high school or university student. Best buy student discount deals will offer you savings on almost every item. Also It will save you a bundle on most of your electronic items for the current as well as for next year.
Whether you want a PC for your assignments or a smartwatch for music or to keep you healthy, Best buy deals with all. If you are thinking about what more it can save for you, I would say $100 for laptops or utmost 10% off on almost every product. Isn't that what you want, right?
So, without beating around the bush, I will tell you everything you need to know about Best buy student discount deals.
Eligibility criteria to get best buy student discount
First thing first, you are eligible to get the best buy student discounts as long as you are a student whether it is a high school, college, university, or trade school.
Students of all ages from grade school to trade school are eligible to outfit themselves with Best buy tech gadgets. Moreover, it is available for educators and parents for an enrolled student too.
You are required to have an email id with your respective education institution or an enrolled number can do the work too. They will verify your email ID further and you are good to go.
How to redeem Best buy student discount
As mentioned earlier All students of all ages are qualified for the student-only deals, all you have to do to get them is to sign up. To redeem Best buy discount deals, firstly you have to confirm your eligibility by either email ID or an enrollment number. To do this,
Step-1: Go to the student hub section on the Best Buy website.
Step-2: Sign up with the necessary details like your name, email address, etc.
Step-3: Once you click on continue a window appears regarding student deals.
Step-4: Now, all you have to do is sign up for student deals.
Step-5: Fill in your institution details and your projected year of graduation, your birth date, and your mobile number to continue.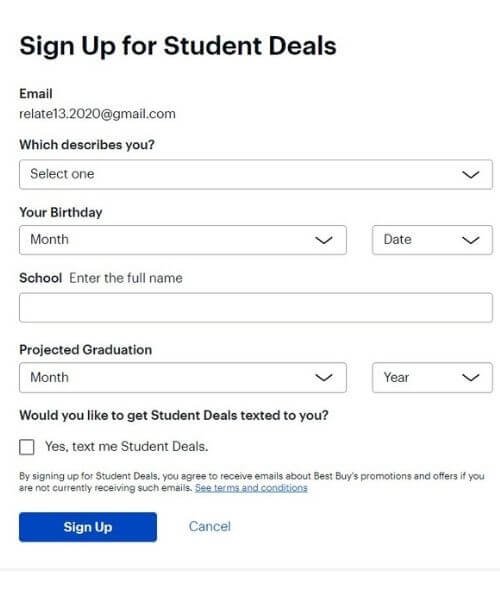 Keep in mind, you can only redeem the coupon once and without any other gift card or discount. Best buy lets the user use only one discount at a time and you can claim a student discount only via the student Hub section.
Additionally, student discount deals tend to close quickly so check for regular updates to take advantage of the best student discounts.
Frequently asked questions
1. When and where can I redeem the offers?
The first will be available immediately once you sign up for the student deals hamster you can use the coupon code you will get in any U.S. or Puerto Rico best Best Buy stores.
Use the redeem codes or promotional codes under the payment method area at the time of checkout at bestbuy.com.
Also, if you are shopping directly from the website, once you add the item to the cart, if the student deals are available, use the coupon codes to redeem the discount.
2. Are you allowed to share student discounts with other users?
Unfortunately no, Best buy doesn't allow you to share student discount deals in any way. You can only claim the offer once with your one email ID. If They are existing members or parents, they can redeem the offers with their own account.
You may also like:
The wrap-up
Best Buy Student deals for everyone means you can find great student discounts throughout every stage of education. Go and check out some amazing student discount deals and make your school or college life much easier and more advanced.
Keep reading, keep growing!