A Google Business Profile (GBP) is a free listing that businesses can create to appear on Google Search and Maps. It includes information about your business, such as your name, address, phone number, hours of operation, website, and photos.
GBP can help people find your business when they're searching for businesses like yours in Google Maps or Search.
Are you a business owner looking to connect with more people and draw in new clients? In this article, we will fully explain how to create a Google My Business profile and how it can help your company succeed in the modern online environment.
Why do I need to Sign Up for Google Business Profile?
Almost half your exposure comes from Google business. By opening up, your account people would be able to view your business on Google Maps. Also, the basic information like your company data available on Google, makes it easier for clients as well as customers to find your business and let them know what your business is all about.
There are many benefits to having a Google Business Profile, including:
Help people find your business when they're searching for businesses like yours in Google Maps or Search.
Increase the visibility of your business online.
Get more reviews from your customers.
Connect with potential customers.
Promote your business events and offers.
Get insights into how people are finding your business.
Google Business plays a significant role in exposure for your respective business.
Below are some of the reasons why you should be creating a Google business account.
1. Exposure
With the help of Google Business, you get to know how well your business is going by using various tools.
With tracking campaigns and tracking ok your daily calls from Google everything can be tracked by Google Business.
2. Data Tracking Is Much Easier
With the help of Google, My Business Folk now has access to your business on Google Maps and Search.
And they can learn more about things like your working hours, website, and street address.
3. Customer interaction
Customer reviews are available for you to read and comment on.
Nowadays people tend to look up people's reviews on whether the business is good or not.
Who can create a Google Business Profile?
Any business that makes in-person contact with customers during specific hours can create a Google Business Profile. This includes businesses with a physical storefront, as well as businesses that deliver or provide services to customers' homes or businesses.
We will be covering the basics of Google My Business first, including what it is, why it's important for all types of businesses, and how to set up your own profile. Also, we'll give you a few helpful tips and insider information that will enable you to optimize your profile and expand your online visibility.
Then let's move forward!
How To Create A Business Profile On Google?
So far we have looked at why Google My Business is important and why you should have your own Google Business account.
Once you have contemplated whether you should open your Google business account.
Follow these steps to open up your account easily.
Don't miss your boat, hop on it before it's too late!!
1. Firstly, Open google.com/business
You can directly use the official site of Google Business or you can go with their app.
Choose the one at your convenience.
2. Login or create a Google account
You can use your existing Google account for this or either you can create a new one.
3. Next, Type in the name of your company
The next step is naturally typing in your business name.
Make sure you are typing the correct business name. Do not misspell the words because that would be how they would be displayed for people to see.
4. Fill up your company's address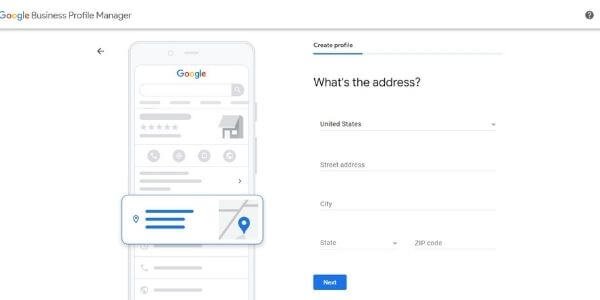 Typing in your business address, where your business is located.
If you are providing catering services type in your shop address. If you are someone who would be providing photography or painting materials then type in your studio address.
5. Choose whether you want to be a retailer or a service provider.
Mention whether you are a service provider or retailer.
Then mention your city code, city name, miles, location, and at which cities and hours you provide your services.
6. Then, Select your primary business category.
This is very crucial to make sure that you have not misinterpreted your services.
Be clear and concise about what you are or will be providing to folk.
Because the basis of the services you provide will appear according to that.
7. Include your phone number as well as a link to your website.
Once you are done will the above steps, mention or fill in your phone number and official website if you have any.
So that in the future people can directly search or go to your official website to see what your business is about.
8. Make sure your local listing is accurate
This is something that Google will verify after all of your procedures.
Once Google has verified all your listings and documents are ok. Then you would have access to maps and other Google business services.
9. Complete the information on your Google Business Profile listing.
Once you are done, Go to Google Maps and find your distinct Business Page, then click the "Claim this business" or "Own this business?" link right on the profile and look at your completed Google My Business profile right in front of you.
Bonus Tip!
Remember that a Google My Business Account does not establish a Business Profile for you; it only grants you access to it and the ability to expand it.
As a result, ensure that you have access to an existing Business Profile.
Also, keep in mind that registering a Google My Business account does not get you access to your Business Profile automatically.
Some other useful tips and tricks include:
Completing your Google My Business profile in full will provide potential customers with all the necessary information about your business.
Adding high-quality photos of your business can help give potential customers a better idea of what your business offers and increase their interest in your services.
Encouraging customers to leave reviews on your Google My Business page can increase your visibility on Google and attract new customers to your business.
Using Google Posts allows you to share updates, promotions, and news about your business directly on your Google My Business page, which can keep your profile up-to-date and engage your audience.
Monitoring your Google My Business insights can help you understand how customers are interacting with your business online and identify areas for improvement to increase your online presence.
You may also like:
Final Thoughts
Google My Business is one of the best ways in which you can expand your networks just by sitting in your respective shops you would be able to get new customers.
In this article, we have explained why and how you can open your Google Business account.
And if you still have any doubts reach out in the comment section will be happy to assist you.