Have you ever considered that Google might do more than merely give information that you've searched for? Because it can now. According to a poll, Google is used by more than 80% of businesses to locate potential customers. If you wish to join them, create a Google Business profile and sign up for Google My Business.
Google Business Profile is a simple tool that allows companies and organizations to manage their online presence throughout Google, including Search and Maps. You can check and change your company information to make it easier for clients to find your business and to tell them your narrative.
Basically, it makes your business appear on google listings and makes people aware of the business. If you've never used Google My Business it's a simple way to tell Google about your business. You can set up or claim your business, upload photos, and respond to customer reviews.
Nowadays, maintaining a Business profile is as important as sales in any business. Therefore before creating a new Google Business profile, let us deeply understand what a Google Business profile is. Why do we need it?
What is Google my Business profile?
Google My Business is a tool that helps you to manage and improve your Google Business Profile. As you know Google Business profile is mandatory for business owners to create, you also must know that Google refers to your Google company listing as your Business Profile. Google Maps and Google Search's local results both include Business Profiles.
The SERP will display as much information about a location as it can find based on a brand name or the searcher's intent, but it is up to companies to optimize and maintain their profiles.
Why do you need to create/sign up a Business profile on Google?
Google listings play a vital role in any business growth for a no. of reasons. A few of them are described below in the article.
1. Recognize and expand your presence
Learn how clients look for your business and where they come from by gathering data. In Search and Maps, you can also find out how often people call your business straight from the phone number listed on local search results. You may develop and track the performance of Smart campaigns to spread the word about what you have to offer.
2. Keep track of your data.
Google My business is a tool that Manages the information that Google consumers find when they look up your company or the products and services you provide. People can access information about your business on Google Maps and Search, such as your hours, website, and street address.
3. Customer interaction
Customer reviews are available for you to read and comment on. Post pictures of your work. Businesses with photographs in their Business Profiles get more inquiries for directions on Google Maps and more clicks through to their websites than those without.
How to create a Business profile on Google?
Now that you are aware of what Google Business Profile is and its importance, let's not drag it further and quickly move on to the steps to sign up for google my business. Walkthrough the steps mentioned and create your Google business profile now.
1. Firstly, head over to google.com/business.
Google my business is generally operated through the app. But, if you are not interested in downloading any app, you can directly head over to the website.
2. Login or create a google account
Google accounts are used in many services. Login with your existing google business account or create a new one to proceed further.
3. Type in the name of your company.
While entering the business name, Make sure your name is spelled correctly and has correct punctuation. You do not want to make a bad first impression on a customer.
4. Fill up your company's address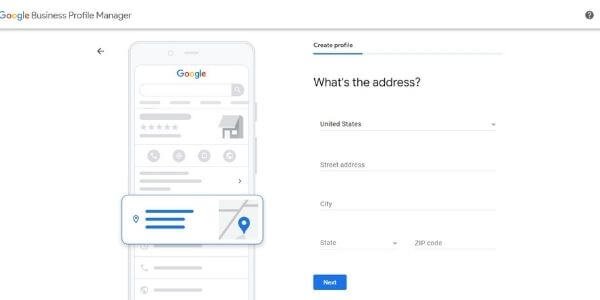 This is the screen where you'll enter your company's address so Google can verify its existence. This cannot be a Postal Annex or UPS Store mailbox or a post office box. In addition, each dwelling is limited to one enterprise only.
5. Choose whether you want to be a retailer or a service provider.
You can choose a mile radius around your business, a specific city or state, or a group of zip codes, depending on whether you want customers to visit your store or if you work from home or prefer your customers don't visit your office.
You can also choose a mile radius around your business, a specific city or state, or a group of zip codes.
6. Select your primary business category.
It's critical to choose your primary category because it determines where and when you'll appear in Google searches. Remember Google prioritizes relevance, if your business profile represents the same thing that the customer searched for, your business profile stands a much better chance of being found.
7. Include your phone number as well as a link to your website.
Google Business Profile tracks both phone calls and website clicks, so make sure your information is up to date. Moreover, this will increase your chances of creating a potential customer into a new one.
8. Make sure your local listing is accurate
You must validate your business listing, according to Google, in order to manage your information in Search, Maps, and other Google properties. The verification process ensures that Google has accurate information about your business and that only you, the owner or manager, have access to it.
9. Complete the information on your Google Business Profile listing.
Once you are done, Go to Google Maps and find your distinct Business Page, then click the "Claim this business" or "Own this business?" link right on the profile and look at your completed google my business profile right in front of you.
A quick tip: Remember that a Google My Business Account does not establish a Business Profile for you; it only grants you access to it and the ability to expand it. As a result, ensure that you have access to an existing Business Profile.
Also, keep in mind that registering a Google My Business account does not get you access to your Business Profile automatically.
You may also like:
In sum
Google my Business profile is a great way to increase your customer base. In this modern time, if you are still thinking that you will get more customers just by sitting then you are in the imagination, my friend.
Hope you'll add your business to your google business profile and optimize it.