If you're no longer interested in Fubo TV and want to cancel your subscription, you're in the right place. Canceling your Fubo TV subscription is a straightforward process, and this article will guide you through the steps.
In this guide, I will walk you through the simple and easy steps explaining each step in detail so you can easily cancel your Fobo TV subscription.
How to Cancel Fubo TV Subscription
1. To cancel your Fubo TV subscription through the official website:
Open the website Fubo. tv
Log in with your login credentials.
Go to your profile.
Select My Account.
Select Subscription and Billing on the left-hand side.
Select Cancel Subscription.
Select your reason for leaving or canceling.
Click continue.
Now, select Continue to cancel.
You will see a confirmation page on the screen, and get confirmation mail of your cancellation.
2. Cancel your Fubo TV subscription on iOS or Android
On Android:
This is the easiest way to cancel the subscription to Fubo TV.
1. Open your Google Play Store app.
2. Go to the Payment and Subscription option.
3. Go to the Subscription tab and select Fubo TV.
4. Tap on Cancel Subscription.
5. Your subscription is now canceled.
On iOS:
1. Open your settings with the gear icon.
2. Click on your profile, it will take you to your Apple ID setting.
3. Tap on subscriptions to view all the subscriptions.
4. Find your Fubo TV.
5. Click Cancel Subscription and click Confirm.
6. A confirmation page will show as your subscription has been canceled.
How to cancel a Fubo TV subscription on a Roku TV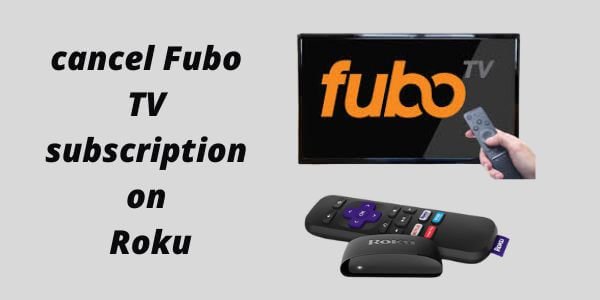 To cancel the subscription to Roku TV, highlight the Fubo TV app and press the star (*) button on your Roku TV remote. After then select Manage Subscription > cancel the subscription.
Connect your Roku TV with good internet speed.
Press the home button on your Roku TV remote.
Highlight your Fubo TV app, but don't click it.
Press the start button on your remote.
Select Manage Subscription from the following options.
Click Cancel subscription.
Click Cancel subscription one more time but don't press Ok.
Click Done.
You will get a confirmation message from Fubo TV.
How to cancel a Fubo TV subscription on Apple TV
Go to settings, then Users, and then Accounts; the last is Manage Subscription. Tap on the Fubo TV app and Cancel your Subscription.
Press the home button on your Apple TV remote.
Go to the Setting menu.
Select Users and Account and select your particular account on the top.
Click on the Subscription button.
Click Manage subscription.
Find Fubo TV and click it.
At the bottom part of the screen, you will see the Cancel Subscription option.
Click confirm.
How to cancel a Fubo TV subscription on Roku's website
Just go to my.roku.com then log into your account with your login credentials and go to My Account settings > Manage Subscription.
Go to my.roku.com
Sign in to your account.
Take your cursor on your avatar icon, don't click it.
A pop-up menu will show up, click on My Account.
There is a button to Manage your Subscriptions under the section Manage Account.
Click the unsubscribe button next to the Fubu logo.
Click confirm.
If your subscription is canceled, the button beside Fubo TV will become Renew.
You may also like:
Conclusion
In conclusion, canceling your Fubo TV subscription can be done in very simple steps and a straightforward process. Just follow the steps that we have provided in this guide. It is important to keep in mind that canceling your subscription does not delete your account.
If you cancel your subscription from Apple, Google, and Roku, you can still use your account until the end of the billing cycle. But if you cancel your subscription from the official website, you won't be able to use it anymore.
FAQ's
Is Fubo TV free on Fire TV?
No, it is not free on the Amazon Fire TV stick. You need to take a membership for Fubo TV like Netflix, and Disney Plus to view its content.
Which is better: Hulu or Fubo TV?
It depends on you what you want to watch, if you are a sports lover then FuboTV is best. Fubo TV provides a wide range of sports, National, international, and local sports channels. Hulu TV is better for movie lovers.
What channels are missing on Fubo TV?
There are 6 channels that are no longer available on Fubo TV.
A&E
History Channel
Lifetime
FYI Channel
Vice
Lifetime Movie Network
Can I share my Fubo TV account?
Fubo TV English package plans can share, it allows you to stream from three devices at a time. Only the Fubo Latino plan has a standard share that allows you to stream from two devices at once.