If you want to play Valorant on Mac then you must know that macOS is not support Valorant because Its a Windows based game and originally developed for Windows users. So how can i download and play Valorant on Mac? Is there any way to install Valorant on my macOS.
The answer for your queries is "Yes" But only when you install Windows OS on your mac system. But know you might confused and thinking it is possible to install Windows on mac. So again Yes you can install windows on iOS or mac.
Valorant published by Riot Games is a team-based free-to-play game originally developed for Windows. So if you are a Mac user what then? Can you download and play Valorant on mac?
As we already mentioned above it's a Windows game and isn't available on Mac but, here we are with the post to tell you these simple ways to download and install Valorant on mac.
You may play Valorant on your Mac without installing any third-party software or voiding your warranty. Apple has its own desktop virtualization solution, called Boot Camp, that allows you to run Windows on your Mac.
Valorant, on the other hand, is currently only compatible with the Windows operating system. The game has yet to be released on consoles or mobile devices by Riot Games.
However, one of the most popular operating systems is yet to receive the game. For Apple devices, this is the Mac OS.
The Valorant anti-cheat, Vanguard, is the reason for the game's non-release. This is a kernel-level anti-cheat feature that isn't always compatible with Windows. As a result, it is not compatible with Mac OS at all.
You'll be able to play Valorant on Mac after it's been installed. On a recent macOS, the installation process is quick and takes less than 20 minutes. Here's how to download Valorant on Mac in a nutshell.
How to Download Valorant on Macbook?
Valorant download for Mac differs from Valorant download for PC. The kernel-based Vanguard anti-cheat mechanism in Valorant is incompatible with Mac systems, therefore using standard Virtual Machines won't help you play Valorant on a Mac.
On Mac systems, a program called 'Boot Camp' comes preloaded, and you can use it to install Windows:-
iMac 2012 or later
iMac Pro (all models)
Mac mini 2012 or later
MacBook Air/Pro 2012 or later
Mac Pro 2013 or later
MacBook 2015 or later
1. Getting the system ready
To install the 64-bit version of Windows 10, set aside 30-40 GB of free space on your Mac's hard drive and proceed to download the 64-bit Windows ISO file from the Microsoft store. It would be excellent to purchase the paid version.
2. Getting the system files ready
The preinstalled version of Boot Camp will suffice, but you should upgrade it, as well as your Mac OS, before proceeding to connect an empty flash drive (8 GB or more).
Start the Boot Camp application and choose the flash drive from the list before choosing the 'Choose' option next to the 'ISO Image,' which asks you to choose the ISO file you previously downloaded to your computer.
After you accept the confirmation, the OS files will be instantly copied to the thumb drive.
3. Establishing Drivers
Obtaining Drivers Unless you intend to install Windows 7, the Boot Camp application will automatically download drivers for Windows 10 and Windows 8.1 while copying OS files to the flash drive, otherwise, you will have to manually download the drivers from Apple's official site
4. Installing Microsoft Windows
To efficiently install the Windows OS on your machine, you must build a new partition on your hard drive out of the previously assigned empty space, which will also necessitate a restart.
The installer will start immediately after the restart. You can complete installing Windows on your Mac by following the on-screen prompts.
Valorant For Mac installation
Your device now supports dual boot, allowing you to run the Windows OS on your Mac at any moment by pressing the 'Alt' key.
By following the instructions outlined here, you may now install Valorant on your Mac.
How to Install Valorant on Macbook?
To begin installing Valorant on your Mac, follow the instructions outlined below.
Step 1: To download the game, go to https://playvalorant.com and click the 'Play Now' icon on the home page.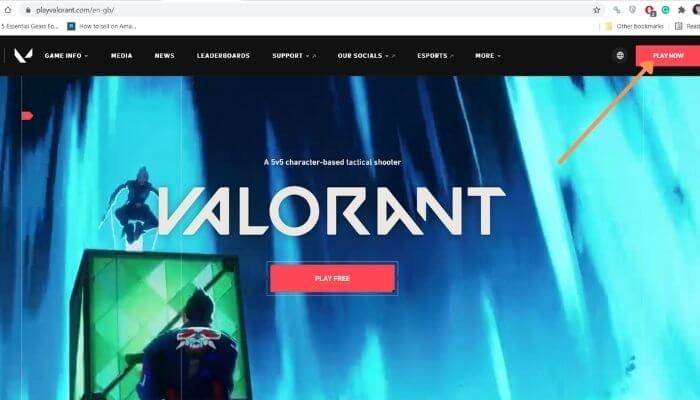 Note that if you already have a Riot Games account, you may skip stepping 4 of this instruction by logging in using your Username and Password after browsing the website.
Step 2: Either 'Sign In' to your Riot Games account or select the 'Make One' button to create a new one. It is super easy to create a riot account.
Step 3: To complete the 'Sign Up' process for a new account, enter your email, date of birth, Riot Account Username, Password, and finally the Captcha Code.
Step 4: Once you've been routed to the download page, look for the download option. Now click the 'Download' option to save the game's client file to your computer.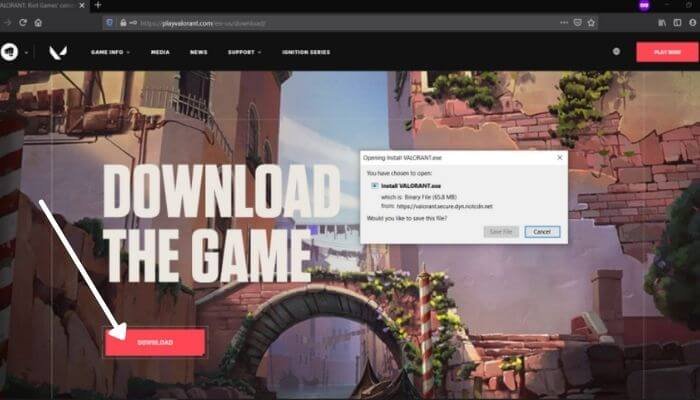 Step 5: Double-click the game's client file (Install VALORANT.exe) to open it. Then click on 'Run', followed by a second click on 'Yes.'
Step 6: On the following screen, click the 'Advanced Options' button to adjust the installation directory path.
Step 7: Wait for the Valorant game files to be downloaded and installed automatically by the game client on your PC. Just wait and do nothing.
Step 8: While the download is running, 'Login' into the client. You can simply log in with your Username and Password to bring up the download window.
Step 9: Click the 'Play button after successful completion (along with the login).
Step 10: After a few seconds of gameplay, an error notice will appear. It will request that you have to restart your PC in order for the game's anti-cheat client to initialize. Restart after closing all open programs.
Step 11: After restarting, double-click the game's desktop icon (VALORANT.exe) to launch it, and select a unique Game ID (Display Name) from the game's home screen as your Display name.
Step 12: Press the 'Play' button to enter the match queue. Valorant is a fun game to play on Mac
You may also like:
Final Thought
By following the above-mentioned instructions carefully, you will be able to complete this process easier. So, we hope that you have liked the details given by us to Download Valorant on Macbook and you did not face any problem in completing this process.
If you have any problem in this process or any questions related to this topic. You know that you are with us by commenting on our comment section.
And we assure you that we will try to solve your question as soon as possible. We will tell you your solution when you are in need. And also we thank you for staying connected till the end of this blog.