If you are like my family who is obsessed with amazon prime to watch shows from HBO Max, etc, I have got good news for you. Yes, you can easily share your Amazon Prime with your friends and family without any issues. Anytime you can share your Amazon Prime with your close ones and also you can stop sharing whenever you want.
Welcome to our guide on how to share Amazon Prime Videos with your family! Amazon Prime Video is a popular streaming service that offers a vast library of movies, TV shows, and original content. If you have an Amazon Prime subscription, you can enjoy unlimited streaming of these videos on your devices. However, what if you want to share this entertainment with your family members? Fortunately, Amazon Prime Video allows you to share your account with up to five other people through the Family Sharing feature.
In this article, we will guide you through the process of setting up Amazon Prime Video Family Sharing, so that you can share the joy of streaming with your loved ones.
Whether you want to watch a movie together or catch up on your favorite TV show, our step-by-step instructions will help you get started in no time. So, let's dive in and learn how to share Amazon Prime Videos with your family!
2 Effective Ways To Share Amazon Prime Videos with Your Family and Friends
Here are some easiest ways to get things done.
1. Link 2 Accounts Together
However, this is recommended by Amazon and is an official way to share the benefits of Prime. A safer way is to link your two Amazon accounts.
You can manage your account without sharing your login credentials. Amazon suggests ways to do this, such as breaking down all the content that can be shared when linking accounts.
This is a great option for siblings and parents who want to try the service no matter where they are. Or, if you don't want to allow full access, it can be a good option.
You have full control over your account, giving you the flexibility to unlink other accounts at any time. Here's how to share Amazon Prime Video with family and friends.
Steps to Share Amazon Prime Videos with Family
Sharing your Prime membership with family is easy, and only takes a few minutes. Now let's walk through the steps to share Amazon Prime Account with a family member. To share an Amazon Prime Videos account, follow the given steps:
Step-1. Open Amazon Prime in the browser.
Step-2. At the top of the screen, tap open the [Menu] icon. The menu will appear.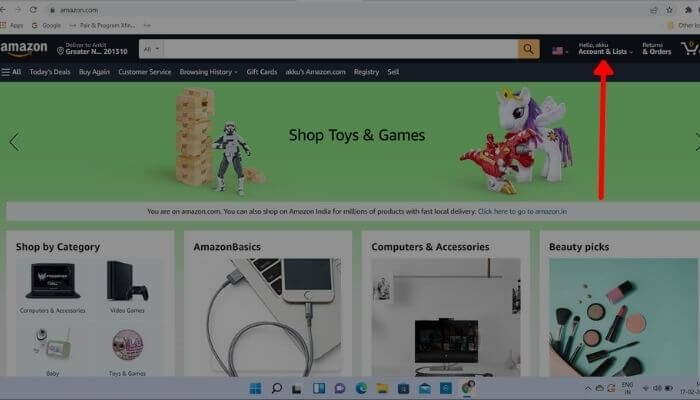 Step-3. Click on the [Account] tab, Your account screen is displayed.
Step-4. Click on [Amazon Household] in the "Shopping programs and rentals" section.
Step-5. You'll be redirected to the Manage Your Household Screen
Step-6. On this screen, you will have the flexibility to add another adult, a teen, or a child to your Amazon household.
Step-7. Click on any option you wish to add.
Step-8. Now proceed with the on-screen requirements.
Note: You can add members accordingly. Go ahead and enter the name and email address of the person you live with to share some of the Amazon Prime benefits. (If this person already has an Amazon account, be sure to use the email address associated with that person's Amazon account) and click Next.
2. Why Not Just Share Login Details?
You have the option to share your access data with your friends and family. However, if you want to share your Amazon Prime Video with others in your household, this is a good option. But only if you are happy with it.
With Amazon, you can share Amazon Prime Video with up to four families in the same household. While sharing Amazon Prime Video with your family, your family may not enjoy all the benefits you do.
Related articles that you may like:
Conclusion
As mentioned earlier, this guide contains everything you need to know to share Amazon Prime Video with your family.
We have answered virtually every question that may come to your mind. You can share your Prime account with up to 5 other people in the same household.
However, there are legitimate ways to distribute prime benefits. This is also detailed in this post and is suggested by Amazon. As a result, this strategy has been successful. If it's helpful then Be happy. enjoy.
Frequently Asked Questions
1. Why Should I Share My Amazon Prime Membership with Family or Friends?
Well most of us get Amazon Prime because of our shopping. Within Amazon, we get free shipping. We also get some extra perks by being a Prime member like prime video, and prime music. Kindle, amazon kids, and Twitch are a few to mention.
So These are some features that you get. As a result, you may have friends and family who don't shop much on Amazon but want to get free shipping.
You can share your free shipping profits with them, and it doesn't cost you any money. Prime members are enough. In addition, they don't have to pay for Prime and can benefit from all the benefits that Prime offers. Here's how to share Amazon Prime Video with your family.
2. Do They Have Access To My Accounts & Wallet?
Yes and no! This is because you have full control over your account. You can also choose whether to share your Amazon wallet or card details. So you can share all the other benefits of Amazon Prime Video and everything else. No need to share a wallet.
This means that all orders placed through your account will be stored in your wallet or credit card. I can't access my shopping cart because I'm linking my Amazon account to my Prime account. Therefore, they can only use the benefits that give you access to them.
3. Can They Access My Credit Card Details?
They can't access your credit card and can't see your account, purchase history, orders, etc. Unless you allow it when you start the approval process.
Therefore, we recommend that you be careful during the approval process when entering information that you would like to share with family and friends. This person must already have an Amazon account. You don't need to have Amazon Prime to share the main benefits.
It's really safe and this is the way you its Video with your family. All you need is an Amazon-free account that works for this to work.
4. How To Keep Your Amazon Purchases Secret?
Simply turning on the Amazon household, is by far the simplest solution to sue Amazon household. If you don't want someone seeing your purchases by snooping on your past orders. Here is the quick fix.
Control Notification
Clear your search history
Tidy up your recommendations
Use an Amazon Locker
5. How Many People Can be Added to Amazon Prime?
Amazon Prime Video is rolling out user profiles for family members and friends who share Prime accounts, Amazon announced in Jan 2021.
Each account will allow for up to six user profiles. One profile will default as the primary account with 5 additional profiles allowed