Who doesn't want to have shiny and glowing skin? I also want to have glowing and shiny skin. I have to follow a strict Skincare Routine if I want to have smooth skin.
Night time is the ideal time to use any product because, at night time, the skin automatically switches to "Repair" mode.
By there way, there is not a fixed time that you should take care of your skin at the night only. You have to take care of your skin during the day also.
Try to use fewer makeup products, not every product is for your skin. You should make sure that the product which you are using is according to your skin or not.
Before applying anything on your skin, ensure that you applied moisturizer perfectly or not. If you have not applied the moisturizer then the makeup will be directly absorbed in the skin and it may cause harm to your skin.
Why Do we need a skincare routine?
If you are working in an office and you apply makeup daily on your then make sure that you should have a skincare routine in the nighttime.
Protecting your skin is necessary, otherwise, you look older before age. You can use rosewater if you want because it will not harm your skin and is suitable for all skin types.
The skin literally switches from "Protect" mode to "Repair" mode at the night. At night time skin recovers from the day's stress. Proper sleeping is best to heal your skin at the night.
Daily I wash my face before going to sleep. Cells start generating at the night, and sleeping helps you to do that so.
After washing your face, you can also apply a little coconut oil and massage your face, I added this remedy to my daily skincare routine. My skin became so smooth and shiny.
Some tips and remedies that will help you to get amazing skin, you should also have to include these remedies in your daily or weekly skincare routine.
Read More: How to remove pimples naturally
Tips For Best Remedies for Night are also included in your skincare routine.
Here are some tips and remedies for the best face care routine:
1. Wash Your Face Daily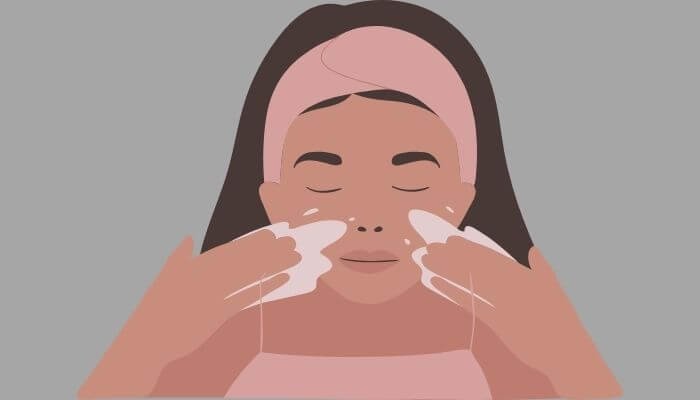 The most important and obvious thing about keeping your face shining is to wash it as regularly as you can expect given the situation.
It is essential to wash your face before applying make-up, after returning home from an outdoor day, after removing make-up, and before returning to bed.
Add this nightly skincare remedy to your daily routine. You can use a gentle facial cleanser that suits your dry skin and skin type. look for this article to read to face wash for dry skin.
2. Double Cleanse For Clear Skin
After returning home, clean your skin with a damp cloth and cleanser, then clean it further with a tonic.
Cleansers purchased from the store will help remove dust and dirt from your face and prevent them from getting into your pores.
Here is the method of how you can do double cleansing: for the best skin care remedies.
1. Oil Cleanser
When using basic cosmetics such as BB cream, makeup, and concealer, they must first be removed with an oil cleanser.
This progression turned out to be the easiest and gentlest approach to removing all base cosmetics from the face.
Apply an oil cleanser to dry skin, massage your back a little and then rinse with water. At this point, proceed to the next cleaning procedure.
2. Water-based Cleanser:
On days when you don't wear any cosmetics, you can just jump right into this progression.
One thing to remember is that this item is ought to be delicate, And at any cost shouldn't be rubbed or in contact with your eyes, and shouldn't leave your skin feeling tight and dry.
It should flush off effectively and viably eliminate soil and grime from your skin.
Whether or not the cleanser is in gel, froth, or milk structure, as long as it's marked off the above standards, you're all set.
Read More: Best Aging creams to fight wrinkles
3. Treat Your skin according to its nature
Apply serum immediately after cleansing. This is a way to manage your healthy skin schedule. Essence is a product with an intensive level of fixation to treat certain skin problems.
We all love trying out the different serums available, but it's just as important to be clear about what your skin needs. Notice how the skin reacts to the object. If the results are terrible, it's the best time to say "Thank you, next."
4. Keep Your Skin Hydrated
The use of toner further promotes hydration, especially when the skin feels dry in the winter. Toner is a water-like product that contains other beneficial fixers that help keep your skin moisturized.
You can add this nightly skincare routine to your daily routine. It is generally squeezed with a cancer preventative or moisturizer that draws water into our skin.
All you have to do is put it generously in the palm of your hand and gently tap it until it's all absorbed.
Whenever you remove this step from your daily routine, your skin will be greasy the next day.
This is because when the skin becomes dehydrated, the oil organs release more oil and are encouraged to saturate the skin normally.
When this happens, the risk of skin irritation may increase. Then add water to your skin when you need it to help break this endless cycle.
Read More: How to stop hair fall naturally
5. Moisturize
After washing the face, it can sometimes dry out, especially if you use a detergent on the skin of the face.
Apply a thin layer of lotion, especially under a thick layer of foundation cream, to prevent further evaporation from the climate and makeup.
Moisturizers help moisturize the skin while maintaining all the radiance it has recently added to the skin.
In addition, the skin after application is regularly soft and fluffy. You need to apply a generous amount of cream that has a light finish and is not grainy.
To be honest, it's difficult to find the right item for your skin. In fact, it took a lot of effort to find something that wouldn't clog the pores or cause breakouts.
6. Exfoliate The Dirt
For now, this is the most difficult way you can follow to achieve shiny skin. Exfoliating is a method of removing dead skin cells that you don't need.
You can do this with an exfoliating agent with or without a cleanser. Alternatively, you can use a firm scrub to rub and remove your face with your bare hands and back.
After a decent night's sleep, the difference is clear. Let's add this to our daily life at night.
7. Rose Water can help you complete cleanness
Apply rose water to shiny skin. If you are too unbelievable to use a cleanser, you can avoid that part and use a remedy like rose water every time you go home.
Rosewater can be used before and after cosmetics to give the skin a real glow and cleanse it from the inside.
Read More: How to look beautiful at parties?
Home Remedies For Skincare Routine And Remedies for Night
Apart from all this, you can apply different kinds of face packs to prevent your skin from getting detonated. We are giving some great ideas for homemade face packs:
1. Milk Face Pack
Milk is on the list of the most discovered in the family. For now, it can be used on shiny skin.
Apply a layer of milk throughout after evening facial cleansing, regardless of whether the cream accumulates in the milking head.
Get a good night's sleep and wake up brightly the next morning.
2. Aloe Vera Face Pack
Aloe vera can do great things to the skin, as we hinted at. Whatever the problem with acne, rashes, or dry skin, aloe vera is the main character and we will do it again here.
You just need to collect the inner pulp from the plant and apply it generously to your face. You may encounter the cold that hits you.
Putting the entire pack, at the beginning of the day, it peels off on softer, much more graceful, and shiny skin.
3. Honey Face Mask
Before resting and after washing your face, apply plenty of honey to your face, leave it for a little over 30 minutes, then rinse it off before resting.
The cleansing properties of honey can do amazing things and help you get that shiny skin.
4. Lemon Face Mask
When life gives you lemons, you make lemonade from them. However, I decided to use it for excellent skin here. Lemon helps reduce dullness and sunburn on the face after use.
Apply it all over like this and rinse it off before resting. Be sure to store for a little over 30 minutes to get the desired effect.
Read More: How to remove acne scars at home
5. Coconut Oil Face Mask
In fact, oils aren't just for making your skin look smooth. Coconut oil can be used to moisturize and saturate the skin.
In addition, the characteristics of the bacteria are also useful for the skin. After applying the oil, a face-friendly back massage is also a real benefit.
6. Jojoba Oil And Tea Tree Night Acne Face Mask
Mix 34 tablespoons of jojoba oil and 3 drops of tea tree oil and apply them to the face, paying particular attention to acne and flaky skin. Rinse with warm water and chemicals, followed by a standard skin care regimen.
7. Nectar, Milk, And Oat Overnight Face Mask For Dry Skin
In a bowl, mix 3 tablespoons of rolled oats, nectar, and 2 tablespoons of raw milk to make a thick paste. Apply to face and leave for a while. At the beginning of the day, lightly tap water on your face to gently rinse the entire area and then thoroughly rinse it off.
8. Avocado And Yogurt Overnight Face Mask For Dry Skin
Dry, sleepy, and sleepy skin needs the deep hydration that this face veil can provide. Aloe Vera and Vitamin E Night Face Mask for Stressed Skin
Mix 34 tablespoons of aloe vera gel or fresh pulp with the substance of one nutrient E case and cool the rose water in the form of liquid consistency.
You may also like:
Final thoughts!
The night is the best time to make your skin healthy and glowing with the help of some daily skincare routine.
Costly and local products can make your skin damage. You should always use home remedies as they will help you to heal your skin.
Here we shared tips and home remedies for the best night skincare routine. We also offer the best Tips and homemade face pack remedies to make your skin sparkle and beautiful.
These tips and face packs help your skin cells, nourish and harden them so they can work better.