I am a music lover I always love to listen to music on the go. I like to listen to music while commuting to work or running errands, but I don't always have access to the internet, I want to find the best free music apps for offline listening in 2023.
So, I start by doing some research online and come across several recommendations for music apps that allow offline listening. I decided to try out a few of the top options and see which one works best for her needs.
In this article, I will walk you through the different best free music apps for offline listening explaining each app in detail so you can easily choose the best one.
Best Free Music Apps Without WiFi
There are many amazing apps that you can use to listen to some music apps that need no WiFi.
1. Musify Club
Not all music streaming platforms need or ask for you to pay for their premium version so that you can download music and this app is a great example of this reason.
Musify app lets the user download songs from its catalog so that they can listen to that song from the Musify app for free and offline.
This app was first introduced as a website to get free ringtones and now they convert it into a music app.
2. Youtube Music
You surely heard of Youtube Music. Google has a new native music player that is Youtube Music so if you want to listen to music for free without getting a subscription to the service.
If can also listen to all music offline for free as you can select a 30-day free trial and download all your favorite music and tracks.
You can easily play all the audio files that you have stored on your device.
If you are looking for a quality music app to listen to free music Youtube music is the best option for you. You can have all your favorite artists and tracks here and listen to unlimited music.
You can download it from the Play Store or on your iOS device with the help of the app store.
3. AIMP
If you also like to make some edits and apply variety to your music then this app can be your ideal choice.
It only focuses on the downloaded songs in your device and storage. You can play it on MP3, WPA, OGG, and other formats.
It also comes with an impressive 29-frequency Equaliser which means you can listen to your music in many ways.
The best of this app is it can easily interfere with any track that is on your device.
This app is simple and quick so you can use all its options. You can download it from the Google Play store right now.
4. Spotify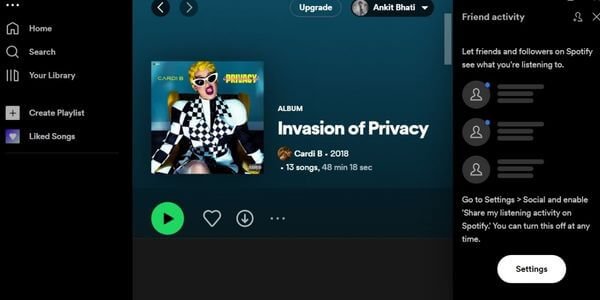 It is the most popular streaming service in the world. Spotify has both versions free and paid, so you can easily listen to music on Spotify.
It has the largest and the best collection of music globally, with literally millions of artists and songs from all over the world publishing their songs through this app.
It is available on both platforms Android and iOS.
But if you are looking for offline music, you have to pay a monthly subscription to unlock the premium options that include non-wifi music. You can download songs, albums, and playlists to your device and listen to them offline.
5. Shazam
Shazam is another popular free music app that works without mobile data and without wifi. This app provides you to search from the music world.
This is completely free and allows you to identify any music playing around you.
While shopping, driving, or on a trip, If you listen to music, you don't need to write the lyrics.
It runs on the ads. Shazam became an offline mode for music lovers and allows the basic functionality of the app if you are online or offline.
6. Amazon Music
Amazon Music is a great streaming music service. People who already have an Amazon prime account can listen to music offline and control it with their Amazon Echo Voice assistant.
It offers a huge music library as well as the most popular music genres, allowing you to listen to your favorite music without wifi or mobile data.
For offline mode, Amazon prime members can hear the music or access the library of movies. Amazon music subscription allows you to listen to music offline.
7. Pandora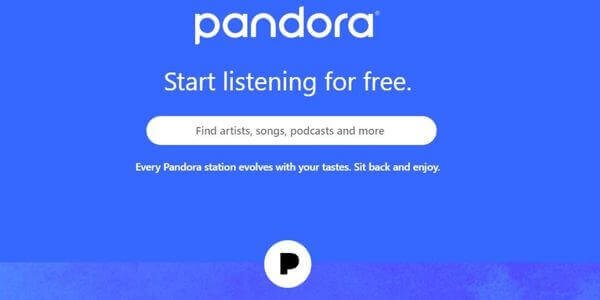 Pandora is another app that doesn't require wifi or an internet connection to listen to music.
You need to take the paid version of Pandora to unlock the offline mode. There you will get millions of songs, podcasts, and playlists.
Almost 60 million people all over the world are using this app on their iOS or Android device.
Users easily discover the music and podcasts they have on the platform, as with Spotify, Pandora algorithms are best at creating playlists based on your previous engagement with their music streaming app.
8. SoundCloud
SoundCloud is a completely free music streaming app for the creative, but it has the most expensive music library of all the music apps.
You will have to upgrade your SoundCloud Go subscription, which will take in just $4.99 per month. It allows you to stream music without wifi or any internet connection and has an ad-free service.
9. Napster
Napster is the most popular music app where DJs go to find uploads of some of the music available.
It has reinvented itself as legitimate music streaming app, with millions of songs in the library that you can listen to for free and provided you have a wifi connection.
You have to take a subscription at $9.99 per month, to access free music to listen offline.
10. Deezer
This music app is available in both a free version and paid version, with the Deezer Premium subscription for $9.99.
The app allows you to listen to your music in offline mode and enjoy an ad-free service.
Deezer's music library is vast, from popular music to independent music, making it a strong streaming service for music lovers.
Playlist setup is as easy as Spotify, the more you use Deezer and add the latest songs to your library, the better the app responds to the music to listen to.
You may also like:
Final Thoughts
In conclusion, the availability of free music apps without WiFi has made it easier than ever for music lovers to enjoy their favorite tunes on the go. These apps offer a variety of features such as offline playback, customizable playlists, and high-quality audio streaming.
Whether you're looking to discover new artists, create your own playlists, or simply unwind with some soothing sounds, there is a free music app out there for everyone. With the convenience and flexibility of these apps, you can now enjoy your music anywhere, anytime, without worrying about connectivity or data usage. So, download one of these top 10 best free music apps without WiFi and start listening to your favorite tracks today.
I hope this article is useful for you. You have already found your best free music apps that help you to listen to your favorite music anytime and anywhere without mobile data or a WiFi connection.
Frequently Asked Questions:
What are some of the best free music apps that don't require WiFi?
A: Some of the best free music apps that don't require WiFi include Spotify, Pandora, SoundCloud, Google Play Music, and Amazon Prime Music.
Can I listen to music on these apps without an internet connection?
Most of these apps require an internet connection to stream music, but some offer offline playbacks, such as Spotify Premium and Amazon Prime Music.
Are there any restrictions to using these free music apps?
Some of these free music apps may have limitations, such as ads or a limited number of skips or song plays per day. Premium versions of these apps usually offer more features and remove these restrictions.
Are these apps available on both Android and iOS devices?
Yes, most of these free music apps are available on both Android and iOS devices.