In modern days education, Information Technology has become really amazing because you don't have to use pen and paper you can just study by using your mobile phone or any other device and also you get some applications which help you to study more. iPhone being the king of mobile devices also has a ton of apps for students.
But most of these fun and cool apps are paid, So we have done some research and found some free apps for students and kids that provide the best experience.
6 Best Free iPhone Apps For Students
You can find the top valuable apps that will be handy for the students as well as teachers and parents. So without any further delay let's find out the app one by one.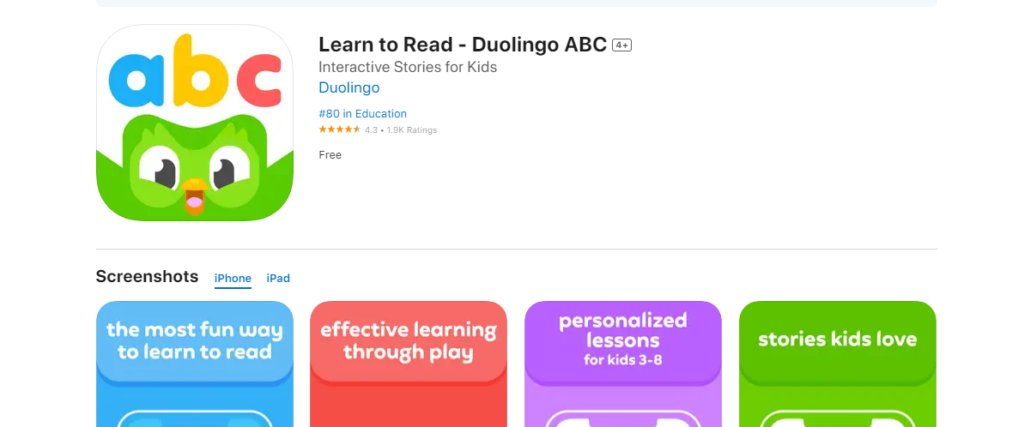 Duolingo ABC can be very useful for students, especially for younger kids. This app helps the students to learn and read with fun.
The interface of this app is amazing, and useful for kids. They can understand everything with colorful buttons, and images. Duolingo ABC – Learn to Read app improves the kid's mind power because it has the options for reading and writing English.
This app stops the students from getting bored because when one task is completed you get the next task or I say next level. The more you go higher the more it gets tougher for you.
You get various features enabled in this app which makes it different from others like you can trace the letters, and if you want to answer by talking, this is also implemented. Our first choice is this app. You can get it from the iOS store.
Our second best free iPhone app for students is Toca Life World: Build stories. These could be useful apps for the students because you get various features that will be the best for you.
In this app, you can explore many places like Bop City, a vibrant city area with 8 different locations. If you want to explore new places or want a new character?
Then spend some money to buy the new one. With the help of this app, you can create your own character. This could be the real learning app for you.
#3. Forest – your focus motivation
While using your phone to study, it's impossible to not look at the message you get on WhatsApp chats. Therefore, here's an app that will surely help you to stay focused and do all your assignments without any distractions. Let me show you how it works;
When you need to put down your phone and stay focused to get things done, plant a seed in Forest.
This seed will eventually grow into a tree if you keep attentive. Your tree, on the other hand, will wither if you can't resist the urge to use your phone and exit the app.
The sense of accomplishment you get from witnessing a flourishing forest with each tree reflecting your devotion inspires you to cut back on procrastination and develop effective time management habits which a student needs!
#4. Feedly – Best for streaming web content
Students need to check out all the treading news, updates, and events about the various topic and if you are comfortable with RSS then generally google it, Right?
Well, here comes Feedly, with this app you can sign up and choose your favorite categories and subscribe to them.
When you keep spending time on this app, you get hundreds of images, blog posts, and videos on the selected topics. Cool isn't it? Well, this app seriously helps you to stay updated with the trending updates and all. As a student, you can give it a try for learning more.
As a student, you need to write a paragraph, stories, or any article and sometimes it requires more creative words for this to make attractive your articles, right?
Here comes the Oxford Dictionary that helps you to find thousands of new words. If you are stuck somewhere simply type the words and this app will show you the real meaning of the letter.
Not only for iPhone but also Oxford Dictionary is one of the most popular apps for various types of devices. It has collections of more than 350000 new words and the best thing about it, it keeps updating the library.
You can take advantage of 75000 audio pronunciations. This app helps you for learning new words every day and you can stay one step ahead of your friends and partners.
This is our point of view this is a must-use app for every student.
#6. Microsoft Lens |PDF Scan Free iPhone Apps For Students
Our last but not the least app in the free iPhone apps for students list. Microsoft Lens is a great tool for students. Students require to scan the documents and convert them to a different format like pdf, jpeg, text, and others.
You can do all the things with this app. The interface of the app is easy to understand and user-friendly. Even if you are new to this app, still you will be able to do your task comfortably.
For submitting the reports to school students need to add images to the documents, the Mircosoft Lens tool enables you to do so. You can upload the documents on the drive as well as on a local hard disk for further use.
If you have any documents and want those documents to convert into handwritten ones, this app works perfectly in this scenario.
You can easily scan handouts and annotations and convert them into Microsoft Word and OneNote. One of the cool features of this app is you can scan documents in handwritten to computer format.
You may also like:
Conclusion:
Well, Apps can be useful for the students in terms of keeping notes, finding the new words for the next notes, converting images into text and text to images, and staying focused too.
So we researched a lot of apps, and finally, we shortlisted the 6 best free iPhone apps for students. These apps will work perfectly to keep your study materials organized.
If you are a student we highly recommend you to try these apps on your iPhone and see how useful these apps are. If you have any questions or suggestions regarding this app, you can leave us a comment below.