Instagram is one of the most used social media platforms but now It become more like a marketplace. Now it is like watching tv ads and radio ads where we can't control the ads and have no option other than watching them. So, how can we block ads on Instagram?
In this article, we will discuss how to block ads on Instagram.
Day by day Instagram becoming a trade center where we can buy and sell things. We see multiple ads in our feeds, reels, and videos that don't matter from people we do not care about, and that makes it very annoying. It makes the Instagram experience very bad.
Most of us like the old Instagram where we share photos and videos without any interruption. But don't worry you can still enjoy that service by blocking unwanted ads.
So, if you want Instagram without ads, then you have come to the right place.
What Are Instagram Ads?
Instagram ads are just like the regular photos and videos that often appear on your main feed. They are created by business owners to specifically make target audiences purchase their products or services.
Instagram ads always have a "Sponsored" name that appears below the brand's name at the top of the post and an action button below the post to make you do some action.
The action button could either be "Install Now," "Download Now," "Sign-Up," or "Learn More," etc.
Kinds of Ads on Instagram.
Instagram has an algorithm that recommends your product or shows the product's advertisement. Instagram is pretty much similar to Facebook in this.
When you like a particular page or product based on your number of searches Instagram would show you the ads.
It can be shown in between your stories.
Your posts.
Your reels.
Your videos.
Or maybe when you view someone's account.
Images can have Square, Horizontal, and Vertical ads.
Video Ads are in Square or Portrait Format.
Gallery of carpet ads appears in the feed and stories in a Square or Vertical orientation.
Instagram Stories are in full-screen Vertical Format.
Ways To Block Ads On Instagram.
Due to the paid partnership between Instagram and several other brands, removing all ads is impossible, but reducing the number of ads you see on your feed is possible.
Here are Some Methods by which you can block your ads on Instagram.
Method 1. Remove Ads From Ad Post Itself.
The simplest way to remove an ad is to put the ad in not interested mode.
To get a hang of what I mean follow these steps to do so.
Click on any post that you don't want to view.
Now on the right side of the said post, there are the three vertical dots (:) click on them.
Once you have clicked on it, you would see two options. On that select Not interested

.
Once you have selected that your post would automatically be blurred or censored or hidden.
This way Instagram would not show you ads or posts regarding that product or account.
Just see the image given below.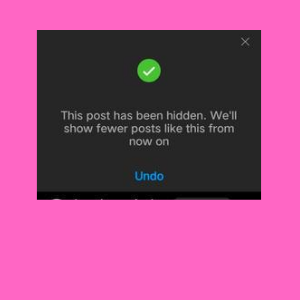 This way you can eliminate the possibility of ads showing on your feed. And if you want to review the particular post just click on Undo. And you would be good to go.
Method 2. Block Ads via Report Option.
Another best way and handy way to block ads are via reporting.
Sometimes we get repeated ads from the same account or we see the same post ad over and over. In that scenario what you can do is follow up on this step.
First, open up your ad post.
On the right side of the said post, there are the three vertical dots (:) click on them.
Once you have clicked on it, you would see two options. On that select Report.
Then there would be a bunch of reasons why you want to report. Click on I don't like it.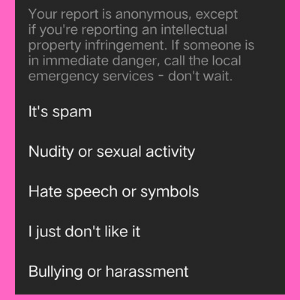 Verify it. Once done you would not see posts related to that again.
Method 3. Block Ads via Blocking Account.
These steps should be done when advisement of a particular account is all over your feed.
Open the Account your want to block.
Once you have opened their profile, on the right side of the said post, there are three vertical dots (:) Click on them.
Select the Block option.
Once done Instagram would place restrictions on that account and you would see fewer or no posts from there.
Method 4. Block Ads via Ad Blocker Apps.
Not every time you can manually click and report or block ads. To deal with this problem what you can do is block them by using an ad blocker app.
Chose one which is operatable on your device.
Method 5. Use a Web Version
Have you ever tried using the web version of Instagram both from your Mobile Phone or PC? If not, you should try it now.
The web version has been proven to contain fewer ads than the popularly used mobile app.
Let me take you through logging in to your Instagram account through the web version on your mobile phone or PC.
Go to your preferred web browser.
Type in Instagram's official website.
Input your phone number, username, or email address.
Type in your Password.
Click the "Log In" button.
Immediately it takes you to the same Instagram profile you have on your mobile app, this time with few ads.
You May Also Like
Conclusion
It is impossible to block all ads on Instagram but it is manageable. Instagram has an algorithm that monitors your actions on the app. The more photos and videos you like or comment on, the more likely you get ads of that brand or something close to appearing on your main feed.
In this article, we've shown you how to hide or block your account, as well as how to use blocking apps to block ads. If you still have a quarry, drop a message in the comment box.
Frequently asked questions
Can you turn off ads on Instagram?
Turning off your ads is very simple. All you need to do is follow up on the above method and you would be good to go.
Does the Ad Blocker app work on Instagram? 
Yes, Ad Block apps work perfectly fine on Instagram.
Some of the Ad blockers are
Is the ad blocker app "AdBlock" safe?
There is no definite answer to this question. If you are using this app correctly then it can be safe but it can also be dangerous if you use it incorrectly.
Do the above-mentioned methods work for all devices?
Yes, An Android or iOS user can even use the above steps on their computer and tablet. It would work perfectly fine.