Hey Instagram enthusiasts! Have you ever gotten curious about who's been checking out your profile on Instagram? I mean, we all love the attention, don't we? Whether it's an old crush, a potential follower, or just a curious friend, it's only natural to be curious about who's been looking into your Instagram world.
So, in today's blog post, we're going to dive into the fascinating topic of how to see who viewed your Instagram profile recently. Buckle up, because we're about to unravel the mysteries of Instagram stalkers (well, sort of) and explore the methods you can use to satisfy your curiosity. Let's get started.
Why do people have the curiosity to see "Who viewed my Instagram account?"
This is the question that most Instagram users are curious about. Every day many Instagram users go and view other people's Instagram profiles. And as Instagram users, we want to know who viewed their Instagram profile.
The reason behind this curiosity could be anything: one of the most famous reasons among today's teenagers is popularity. Popularity is one of the major things among today's high school kids and everyone wants to be popular.
Sometimes there could be another reason why you want to see who viewed your Instagram profile like you want to check if any specific person checked your Instagram profile or not.
That person could be your crush, ex-boyfriend, ex-girlfriend, friend, or anybody else. Most Instagram users stalk someone or get stalked by someone.
How To See Who Viewed My Instagram Profile Recently?
Basically, you can use these given 3 methods to Find your Instagram profile viewers.
Using Third-party Apps
By your Instagram stories
By using an Instagram business account
1. Check using Third-party apps
As we have already discussed that Instagram does not share this information with any third-party app. So, no third-party app may show you the correct information, these apps will only be here to give you hints about the stalkers, or the performance of your Instagram account.
If Instagram would have wanted to share this information with users. It would have an inbuilt feature to show the list of names who have viewed the Instagram profile. But it does not choose to do so to maintain the privacy of users.
If it would have shared this information, then there are possibilities that most of the users would not want to use this application. People don't like their information or habits shared like this.
Even though Instagram does have all of the data that can tell who viewed the Instagram profile of all the users, it chooses not to share it. As it is good for their business and their users' privacy.
Even after knowing that third-party apps will not show you the exact correct information you want to try them.
Here is a list of third-party apps that you can use to get some Instagram information:
Who viewed my IG insta profile
Social plus app
Visitors Pro App
Analyzer Plus – Insta Followers
Profile+ Unfollowers Analysis
Profile+ Followers & Profiles Tracker
Follower Analyzer for Instagram App
Followers Insight for Instagram, Tracker, Analyzer App
Reports – Followers, Story Analyzer for Instagram
Find My Stalker – Follower Analyze for Instagram
FollowMeter for Instagram
Stalker Reports – Who Viewed My Instagram Profile
iOS Apps to See Who Viewed My Instagram
There are many other applications like these in the market, but we don't trust any of them personally. We advise you not to try any of the applications if it charges you anything for their services.
Now we know that third-party apps are not the best way to know who viewed my Instagram profile. And we have some other ways to find out information about your stalker/checker for you.
2. Check using Instagram Stories
We cannot know who viewed your Instagram account, but we can know who is stalking you or checking you out daily. All you have to do is put a story from your Instagram account and then check who viewed it.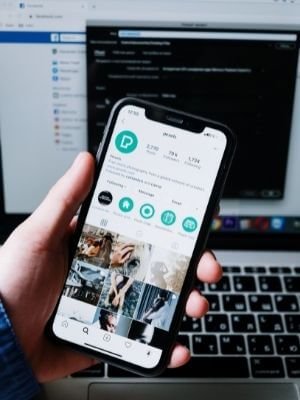 Anyone can see who viewed their stories and highlights. So, if you want to know who has recently visited your profile you can try this method.
First, put an Instagram story from your account and then open your Instagram story then you can see the list of people who have viewed your Instagram stories. You will be able to see a list of all the users who have checked your story including those who do not follow you.
You can see the profile of these people and can even hide stories from them if you want to. So, if you feel that any one of them is a stalker you can easily block them.
You have to see this list in the period of 24 hours as your story will disappear after that time. You can also see a list of those who have seen your highlights.
3. Check using Instagram Business Account
If you have an Instagram business account, you have access to important information about what kind of users are visiting your Instagram page. This access is not given to a normal personal Instagram account.
You won't get the names of the users who are visiting your profile, but you will get important information like what is their Geotag. From what age group do they belong? What is their gender? And at what time they are online. Information like this will be a lot helpful to Businessmen.
If you want to know this information about the person who is visiting your Instagram profile, you can switch your account to a business account. If you want to do, so go to Instagram settings and tab to switch to the business account option.
You can have a list of people who are visiting your Instagram profile by using stories or a business account only if your account is public.
Otherwise, if you have a private Instagram account no one else other than your followers will be able to watch your Instagram stories or posts. If you have a private Instagram profile, then other users can only see your profile photo and Instagram bio.
Why do content creators want to know who is viewing their profile?
Content creators are always very curious to know what type of audience likes their content, and which type of content should they post. According to the demographics, people really enjoy the way your content is delivered. It is only possible when your account is public.
In a private account, you did not get these kinds of features. Content creators always try to give the best content to their audience, so that they gain more followers and popularity.
Steps to know who is stalking your Instagram profile?
Following are the steps to know who is stalking your Instagram profile:
Open the Instagram app, and click on the menu icon, that is on the top of the screen.
Then, you have to tap on 'Setting'.
On the Setting window, you have to click on the 'Accounts' option.
Now, you will get the option to 'Switch to Professional Account'.
Then, your account will be converted into a Professional account. After that, you can get access to see the insights of your account.
Click on continue if you get a prompt on the screen.
On the next screen, select the option of 'Creator' and again click on Continue.
Then you can see the new features on Instagram like Insights, and Promotion, and in the activity tab, you will get the users who viewed your profile.
Now, your personal account turned into Professional Account.
You may also like:
Conclusion
In conclusion, while Instagram doesn't provide an official feature for seeing who's viewed your profile, there are still some ways to uncover this information. From third-party apps and websites to examining Instagram's built-in features and settings, there are several methods you can use to track who has been checking out your profile.
However, it's important to note that some of these tools may not be entirely accurate or could pose a security risk. You should always be cautious when using third-party apps and websites and carefully review their terms and conditions before granting access to your Instagram account.
Ultimately, while it can be tempting to obsess over who has viewed your Instagram profile, it's important to remember that the most important thing is creating great content and engaging with your audience. Focus on building a strong presence on Instagram and providing value to your followers, and the rest will follow naturally.
FAQs
Q: Are third-party apps and websites safe to use?
It's important to be cautious when using third-party apps and websites, as some of them may pose a security risk or be scams. Always carefully review their terms and conditions and be wary of granting access to your Instagram account.
Q: Do Instagram Insights show who viewed my profile?
No, Instagram Insights only provides data on your followers' demographics, engagement, and other metrics. It doesn't provide information on who has viewed your profile.
Q: What are some other ways to track engagement on Instagram?
There are several other ways to track engagement on Instagram, such as monitoring your follower count, likes, comments, and shares. You can also use Instagram's built-in analytics tools to track your performance and gain insights into your audience.
Q: How can I increase engagement on my Instagram profile?
To increase engagement on your Instagram profile, focus on creating high-quality content that resonates with your audience. Use hashtags, tag other users, and engage with your followers to build a strong presence and grow your following.