The process to identify a fake Apple Watch is very easy and simple. You can spot a fake apple watch within a few minutes. Literally, I tried this experiment by myself. If you have proper knowledge then you can easily find if Apple Watch is fake or genuine. You have to notice each and every small detail.
If you are unable to find anyone can make you a fool. And the basic tip to spot a fake apple watch is its serial number. Here in this article, we have 7 verified ways to check whether your Apple watch is fake vs real.
As you know, scams are everywhere nowadays. We are talking about fake apple watches. Well, you need to know that there are many manufacturers who create an exact copy of Apple watches to scam you. If you are lack knowledge and a little careless then you might be lost your money. You have to notice every single detail with your sharp eyes.
So guys, today we are gonna discuss How to spot a fake apple watch? Major Differences between Fake and real Apple Watch.
I would like to say that this Fake Vs Real guide for the Apple watch applies to almost every Apple Watch.
Though some features and functionalities may vary depending on the models. Although, the quality of the Apple watch will never be compromised.
Below are some tried and tested methods through which you can spot fake Apple watches.
Read More: How To Play Music On Your Apple Watch?
How To Identify a Fake Apple Watch?
Here are some simple and easy tips to spot a fake Apple watch:
1. Identify Apple Watch with Serial Number ( Fake vs Real)
One of the easiest and most authentic ways to spot a fake Apple watch. Look for a serial number on the back of your watch.
Go to Apple's coverage website and just enter your item code and serial number. So if your Apple Watch is Real it will show you
Valid Purchase date
Telephone Technical support
Repairs and Service Coverage
The major green icon you need to care for is the first one "Valid Purchase date. If it's green you got the real Apple Watch and if not, It's the fake one.
It 100% assures you that you have a Real or fake Apple watch.
Some get lucky and some can get the bad news while checking the serial number.
And it shows a red box that says "We're sorry, but we are unable to complete your request at this time. Please try again later" this means that your Apple Watch is fake.
Though you can feel the difference between them both in terms of quality and functionality. While buying online you have to be cautious about how the fake one looks and the real one looks.
Now that's amazing to see how closely the fake Apple Watch resembles the real Apple Watch.
Read More: 10 Best Apps for Apple Watch
2. Spot a Fake Apple watch by its Size
Real and Fake Apple watch versions vary in size and are made with stainless steel. They just look the same.
You won't be able to spot the fake Apple Watch. Both watches have the home button on the right and it's colored to a watch.
Both feel good in material but the Fake Apple watch surprisingly feels like the Real Apple watch.
The screen on the fake Apple watch seems to be of poor quality glass or plastic is being used that reflects weirdly.
The genuine dimension of the Apple Watch – for 38mm versions are 38.6 x 33.3 x 10.5mm and sizes for 42mm are 42.0 x 35.9 x 10.5mm. But above all, Genuine is after all genuine.
The fake Apple Watch is thicker than the real one.
Read More: How To Backup And Restore An iPhone?
3. Check the Packaging
This is to remember the Real Apple Watch boxes use high-quality stuff that includes printing.
While a fake Apple watch box has a typical peeled and faded which is one of the common flaws of the fake Apple Watch boxes.
For more on the packaging, please stay tuned with us to find out more about How to spot a fake Apple watch.
Read More: Top 10 Bluetooth External Hard Drive & Storage Device
4. Identify a genuine Apple watch with GUI (Graphical User Interface)
Let's have a look at the GUI (Graphical User Interface) which will help you identify the Real Apple Watch.
The GUI has been crafted by all the icons of the apps, menu, and the general software available on the Apple watch.
About the buttons, I recommend you check whether the buttons are functioning as expected.
This is the major factor where Fake Apple Watches generally lag and don't perform the task like the Real Apple Watch this is one of the easiest ways to spot a fake Apple Watch.
Read More: 14 Traveling Gadgets You Should Buy According To Experts
5. Check the Controls
The digital Crown dial will be on the top of the right hand and a longer-flatter side button just below it (depends on the way you are holding up the watch). Or the longer-flatter side button above and the Digital Crown dial below it.
Check for both the controls present and on the same side of the watch. While the Speaker and the microphone are on the other side of the watch.
These clone watches in the market are being sold at a very affordable price that offers fewer functionalities and looks extremely similar to the Apple Watch.
Another more surprising fact about these fake Apple Watches is that they have longer battery life than the Apple Watch.
It's because of the fewer functionalities and display strain on battery power.
There are many dealers online who are selling these Fake Apple Watches and you might spot one on your friend's wrist.
Read More: Best Gadgets For Men You Must Have In this Advanced Era
6. At the Back – Spot a Fake Apple Watch?
Every model of the Apple Watch varies from another and has a complex heart rate sensor and product-related specs at the back of your Real Apple Watch.
Though Fake Apple Watch manufacturer has also tried their best to copy it. The Real Apple Watch has
Band Release Button
Serial Number
Speakers
Heart rate sensor
Case size
Material type
Microphone
Whereas the fake Apple Watch doesn't have a heart rate sensor, no microphone, and two-lined speakers.
Read More: Best Ear Pods to Buy | Based on User Reviews
7. Look at the Screen to spot the genuinity of your Apple watch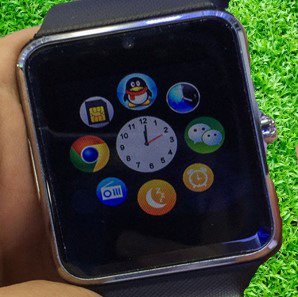 In terms of screen fake, Apple Watch has its screen a bit too bright, shiny and glossy.
A low-quality screen reflects too much light than it should. Overall scrolling experience with Fake apple watches is another crucial factor that can be spotted easily.
It is another considerable option to spot a fake Apple Watch.
Also, the straps that come with Fake Apple Watch are mostly not detachable and do not allow you to replace them with a new one.
Therefore this is another big major drawback to help you spot a Fake Apple Watch.
Read More: Apple Watch Series 5 (Smartwatch)
8. Go to Apple official site
If you are still unsure how you can spot the fake Apple watch then the best way to determine the same is to look up the model on the official site Apple from there you would get all the official details regarding the same.
Conclusion
From the above checks, you can easily identify whether you are wearing a real Apple watch or a Fake Apple watch. You literally have to notice details very sharply. Otherwise, dealers can easily fool you by selling you product copy, not the original product. I have covered all the major points that will help you spot a Fake Vs Real Apple Watch.
If you paid proper attention to all the details then you can easily find out the original and right product.
Dealers are offering a Fake Apple Watch at a fraction of the price in the market these days.
From its size to its packaging and from functionality to its UI everything covered in this article I have shared is tried and tested.
I recommend you try these methods that will help you spot Fake vs Real Apple Watch and comment below.