Apple Watch is one of the most popular smartwatches on the market, offering a range of features and functionalities that make it a valuable tool for everyday use. One of the key benefits of the Apple Watch is its ability to support a wide range of apps, providing users with access to a vast array of tools and services right on their wrist. From health and fitness tracking to productivity and entertainment apps, there are numerous options to choose from.
In this article, we will be exploring 10 must-have apps for Apple Watch, including both paid and free options. Whether you're looking to boost your productivity, stay on top of your fitness goals, or simply have some fun, these apps are sure to enhance your Apple Watch experience.
With the launch of the Apple Watch 7 and SE series, the App store of the Apple Watch is expanding diversely.
From tracking sleep to listening to music to promoting health-related apps. Apple watch has it all.
These are the applications that will turn your Apple Watch become the finest Apple Watch ever.
This high-tech advancement in the sector now allows you to download apps straight from your watch or via the Watch app on your iPhone.
Let's take a look at the top ten Apple Watch applications that you should get in 2023.
10 Best Apps for Apple Watch
#1. Citymapper – Best Apps for Apple Watch
Available on iTunes (Free)
Citymapper is a must if you are in one of the cities it supports which includes Paris, New York, the San Francisco Bay Area, and London.
It's very useful when you are on public transport and provides precise and clear instructions on getting from place to place.
The great feature of this app is it informs you about upcoming buses, trams, or trains, and can keep a track of expected stops on your journey.
Its complications can keep your directions and ETA right on your Apple Watch.
With scooters and kick bickers, there is better routing if you want to get around the city this way. It's #1 in the list of 10 Best apps for the iPhone Watch.
#2. Yelp – Best Apps for Apple Watch
Available on iTunes (Free)
Looking for help to find something to eat or drink? In a new era, you will normally turn to something like yelp.
This app will help you find something to eat or drink right from your wrist, and it's really simple.
All you need to do is, open the app and select the category you're looking for, it will be provided a list of recommendations nearby your location.
Great things have a few cons as well, this one misses some standalone LTE action, but hopefully, Apple will cover that soon.
#3. Air Matters – Best Apps for Apple Watch
Available on iTunes (Free)
There are too many Apple Watch weather apps that offer AQI metrics, but Air Matters has much to offer.
It can track specific allergens and shows real-time updates for things like grasses displayed in the interface.
Displays color-coded by severity and matter levels are provided for better Air quality. Comes with key stats and a weekly outlook, and basic weather forecasting is also available.
If you support another weather app, Air Matters can be essential to track whether it's safe to travel or can reduce hours of sneezing and tell you when to breathe in some fresh air.
#4. Heart Analyzer – Best Apps for Apple Watch
Available on iTunes (Free + in-app purchases)
Download this Apple Heart rate app and know how your heart's performing during the exercise.
Heart Analyzer shows detailed stats about your existing health data and displays it in a manner that allows you to investigate much deeper into your stats.
Can keep metrics of heart rates for the past week and recent exercise sessions.
Support for the latest Cardio Fitness is also added and VO2 Max will display ECG readings that are compatible with new Apple Watch models.
Heart Analyzer will always keep you updated with all possible activities you do.
#5. AutoSleep – Best Apps for Apple Watch
Available on iTunes ($3.99)
As the names say, this app is true to its name.
All you need to do is, with AutoSleep installed, make sure you are wearing the watch when you're going off to bed. What it does is, automatically track your sleep.
It will analyze your sleep in the morning and start sending you notifications including how deep sleep you were in or how restless were you.
Another mode that is arguable and pointless is that if you sleep without wearing your watch, after charging you put your watch on when you wake up.
#6. Phone Buddy App – Lost Phone Alert
Available on iTunes ($4.99)
Left your iPhone behind? Don't worry, the Phone Buddy Lost Phone Alert app will warn you whenever you leave your phone behind.
It will send you a notification whenever you leave the Bluetooth range. It's more sophisticated than you think, it allows you to set the Bluetooth range for different limits.
If you are among those who often forget their phone behind them, I don't think you need an answer to that. You are already throwing your money at it.
#7. Spotify – Best Apps for Apple Watch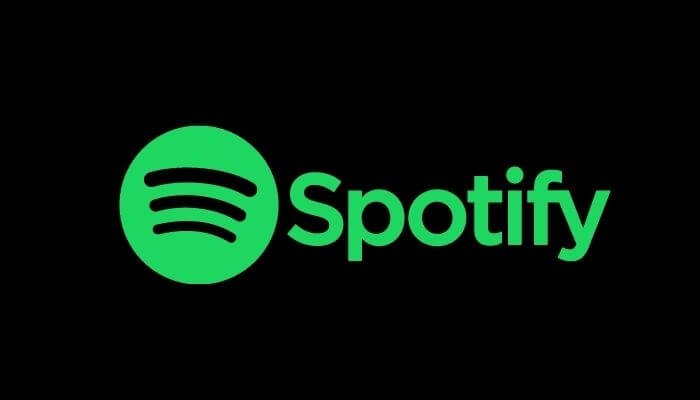 Available on iTunes (Free)
Spotify needs no introduction. Arguably, it's one most popular music streaming apps worldwide.
One of the favorite places for iPhone lovers where people can listen to their favorite content on the go.
I don't understand why, but it's hard to recommend Spotify to Apple Watch owners as it doesn't allow you to stream music or podcasts on its own.
You need to use your phone and control it from your watch.
#8. Things 3 – Best Apps for Apple Watch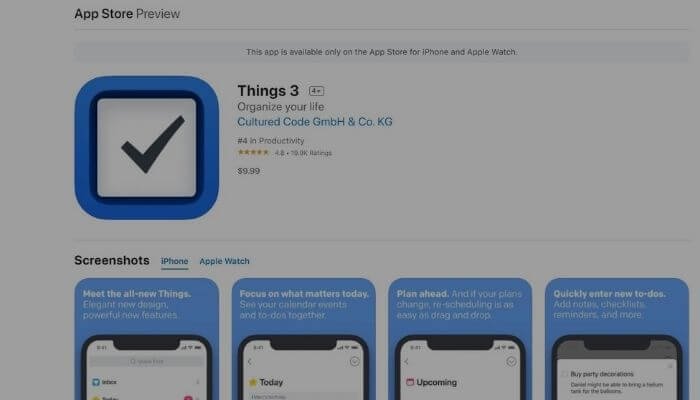 Available on iTunes (Free)
One of the well-known task managers on iTunes. The interface is very easy to use. This app can do a great task just as another task manager would do.
This app is an Apple Design Award Winner. You can quickly add to-do things and organize them later on your iPhone.
Fetch current tasks, postpone them or check off things you do, easily manageable just at your fingertips.
Overall a good task manager saves you time and helps you get your task done.
#9. Strava
Available on iTunes (Free + in-app purchases)
This app is for you if you are a serious fitness freak.
It's one of the best and top fitness apps for runners, swimmers, and cyclists, as well as bodybuilders.
The latest version is launched which offers support for the Apple Watch.
Enables you to sync everything including workouts and activities that you have recorded with Apple's workout app.
It's all real-time tracking to provide you with enhanced stats of your fitness activities.
The biggest sell of Strava is it allows you to compare your stats with other users as well.
#10. Streaks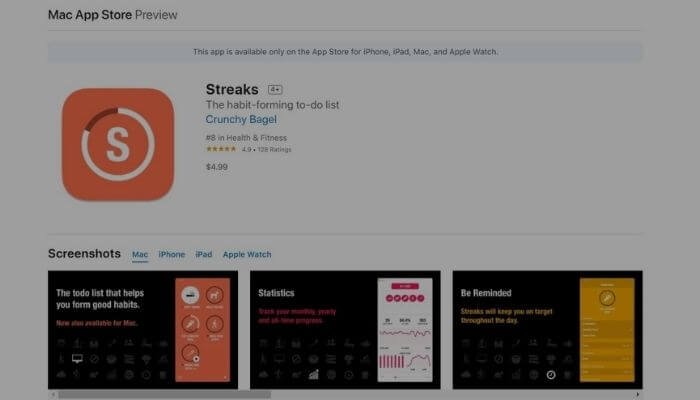 Available on iTunes ($4.99)
Repetition is a key to success. If you are looking to lose weight, learn a new skill, eat healthier or build any great habit. You won't be able to learn anything if you do it once a month.
Streaks help you create custom reminders for your daily routine. You can track up to 12 tasks every day.
It reminds you when it's time for a specific task and automatically checks off the task that is related to the health app stats.
Streaks display rich notifications and lots of complications, with icons and colors to use in your custom activities.
You may also like:
Frequently Asked Questions
Q: What is an Apple Watch?
A: The Apple Watch is a smartwatch designed and produced by Apple Inc. It offers a range of features including fitness tracking, mobile payments, and smartphone notifications.
Q: Can I use these apps on my iPhone as well?
A: Yes, many of these apps have companion iPhone apps that offer additional features and functionality.
Q: How do I download and install these apps on my Apple Watch?
A: To download and install these apps, first make sure that your Apple Watch is paired with your iPhone. Then, open the App Store app on your iPhone and search for the app you want to install. Once you've found it, tap the "Get" or "Buy" button to download and install the app on your iPhone. The app should then automatically install on your Apple Watch as well.
Q: Can I customize the order in which the apps appear on my Apple Watch?
A: Yes, you can customize the order of the apps on your Apple Watch by opening the Watch app on your iPhone, scrolling down to the "App Layout" section, and then dragging and dropping the apps into the order you want.
Q: Can I uninstall these apps if I don't want them anymore?
A: Yes, you can uninstall apps from your Apple Watch by pressing and holding on the app icon until it begins to jiggle, then tapping the small "x" that appears in the corner of the icon.
Conclusion
In conclusion, the Apple Watch is a fantastic device that can be enhanced with the right selection of apps. Whether you're looking for productivity, fitness, or entertainment, there are a plethora of apps available to suit your needs. From the paid apps like Streaks and free apps like Strava there's no shortage of high-quality options to choose from.
Ultimately, the best apps for your Apple Watch will depend on your individual preferences and lifestyle, but with this list of 10 must-have apps, you're sure to find something unique.
These apps are must-have apps for your iPhone Watch. All these apps are available on iTunes and can be found easily.
Above mentioned apps have been tried and tested personally. All you need are some great apps for your Apple Watch like those mentioned above and get the most out of it.
Hope this will help! Try these apps and let me know your views in the comment below.