The email has become daily essential in everyone's life for those who are working in the corporate world as well as for students. We need a webmail setup for sending, receiving, and reviewing emails- and I use 1and1 webmail for sending my emails. The service is also known as 1&1 ionos and has become the most secured and well-organized webmail service around the world.
One of the methods that are most popular among people nowadays is the usage of webmail. Webmail is a web-based email that can be accessed through any web browser remotely.
In this article, we are going to talk about everything about 1&1 ionos, how to sign up for 1and 1 webmail, and Login detail, resetting the password, and also how to set up a webmail account.
1and1 webmail is a web-based email, used for reviewing and sending messages via a web browser. This is a reliable and secure way to use.
Webmail does not require any different software to use, instead, it can work on any web browser. This can help you get access to your emails from anywhere, you just need an internet connection for it.
1and1 aka 1and1 Ionos is a web hosting company which was also known as 1and1 Internet. It has millions of customers worldwide.
In this guide, you will get everything you need to know about how you can create a webmail account, log in to webmail using credentials, reset your password, and also set up an account on different platforms.

So let's get started with creating a 1&1 webmail account:
How to create 1and1 webmail account (sign up)?
You don't have to be tech-savvy for creating a 1&1 webmail account. It's quite easy!
Webmail accounts are created in two different forms, Business accounts, and personal accounts.
The account requires a subscription at $1 per month.
Also while creating a business account, the user can use a domain name as his email address to gain popularity. It will help the customers to reach out easily. So without any further discussion let's jump onto the steps for creating a 1&1 webmail account;
Step-1: Through any web browser, go to the website www.ionos.com.
Step-2: On the top menu you can find Email and office. Click on it.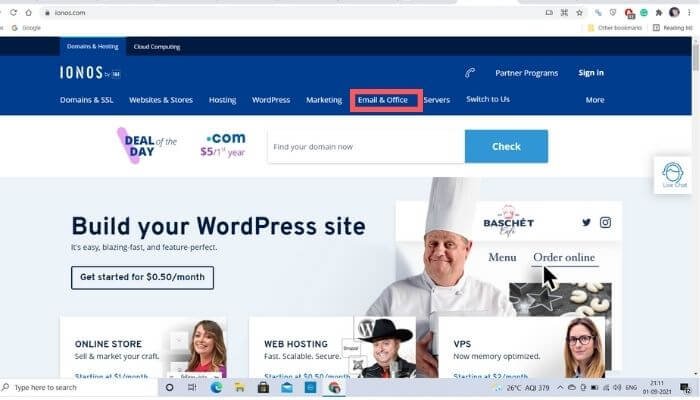 Step-3: The first option there, is a Professional Email Address. Click on it.
Step-4: While scrolling down, you will find 3 plans: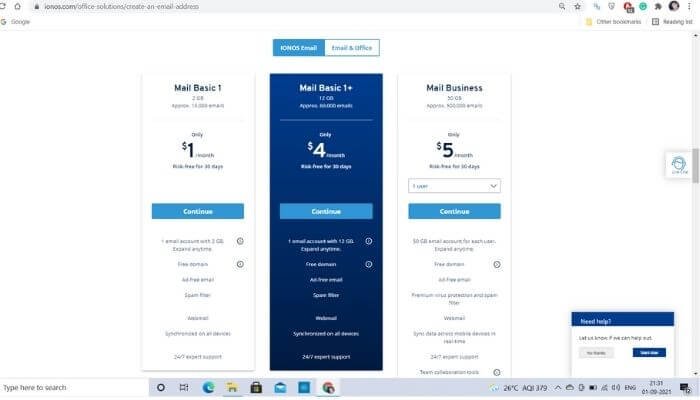 Mail Basic 1 ($1/month only)
Mail Basic 1+ ($4/month only)
Mail Business ($5/month only)
Their plans may vary according to packages and price.
Step-5: Choose a suitable plan and click on continue.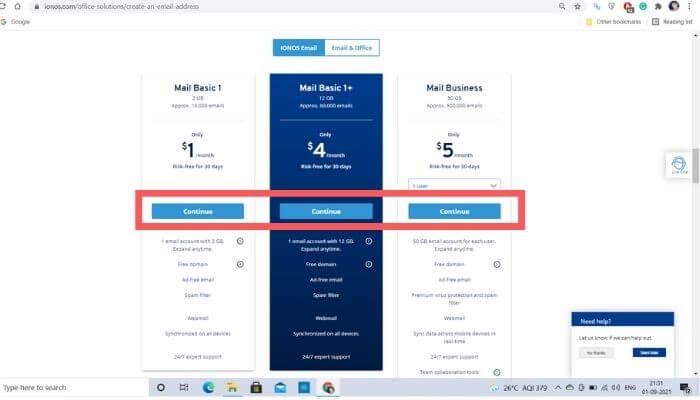 Step-6: Type the web address you want and then check for its availability. If it's available then well and good, if it is not then the website will show several alternatives from which you can choose your suitability.
Step-7: Add it to the cart.
Step-8: After Adding your Webmail address to the cart, click on Continue.
Step-9: Click on create a new account.
Step-10: Fill in the information needed such as name, city, residence, etc. Set the password you want.
Step-11: Continue with payment options.
After creating your webmail account –
There are a few more things that need to be done after account creation. If you want to manage your 1and1 account emails to your primary mail like on Gmail or yahoo, you can select the automatically forward option. This way you can manage your 1and1 account to your primary mail account.
The next important thing you should do is to enable your security settings one is anti-spam and the other is premium virus protection. You can use this to protect your webmail from any virus attack. After that, click on save and you can create your own 1and1 webmail login for your business email address.
Just performing these steps you can create your own personal or business webmail account.
How to login 1and1 webmail account
If you already created your 1and1 account then you can just follow the procedure for login by performing the steps below;
To log in, there are two methods that you can use
Start with opening any web browser and search for login 1and1 email account.
Go to the official page.
Fill in the required credentials and click sign in.
Just scroll down and select webmail.
If you are facing any issues while login, use these alternative steps;
In the URL section of the browser, type login.ionos.com.
Enter the credentials.
Click on sign in. If you want to save the password, remember me and continue.
Hit the login button and start your work!
How to reset password for 1and1 Webmail account
Since everyone is using one or more email accounts recently, chances are that they will forget the password. Resetting your password can be an option if the account has been hacked or lost. So if you are one of them, no need to worry about it. Proceed as follows;
Go to the official page of ionos via any web browser.
In the top right corner, Sign in option is available. Click on it.
Enter the domain name or web address, whatever is required.
For a new login password for 1&1 webmail account, click on 'Request for new password'.
You will get a reset link on your secondary webmail account.
Choose the password which is 12 characters long and must contain uppercase, lowercase letters, numbers, and special characters.
Retype it for confirmation and there you go.
Your password for 1&1 webmail account has changed now.
Setting up your email settings in webmail
To manage your webmail account seamlessly, you need to have proper settings first. To avoid any login issues further, set up your login credentials to automatic mode so you do not need to enter your details manually while logging in.
You can change email settings by finding settings options in these directions.
You can start by signing in to your webmail.
In the top right corner, click on your name. A drop-down list will open promptly.
Select configure mail client from the list.
Scroll down to the manual settings to check your secure SSL/TLS and Non-SSL settings.
Your settings will somehow look like this.
Incoming email settings
| | |
| --- | --- |
| User name | Full email address |
| Server name | imap.1and1.com |
| Type | IMAP |
| Port | 993/995 |
| Security | SSL/TLS |
Outgoing Email Settings
| | |
| --- | --- |
| Server name | smtp.1and1.com |
| Port | 587 |
| Security | STARTTLS/SSL/TLS |
Here are some email account settings that you can set up manually for your webmail account.
Security tips and tricks
Always set up a strong 12 characters long password, having a combination of uppercase and lowercase letters and also having numbers and special characters.
Avoid using general passwords like birth date or your name.
Using a general and easy password will allow the predators and hackers to take control of your webmail account.
Change your passwords more often.
Never share your password with anyone especially when you have crucial information in your Webmail account.
You can use tools like KeePass to store your passwords in a directory inside the software. You need a master code to log in to the directory first.
The final words
The above guide summarises everything you need to know about 1and1 webmail login and signup details. Along with this, directions for resetting passwords and security tips are also given that help you to make your account safe and secure.
Other than this, If you are facing any login issues after this also, don't forget to comment us down. We would be happy to resolve your issue as soon as possible.