Are you also searching for alternatives to WhatsApp? In this article, we are listing the top 5 messaging apps like Whatsapp in 2022.
WhatsApp has recently rolled out an update saying that It will be merging your data with facebook's (Now Meta) data tracking. That is the reason WhatsApp has been in controversy till now. Generally, it announces that now Facebook will have access to more of your data than it already has.
Not many people are happy with the new WhatsApp policy. The new policy is putting thought into many minds to finding WhatsApp's alternatives.
Now, I know switching to a different platform can be a tedious task for users. You have to ask your friends and family to shift from scratch. I imagine this might create an enjoyable experience and set your connections stronger than before.
If you start to use these WhatsApp alternatives once you will definitely like it. These all are highly encrypted and do maintain your privacy to a great degree.
In fact, WhatsApp is a pretty open platform while most of the WhatsApp alternatives are more private and secure messaging apps. Let's have a look at them:
Best and Free WhatsApp Alternatives
Here are some top Apps like Whatsapp you can use as an alternative to Whatsapp:
1. Telegram messaging app
First on the list is Telegram, which is quite obvious. Right? This is the best alternative to WhatsApp for a couple of years now. It has been improvised a lot after its introduction.
Like WhatsApp, this open-source messaging app is quite small. With about 6M monthly active users Telegram brings up a lot of features that have been heavily inspired by WhatsApp but are completely different.
Features
The most obvious one is in their feature is the usual messaging that both WhatsApp and telegram pack, the Telegram brings other features like
Public channels
Interchangeable Usernames
Ability to share files up to 1.5 GBS
Passcode lock
Self-destructing messages
End-to-end encryption and much more.
Furthermore, Telegram can also be used on multiple platforms which are so convenient for communication between family members.
The same functionality can be found as well on Google Drive or Dropbox and users can upload images, videos, and documents to the service with no effort.
Read More: Must-Have 10 Best Apple Carplay Apps
2. Signal
If your basic concern is privacy and security, Signal messenger is your best bet. The signal private messenger comes from the house of open source systems.
The company that actually powers the end-to-end encryption technology is WhatsApp and Facebook.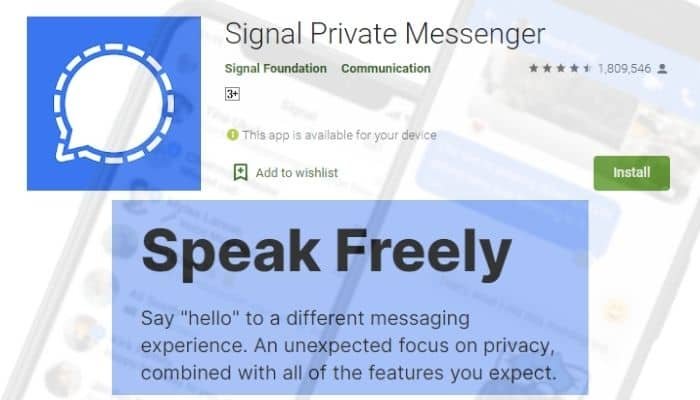 The signal app offers screen security which prevents Signal previews from appearing in the app tray of your phone. It has the usual WhatsApp features like sharing text, voice messages, photos, videos, GIFs, and files for free.
Your backup calls and every other data in the app including the files that you send using signal are all encrypted.
Basic Features –
Free for Everyone
End-to-end encryption
Available on all major platforms
No ads. No trackers.
Crystal-clear voice and video calls anywhere
Additional Features –
Create and share your own sticker packs.
Disappearing messages – Automatic deletion on already set time
3. Wire
Now, if the signal does not suit your needs and you went out looking for some better-looking application, then check out Wire. Wire comes with a beautiful interface covered with end-to-end encryption.
You have tons of features such as group videos, video calls, self-destructing messages, the ability to delete messages from recipes and devices, link reviews, and much more. Similar to telegram you can use it on multiple devices as well.
Read More: 10 Best GPS Apps For iPhone Without Internet
4. Threema
Another app that provides an amazing level of encryption is Threema. Once again, it is absolutely free app.
The app encrypts all the data including messages, shared files, and even your status updates. It's not a full-fledged WhatsApp replacement since it does not have any sort of calling facilities as of yet, but it is focused more on privacy.
What's more, the app is it is completely open-source so rest assured your data is quite safe because nothing could go wrong.
This app is also very versatile since it can also open files through any of the above-mentioned apps.
Read More: Best Phone Spy Apps for Android
5. Bridgefy
Now, if you are more of a risk-taker and want to try something new, how about trying something different such as Bridgfy?
All the apps that are mentioned are basically using the internet but Bridgefy is an offline messaging app. It uses peer to peer-to-peer Bluetooth mesh network or Wi-Fi direct best network on your phone and allows you to send messages to nearby friends.
Bridgefy offers three main types of messaging services like
 Post-to-person mode
 Broadcast mode
 The Mesh mode.
This basically allows you to communicate with people without being affected by any sort of internet censorship. As such, it is a very useful tool for anyone who spends a lot of time on the messaging app and is more protective of their data loss.
You may also like:
The final thoughts
Now, these are some of the tops handpicked Best free WhatsApp alternatives. All the apps are available on Android as well as on iDevices. If you are more protective of your data loss you can try Bridgefy and you will get a new experience with WhatsApp.
Besides if you are more into an open-source messaging app where you can make unlimited groups definitely go for telegram. And apart from this, all the apps are the best  WhatsApp alternative so go and check out once I am sure you will get to the WhatsApp vibe.