Hey, Are you looking to chat with strangers without revealing your identity? But if you don't know the best and most reliable apps for you, then don't worry. In this article, we have compiled a list of the best anonymous chat apps for Android and iPhone that will allow you to connect with people from all over the world.
These apps are perfect for those who want to meet new people or talk about their interests without sharing their personal information. We have tested and reviewed each app to make sure it is safe and secure for you to use.
So, if you're ready to talk to strangers and make new friends, keep reading to find the perfect anonymous chat app for you below.
Best Anonymous Chat Apps for Android and iPhone
Take a look at these bunch of anonymous chat apps for Android and iPhone; maybe you find something to spice up your life
This is the best app because it is specifically designed for meeting new people. It uses GPS technology like Snapmap and Tinder to help you find anonymous chat users living in your area. This app is intended to create a dating site but ends up as an anonymous chat app with over 100 million users.
The meet feature of MeetMe allows you to search according to area, phone number, workplace, state, etc. Not only can you chat, also you can also see how many profile views they have visited, the praises they have, and what kinds of gifs they have received.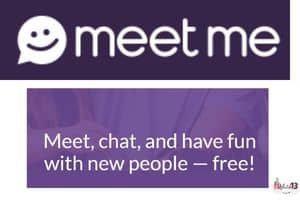 You can play arcade games and some casino games with your new friends. If you are looking for some random, casual chatting, you can always choose this app over others.
Also, the app's interface is just like any other social media platform; it connects people and that is why it has become quite popular among the masses lately.
| | |
| --- | --- |
| Why use this app? | Why not? |
| MeetMe helps you find people living nearby while maintaining strict anonymity. | The app has default settings set to "public," where anyone can search for you. |
It is a great alternative to the MeetMe app. Chatous is a social networking app available for Android and iOS devices. Chatous is known for its anonymity which allows people to interact in a more private matter without revealing their identity.
In this world, many people are interested in modification about a specific just as agitation. Chatous makes it simple to connect with others globally, and unlike other apps, the agitation might be broken down by topic.
Even, Twitter users can use chats to search topics using hashtags. After finding your interesting hashtags, the users are taken into a chatroom where people are interested in the same topic. Thus you can interact with them on your interesting topic.
The app is free to download but you will find some in-app purchases also to enhance your experience. You can add up to 5 hashtags that can describe your interest. You can share your audio, video, and links to your social media as well.
Also, you can filter the users by age or country. Apart from sending text messages and video chatting.
You just have to share some information like your birthday or Gender and you are ready to chat with anyone you would like to.
| | |
| --- | --- |
| Why use this app? | Why not? |
| User-friendly interface with protected identity and anonymity. Hashtags will help you find your interesting match. | Sometimes, You will receive too many or too few notifications at the same time. |
Whisper is a very popular anonymous social networking app, that lives up to its name. From having a nickname for each user to having its own gallery for pictures and videos is a great step toward maintaining the anonymity of the user.
Many users on whisper report positive experiences and fulfilling conversations with the people they have met.
You can have casual conversations when connecting with new people. What makes Whisper different from other anonymous networking apps is that you don't have an identity when using the service or any followers, friends, or profiles.
Also, it does not use any search function to search for the users. The only way you can communicate with someone is by responding to their whispers. And this is the point that attracts young adults as it makes sense of secret. You can share your deepest darkest secrets without the risk of revealing them.
The app is exclusively available for Android and Apple users. It has been installed over 10+ million times on the Play store and has become more popular lately. You can use the chat option to Whisper with your friends or I can say a stranger.
| | |
| --- | --- |
| Why use this app? | Why not? |
| All the texts and information of the users are 100% secure. You can share anything and relieve stress from your mind. | History of tragic events, loss, despair, and abuse by users. |
Wakie voice chat is one of the most highly-rated apps on the App Store and a little strange whether talking about the Google Play Store or the Apple app store. You can talk to strangers and make new friends using walkie-voice chat.
Its unique selling point is that you can talk with strangers and have a phone call with them while maintaining your anonymity. You can share your true emotions and get instant reactions to have fun or get rid of boredom. Strangers can call you any time to wake you up.
You can request for someone to come chat with you and get suggestions about other users to speak to. The request will post on a live feed board. Users can hide their profile as well, depending on you.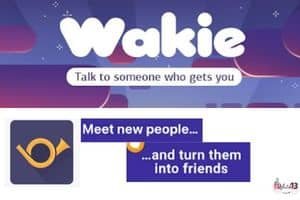 As for hobbies, You can also practice some new languages while talking to foreign users. For instance, if you are a beginner at the Spanish language, you can talk to people in Spanish about your interests and hobbies and be more fluent.
You can converse on any topic you love like literature or doodling on chat or voice calls. This is a great option for connecting people and making new friends, among all the anonymous chat apps.
| | |
| --- | --- |
| Why use this app? | Why not? |
| Great anonymity with new and updated features. The app has added some new ice-breaking ideas to connect easily. | The users often face Calling issues and network issues. |
Connected2.me is a one-on-one chat service that helps to connect with other profiles with anonymous site visitors. It is great for sharing your experience or feelings with random users anonymously. You can chat with any user available to talk and visit their profiles.
To maintain the anonymity of the users, the app does not ask you to create an account for sending or receiving messages however if you want to post a story, you have to create a profile that is visible to different users.
You can use this app to chat and share pictures and voice notes with people from all around the world safely and anonymously. Besides, You can put a minimum or as much information as you want to reveal to the users.
The Profile can be created to make your identity discreet, with users communicating strictly through nicknames that obscure their identity. Users can only find out their true identity if they select to explicitly reveal them.
You can also use Coected2.me by businesses to get a true sense of what customers think about their products or services without the pressure of revealing who they are. The app catches inspiration from Instagram or Snapchat, mentioning at the top of the activity page the stories from your most frequently contacted users.
| | |
| --- | --- |
| Why use this app? | Why not? |
| It does not save any personal information and no need to create an account for casual conversations. | Usually, you will see a black screen and then the app will crash with or without an error message. |
Omegle is a one-to-one chatting platform that allows you to chat or live video chat with strangers. While creating an account you can fill in some of your interests and the app will find you your best match to talk to and get rid of the usual boredom.
Omegle is the best anonymous chatting app that gives more weightage to video chatting rather than text messages.
It is cool when it pairs two people with the same interests as "you and a stranger" and lets them converse with each other. They can chat together privately through text, video, or a built-in microphone in the app.
Apart from all this, who doesn't want to use this amazing app that has captured the heart of all teens?
| | |
| --- | --- |
| Why use this app? | Why not? |
| Cool app to make friends and video chat with random strangers. | Involved with many controversies in the past, regarding adult content and foul language. |
Mico is another great alternative to finding new friends from all over the world and chatting anonymously. It is constantly maintaining its 4.5 rating on the app store and is exclusively available for android and apple users.
If you are tired of boring daily life conversations, this app has something you will love! You can join live streams with random people, send pictures, and do live video chats. It completely hides the true identity of individuals.
It also offers a "play together" feature which allows you to interact deeply with the stranger and you never know, maybe you find your soulmate in the stranger.
You can talk with a stranger through chat or video, with the ability to filter by gender if you want to talk with a person of the same or opposite gender. Users had shown reservations about it being used, Unlike the cause of annoying ads and the low-quality rating of customer service, the inability to delete one's account.
| | |
| --- | --- |
| Why use this app? | Why not? |
| Offers new features that make the app more interesting. | constant bugs in the app. |
RandoChat is an anonymous random chat app to meet new people? It works exclusively on Android and iOS devices. If you are choosing RandoChat for your casual conversations with strangers, it might prove a good option.
What sets it apart from other chatting apps is its features. The navigating interface, voice or chat options, filtering, and many more filters give a great experience to its users. It has been popular lately and installed by over 5+ million times on the app stores.
For having a conversation with strangers, you need not create an account. Instead, you can just meet new people with a single tap and tell the deepest darkest Desire of yourself to others without revealing yourself.
Also, For the safety of its users, It automatically deletes the messages once it is sent on the chat. you can also use in-app purchases to enhance your experience with random chat but The user must be above 18 years to use this app.
| | |
| --- | --- |
| Why use this app? | Why not? |
| Safe to use as it is based on NLP (National language processing) analysis. Self-destructive messages once they are sent. | In-app purchases |
If you want an app that helps you randomly match with strangers in video chats across the globe, then Holla is the right fit for you. It is a free, live video streaming app where you can do video chat sessions with other online users and swipe up to proceed to the next match.
Holla is used in over 40 different countries and you can video chat with anyone around the globe via the app. It also offers an option for text messages where your identity will completely hide from users.
The app also offers magical filters to use on random video matches for fun. Also after the chat section, you can give feedback using 3 emoticons that are an angry face, a neutral face, or a smiley face.
| | |
| --- | --- |
| Why use this app? | Why not? |
| It's great to connect and explore oneself. Improve social skills with random video chats. | Video chat is given more preference than text messages. |
10. Anonymous chat filter
This is the last but not the least app for anonymous chat apps for android and iPhone. As the name suggests, you can converse with any random person and talk about your interests and hobbies. The messages you send will automatically get deleted once they are delivered.
Anonymous chat filter takes care of your privacy by hiding your true self-identity and creating a fake profile for yourself. This app has a zero-bot policy, forbids names, spam, violence, and ads, and doesn't track history nor give that capability to any of the users.
Besides, you can use this app to explore the world's languages, culture, myths, and traditions. You can use this on Android or iOS devices. Join chat rooms and Discover your secret identity in anonymous chat rooms.
| | |
| --- | --- |
| Why use this app? | Why not? |
| This is the oldest app for anonymous chatting and takes proper care of your information. | No one knows who is behind these chat rooms. our safety is in our hands. |
You may also like:
Conclusion
As we get to know by reading this article, anonymous chat apps provide a unique opportunity for individuals to connect with strangers and share their thoughts and feelings. Whether you're looking for a casual chat or a deep conversation, all the 10 apps we've discussed offer a variety of features.
However, it's important to remember to use these apps safely and responsibly. Always avoid sharing personal information or meeting up with strangers in real life. With that in mind, we hope this article has provided you with valuable information to help you find the perfect anonymous chat app for your needs.
FAQs
Q: Are anonymous chat apps safe?
While most anonymous chat apps are designed with security and privacy in mind, there is always a risk of encountering inappropriate or malicious content. Users should be cautious when chatting with strangers and avoid sharing personal information that could be used to identify them.
Q: Can I use anonymous chat apps for dating?
Yes, some anonymous chat apps are designed specifically for dating and allow users to connect with other singles in their area. However, users should exercise caution when using these apps and be mindful of the risks associated with meeting strangers in person.
Q: What are some popular anonymous chat apps for Android?
Some popular anonymous chat apps for Android include Omegle, Chatous, Wakie, Whisper, and Moco.
Q: What are some popular anonymous chat apps for iPhone?
Some popular anonymous chat apps for iPhone include YikYak and Psst! Monkey, Rooit, and Connected2.me.
Q: Can I use anonymous chat apps without registering?
Yes, many anonymous chat apps allow users to chat with strangers without registering or providing any personal information. However, some apps may require users to create an account in order to access certain features or participate in certain chat rooms.
Q: Are anonymous chat apps free?
Most anonymous chat apps are free to download and use. However, some apps may offer premium features or require users to pay for a subscription in order to access certain features or remove ads.
Q: Can I block or report users on anonymous chat apps?
Yes, most anonymous chat apps allow users to block or report other users who are behaving inappropriately or violating the app's community guidelines. Users should familiarize themselves with the app's reporting and blocking features in order to protect themselves from unwanted or abusive interactions.