Investing in the stock market can be an exciting and rewarding experience, but with so many options available, it can be overwhelming to choose the right stocks to invest in. Fortunately, there are now several stock apps available for iPhone users that make it easy to track your investments, get real-time market data, and make informed decisions.
In this article, we will be exploring the six best stock apps for iPhone that you can download today to help you stay on top of your investments and take advantage of the opportunities that the stock market has to offer. Whether you're a beginner or an experienced investor, these apps can help you make more informed decisions and achieve your financial goals.
Well, if you are a beginner, you should keep a few things in mind before selecting a stock app for trading. The first is safety; since you are entrusting your personal information to the app, it must be secure.
Second, the stock app should have a simple user interface that makes it simple to invest in and avoid mistakes. The app should not have any hidden charges or fees, and it should, above all, ensure that your transactions are completed in a timely and efficient manner.
Each application will provide you with a unique set of features; therefore, before creating an account with any app, conduct extensive research on it. You must ensure that the application includes the features you require. Not the ones that are superfluous and will never be used. We'll go over some of the iPhone's stock apps.
Here is a list of apps for iOS users to use for brokerage and stock trading. It is preferable if you go through the lists of top stock apps for iPhone before deciding to open a Demat account.
Here is The List Of Top stock apps for iPhone
1. SoFi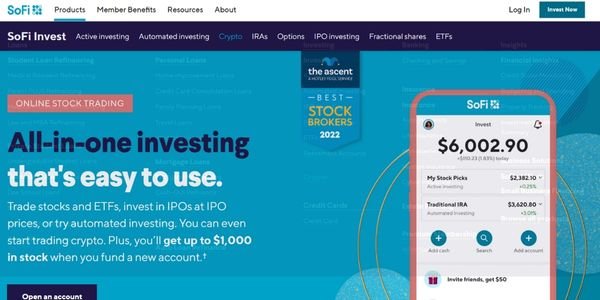 This Stock app allows you to open a new account, view the market, and trade in your favorite stocks. SoFi assesses fees for both active stock market accounts and managed accounts.
It also does not charge a commission on stock or ETF trades. You can trade cryptocurrency, but it does not allow you to invest in mutual funds.
This is a simple mobile application that allows you to manage your money, lend it, and invest it. Although it provides a good cash management ecosystem, it lacks advanced charting and active trading features.
As a result, if you are a professional investor or trader, it may not be the best option for you. SoFi is an excellent app for beginners.
2. Webull
Typically, a significant portion of our profit is deducted as part of brokerage fees, security fees, and other expenses. As a result, we are concerned about avoiding such fees.
This is where the Webull mobile application comes in: it has an account with no minimum balance requirement, no account fees, and no Commission charged at all. Many other brokers and mobile apps charge for these services. Fees are charged by Webull for margin borrowings and advanced market data.
This app only trades stocks, ETFs, options, and ADRs, not mutual funds. This application allows you to store tools for both novice and experienced traders; however, the mobile application interface may be difficult for novices.
Active investors can benefit from tools for active charting and investment research. This application's features are constantly updated, and new features are introduced to the market on a regular basis.
3. Schwab Mobile
It is an all-purpose stock market app for the iPhone. It provides accounts with no required minimum balance. There are no recurring fees or commissions for trading stocks and ETFs on this stock marketing app.
Schwab's mobile application provides access to Schwab's intelligent portfolios and no-fee Robo advisors. You can have any type of investment account here, such as a taxable or retirement account, as well as investments outside of the stock market.
Schwab also has a website where you can view your account, research new stocks, enter trades, view positions, and do a variety of other things. You can do all of this while also using their mobile stock app. It also offers voice-driven mobile assistance, so you don't have to put in any extra effort.
And in this manner, you can make quick trades and obtain answers to your questions. Customers who have used this app are very pleased with it. You do not need to keep a minimum balance in your account to trade stocks, fractional shares, ETFs, mutual funds, fixed income, options, and futures.
4. Thinkorswim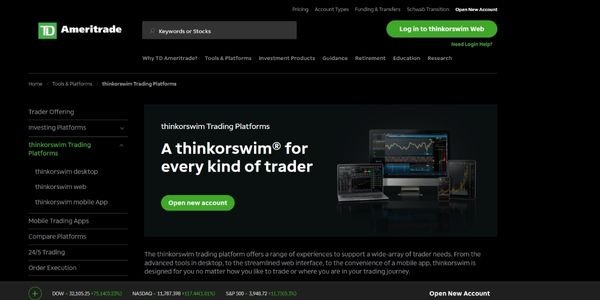 Experts in the field will benefit most from online stock market applications for iPhones. Thinkorswim provides you with the most advanced investment tools and resources available. It has no recurring fees, no commissions on stock or ETF trades, and no minimum account balance requirements.
This platform can be accessed via the web, desktop, or mobile devices. It will provide you with the same features everywhere you go. If you are interested in the stock market, you should install this app on your iPhone.
It offers you advanced features like profit-and-risk analyses, multi-touch charts, a Live News stream, and chat-based support with experts to get your queries answered. This app trades in stocks, ETFs, options, mutual funds, fixed income, futures, and Forex as well.
5. TradingView
TradingView is a 5-star rated app on the Apple App Store. This app is the result of HTML5 development, which means it has an extremely responsive software design. According to some awards, the application is the best stock market charting software and the best free charting package.
This app has a large section for indicators, charts, and drawing tools. You can trade stocks, ETFs, Forex, cryptocurrencies, and other assets here. However, if you choose a pro package, this application will not be free. The pro package costs $9.95 per month, and the pro plus package costs $19.95 per month.
6. Betterment
This mobile app acts as a personal assistant. This means that when you create an account here, you will be asked questions such as your age, your investment goals, and how much risk you are willing to take.
It records your responses and recommends an expert-designed portfolio that meets your requirements. Full-time investment professionals create this. Betterment allows you to create two types of accounts: standard accounts and premium accounts.
Betterment charges a 0.25 percent standard account fee and a 0.40 percent premium account fee. It only trades ETFs and finds you the best deal. It employs tax-loss harvesting techniques to reduce your taxable investment account balance.
You May Also Like
10 Apps Like Cash App – Best Alternatives for Money Transactions
How To Get Paid To Listen To Music?
Top 10 Sites Like QVC With Easy Pay Options
10 Best Tools For Working Remotely From Home
How To Make Money With a 3D Printer?
FAQS
Q: Are these apps free?
A: All six apps are free to download and use. However, some may have additional fees for certain features or services.
Q: Can I buy and sell stocks on these apps?
A: Yes, all of these apps allow you to buy and sell stocks, as well as other investment products.
Q: Is it safe to invest through these apps?
A: Yes, all six of these apps are regulated by the Securities and Exchange Commission (SEC) and the Financial Industry Regulatory Authority (FINRA), which helps to ensure the safety and security of your investments.
Q: Do these apps provide real-time stock prices?
A: Yes, all six apps provide real-time stock prices and other financial data.
Q: Are these apps easy to use for beginners?
A: Yes, all six apps are designed to be user-friendly, and many offer educational resources and tools to help beginners learn about investing.
Conclusion
In conclusion, investing in the stock market can be a great way to build wealth over the long term, and with the advent of stock trading apps for iPhone, it has become more accessible than ever before. The six stock apps for iPhone we have discussed in this article offer a range of features and benefits to help users stay informed and make informed investment decisions.
Whether you are a seasoned investor or just starting out, these apps can provide you with the tools and resources you need to take control of your financial future. So, explore these apps, compare their features, and choose the one that best fits your needs and investment goals. With the right tools and a smart investment strategy, you can take advantage of the opportunities offered by the stock market and achieve your financial goals.
We hope you enjoyed our list of apps for iPhone. We believe that stock market apps are extremely useful for tracking your investments, as well as for investing in and researching companies. The above apps are a great start for any investor and we hope you found one that suits your needs! If you have any other questions about investing apps or iPhone apps in general, please contact us anytime. Thank you for reading, and happy investing!