With the ever-increasing importance of the internet in our daily lives, choosing the right browser has become a critical decision. With so many options available, it can be challenging to decide which one is the best fit for your needs. In this article, we will be taking a look at the ten best browsers for Windows in 2023, based on their performance, features, security, and user experience. So, let's dive in and explore the top browsers that will enhance your browsing experience in 2023.
Do you value speed and simplicity? There are browsers that make browsing a breeze, with sleek interfaces and lightning-fast page load times. Or maybe you're a power user who wants advanced features and customization options. There are browsers that cater to that too, with tons of options to personalize your browsing experience.
And if you're privacy-conscious, don't worry! There are browsers that prioritize your security and privacy, blocking ads and trackers to keep your online activities private.
No matter what you're looking for, there's sure to be a browser that fits the bill. Why not try a few out and see which one you like best? It'll be a fun experiment and you might just find your new favorite browsing buddy!
What is a Browser?
Browser, short for web browser, is a software application used to access and view nformation on the World Wide Web. Essentially, it is a program that allows you to navigate the internet, visit websites, and view multimedia content such as images and videos.
Some popular web browsers include Google Chrome, Mozilla Firefox, Apple Safari, Microsoft Edge, and Opera. Browsers use various technologies to render web pages, such as HTML, CSS, and JavaScript, and they often include additional features such as bookmarks, extensions, and private browsing modes.
How Do Browsers Work?
Here are the basic steps a browser takes to work:
The user enters a URL (Uniform Resource Locator) or clicks on a link, which specifies the web page they want to view.
The browser sends a request to the web server hosting the requested web page.
The web server responds with the requested web page, typically in the form of HTML (Hypertext Markup Language) code.
The browser parses the HTML code and creates a Document Object Model (DOM) tree, which represents the structure of the web page.
The browser fetches any additional resources needed to render the web page, such as images, scripts, and stylesheets.
The browser uses the DOM tree and the additional resources to render the web page, displaying it to the user in the browser window.
As the user interacts with the web page, the browser may perform additional tasks, such as sending data to and receiving data from the web server, executing scripts, and managing cookies and other forms of local storage.
Overall, a browser is responsible for fetching, interpreting, and rendering web pages, and for facilitating user interaction with those web pages.
Let's Take a Look at the List 10 Best Browser for Windows
1. Google Chrome (King of all Browsers)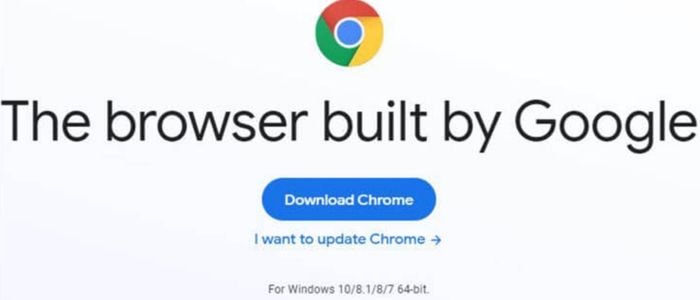 This browser went to the top of the popularity lists due to its quick loading speed and global popularity. Despite this, Google Chrome has maintained a high level of efficiency and speed. Chrome is a fantastic web browser with a large add-on library.
Chrome is available for free on various platforms including Windows, Mac, Linux, iOS, and Android. You should Download & Install Google Chrome on Your device.
It's noted for consuming a lot of resources and is best suited to low-powered computers with limited RAM. Chrome is an excellent browser. Get notified if someone hacks into your email.
Its other cool features are:
You can bookmark any website
It has its app store known as a chrome web store.
You can organize your chrome and give it a new look by applying its pre-designed themes.
And incognito mode doesn't save any browsing history on your device making it the best browser for Windows 10.
One of the best features that I appreciate the most is profile management, which allows several users to use the same online browser without sharing their internet history.
Tab grouping is another handy feature that prevents tabs from becoming confused. You may also use Chromecast to cast content over a WiFi network using Chrome.
Another feature that distinguishes Chrome from other browsers is its cross-device compatibility. If you're linked to your Google account, this function syncs your internet history, bookmarks, passwords, tabs, and more.
2. Microsoft Edge
Our older pals would recall how it was when we used to be a devil among the browsers. Firefox and Chrome are the results of this process. But, after all of the bad press, Microsoft has turned around and rebuilt their Edge browser with chromium.
This browser is the default browser for Windows, and it also has iOS, Android, and Mac versions, which is why it ranks second in our list of the 10 Best Browsers for Windows 10 in 2021 for PCs and Laptops.
The latest version of Chrome is much faster than the previous one, and it has a lot of cool features like an on-screen reader and the ability to cast media.
Microsoft Edge can now run almost every Google Chrome Extension, which is a significant improvement. This version is also compatible with earlier Windows 7 and macOS computers.
In Windows 10, the nearby sharing feature allows you to send pages straight to other PCs and contacts.
With its multi-level tracking protection feature, it protects you from intrusive website trackers that might keep an eye on your activity.
However, Microsoft is continually developing exciting innovations to keep up with the competition, and as a result, it has become the finest browser for Windows; you will continue to see new features in the future.
3. Mozilla Firefox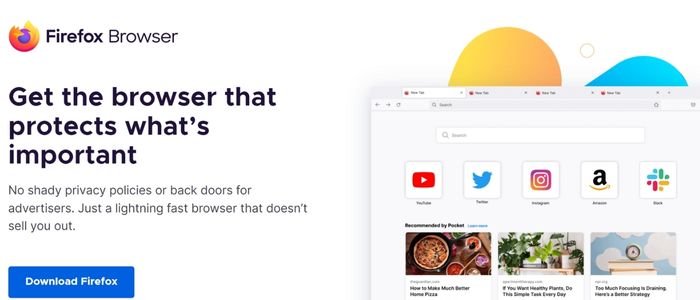 Firefox released Firefox Quantum, a redesigned version for Windows that was built from the ground up.
Recent updates like camera and microphone prompting for permission again and again in spite you have allowed access, will not prompt anymore. You won't be able to find the screenshot option in the URL bar's Page Action menu anymore.
From the Firefox menu, you may configure your toolbar. FTP functionality will be removed in a future version; this option has already been disabled.
New Firefox is significantly faster than the previous one and it is providing a serious battle to Google Chrome. You must accept adjustments if you wish to stay in the competition.
It has redesigned the User Interface with new features which compels people to switch their browser to firefox. Very much unlike the Chrome browser, it uses tracking mode protection when using incognito mode.
Some media reports say that Firefox loads user-related content first while delaying the loading of tracking scripts. Nevertheless, I am quite confident that this version will not disappoint us anytime soon.
This browser can be among the best browser for Windows. This version of Firefox automatically blocks ads to give you a seamless web browsing experience.
4. Opera
Since 1994, Opera has been one of the most popular and feature-rich web browsers. Since 1994, Opera has been one of the most popular and feature-rich web browsers. It hasn't fully realized its consumers' potential.
Due to this, it is another amazing browser for Windows that a lot of people are turning to thanks to some of its significant features. Each browser has something unique in terms of privacy and functionality.
It provides a free VPN that assists in reducing monitoring when using Opera. Adblocker makes websites load faster and in a cleaner environment than before.
Tab-cycler, Flow, and the workspace are all useful options for working efficiently. It is a new set of unique features that improve your online skills and provide you with everything you require.
Though, the desktop version uses some features that are designed specifically for mobile phones. Like any other browser, opera also has a feature of cross-device sync.
Opera Turbo's feature compresses the traffic for those who have low bandwidth. With 1000+ extensions available on Opera gives you the flexibility to install Google Chrome extensions smoothly.
5. Vivaldi
When we talk about the Vivaldi browser, we're referring to the fact that you can personalize practically all of its functions. From navigation to the user interface. If you've never heard of a web browser like this? Try Vivaldi's music.
Another nice thing about this browser is you may utilize Chrome add-ons. It allows you to pin the site to the sidebar, you can drag and place the toolbar anywhere you feel comfortable, alter fonts and colors, and a notes panel is also offered.
Not only that, but you can also give your search engine a nickname and do a lot more with it. It is the only online browser that allows you to view your history as graphs. This web browser is similar to Opera but includes a customization feature. This Web browser is deserving of a spot on our Best Browser for Windows 10 list.
It is the quickest and lightest web browser available, with the ability to add any website as a web panel. This browser's best feature is that it allows you to post to Instagram from your computer.
Vivaldi is the only browser that can accomplish all you need right out of the box. What should your browser look like?
6. Torch Browser
This is the finest browser for Windows if you use Torrent a lot because it has a built-in torrent downloader that allows you to simply store any material. It features a built-in media player that allows you to listen to music while browsing for hours on end.
The Torch Games option allows you to play games without having to wait for them to load or download. With the Torch Facelift function, you can customize your Facebook page by choosing a theme or creating your own.
You can share a photo or a link without copying and pasting or moving tabs thanks to its drag and drop capability.
Without interrupting your surfing, you may easily share with your Facebook friends and Twitter followers. Its built-in download accelerator divides data and distributes them across numerous connections, allowing you to download material faster than any other browser.
With numerous features that no other browser provides. This browser is one of the Best Browsers for Windows 10 in my opinion. If you want your browser to have the best capabilities and features, you should try this one.
7. Tor Browser
Tor is a bit like a cat – it has the reputation of a "wild cat" that doesn't care what anyone else thinks, and it's known as a browser whose primary function is to protect user privacy. So if you're looking for a little privacy while browsing- Tor may be right for you because it gives you unrestricted access to the internet.
If you're tempted to see what happens when browsing with Tor and see what happens behind the scenes when your actions are not private, however, we encourage you to reconsider!
Browsing with Tor can be fun for certain types of activities (using online chat sites or exploring online forums ) but using Tor to watch videos could potentially compromise your security.
Tor is blocked in some countries, make sure to connect to a bridge during the setup.
It even has an app for android which can help you against tracking. I think this is the best feature a web browser can provide its users.
8. Chromium
Open source Web browsers, like Chromium, bring innovation to the forefront. This browser is based on the Chromium codebase and was created so that people could make their own changes to the browser however they want.
If you're already a user of Google Chrome you'll find your experience similar between this open source Web browser and its proprietary counterpart as it looks exactly like Chrome with some minor differences.
You can also still add extensions for additional features but don't expect automatic updates or any other fancy features native in the largest search engine companies' browsers.
You will see many awesome features that make Google Chrome the best browser for Windows 10, but it will not provide you with automatic updates.
9. Dooble
Just like Chromium, Doodle is also an open-source and free browser that allows users to browse with enhanced privacy. It uses popular Qt and WebKit frameworks and also partially supports WebEngine. With its integrated file manager and provides drag and drop support.
To open a file on the Doodle just click on the file and Dooble shall launch or will prompt for further steps.
It includes an FTP browser that displays connection information and directory contents. History interface is provided which includes bookmarking, searching, and editing.
Though this browser does not have many functionalities to offer it's still acquiring the position among the best browser for windows.
10. Brave
Up to 6 times faster as they claim it. Feels just like chrome and all the chrome extensions work on this browser. The best feature I like about this browser is that it pays you to view ads.
Simply you can earn while browsing. Because of this feature Brave stands 10th in our list of the best browser for Windows 10 which is well known for its privacy-focused browser.
Come with a built-in website tracker and ad blocker which helps you browse the content seamlessly without any interruption. You can choose your search engine from its list of 20 search engines.
It has a unique option of private tabs which are integrated with Tor which ensures double privacy while browsing.
Lately, the Brave browser has earned a lot of applause from every corner which assures privacy, safety, and fast performance, and that makes it to be on our list of the best browser for windows 10.
You May Also Like
What Is Setup Wizard On Android Phone?
15+ Best Safe ROM Download Sites 2021
How To Get Discord On PS4?: How To Get Discord On PS4?
Conclusion
The article highlights the various web browsers available for Windows in 2023. Each browser has its own unique features, such as speed, customization, privacy, security, and cloud services. Some browsers prioritize privacy, while others have tools to help users manage multiple tabs. 
Some browsers are built for performance, while others have features like read-aloud and immersive reader to improve content consumption. Users can choose a browser that fits their specific needs and preferences, such as a feature-rich browser or one that is fast and simple. 
Whether you prioritize speed, security, or customization options, there is a browser out there that can cater to your needs. With the ever-evolving world of technology, it will be interesting to see how these browsers continue to evolve and compete with each other in the years to come.
FAQs
What are the most popular browsers for Windows?
The most popular browsers for Windows are Google Chrome, Microsoft Edge, Mozilla Firefox, and Opera.
What browser is the fastest for Windows?
The fastest browser for Windows can vary depending on the specific device and internet connection, but in general, Google Chrome and Microsoft Edge are known for their speed.
What browser is best for privacy on Windows?
Mozilla Firefox and Tor Browser are both known for their strong privacy features, but users should also consider using a VPN for extra security.
What browser is best for customization on Windows?
Google Chrome and Microsoft Edge both have a large number of extensions and themes available, but users may also consider Opera, which has a built-in ad blocker and battery saver.
What browser is best for managing multiple tabs on Windows?
Microsoft Edge has a feature called "Sets" that allows users to group and organize their tabs, while Google Chrome has a number of extensions available to help manage multiple tabs.
What browser is best for reading and consuming content on Windows?
Microsoft Edge has an "Immersive Reader" feature that makes reading content easier, while Mozilla Firefox has a "Read Aloud" feature that can read content out loud.
Are there any browsers for Windows that prioritize security?
Both Google Chrome and Microsoft Edge prioritize security, with features like secure browsing and automatic updates. However, users should also consider using security software for extra protection.