Peacock is a streaming service that has been making waves in the entertainment industry, thanks to its impressive library of TV shows, movies, and original content. If you're a Roku user, you might be wondering whether you can access Peacock on your device.
In this article, we'll explore the question, "Is Peacock available on Roku?" and provide you with step-by-step instructions on how to get Peacock on your Roku device. We'll also discuss the features and benefits of Peacock, including its affordable pricing plans, ad-supported and ad-free options, and exclusive content.
You'll learn about the different methods for accessing Peacock on Roku, including adding the Peacock channel through the Roku Channel Store and using screen mirroring to stream Peacock from your mobile device. We'll also address common troubleshooting issues and provide tips for optimizing your Peacock streaming experience on Roku.
So, if you're ready to take your streaming game to the next level with Peacock on Roku, keep reading. We've got all the information you need to get started and start enjoying all that Peacock has to offer.
Subscription plan and pricing of peacock TV
Peacock is a kind of OTT platform that allows you to watch different types of videos. You have to install it on your Roku device. You will get this with 3 plans, in which you will get the first plan for free. Naturally, in the free plan, you have some limits, as in it you can only watch 30 channels with ads and half of every series.
If you want to see more than 30 channels, then you have to go with premium plans. Which you will get in 2 plans. The name of the first plan is Peacock Premium, it starts at $ 4.99 per month and the second plan is available for $9.99. Which is named Peacock Premium Plus
Peacock TV is restricted to all countries except the US. You can't get access to peacock tv if you do not belong to the US.
This is available for iOS devices like iPhones, iPad, and Chromecast. You can stream 15000 hours on Peacock TV.  Let's take a look at the subscription plans of Peacock:
Peacock TV Plans
Peacock TV comes with 3 different plans.
Peacock Free (It is Free)
Peacock Premium (4.99$)
Peacock Premium Plus (9.99$)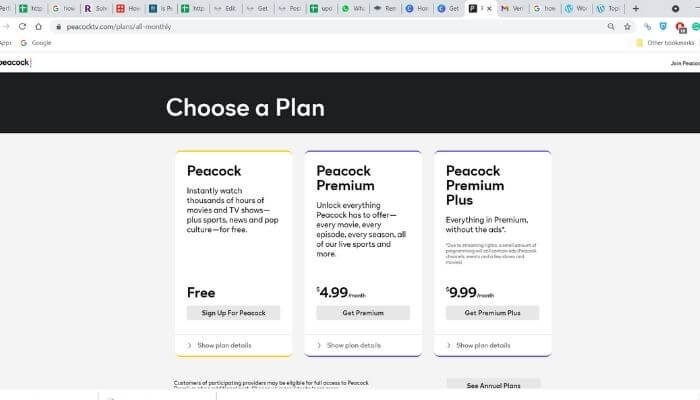 Free: Even in the free plan, you get to see many hours of content, but keep in mind one thing, you will not get to watch any full series in the free plan. You will also have to watch a lot of ads. So if you hate to watch ads while watching your favorite shows then shift to premium plans.
Peacock Premium: Peacock Premium starts at 4.99$ per month with a free train of 7 days. You get all the contents of NBC Universal as well as the series of The Office. In this, you get to see some ads in between videos.
Peacock Premium Plus: If we talk about Peacock Premium Plus, then in this also you get all the contents that you get in the premium plan of 4.99$, but the things that make this plan different are that you have no ads in between videos.
If you are planning to take Peacock Premium or Premium Plus, then you get an offer to use it for free for 7 days.
So, I hope you have got a basic idea about Peacock TV and its plans. Now without any further delay let's jump into the main part of the article and get to know How to Get Peacock on Roku:
How To Get Peacock on Roku?
Follow the simple steps to get it done with a Roku device.
Sign-up with your email id and password.
Now simply go to your Roku TV and click on the search bar.
Type Peacock TV and you can see the icon of it on the screen.
Tap on it to "Add Channel: it on your Roku TV.
Once you added it successfully.
Visit the home screen and find the Peacock in the list.
Launch the app and it will ask you for your registered email id and password to log in as you signed up earlier.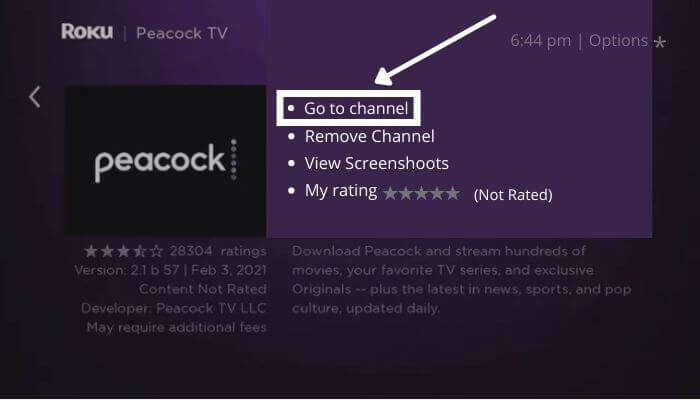 Enter your login details.
After reading the article some questions are coming into your mind so added them here FAQ. You can find the common question here. 
You may also like:
Conclusion
In conclusion, Peacock is an impressive streaming service that offers a wide variety of content, including popular TV shows, movies, and exclusive originals. While it was not initially available on Roku, it is now accessible on the platform through several different methods.
In this article, we've discussed how to get Peacock on Roku through the Roku Channel Store, screen mirroring, and sideloading. We've also provided tips for troubleshooting common issues and optimizing your streaming experience.
So, what are you waiting for? Follow our step-by-step instructions and start enjoying Peacock on Roku today. With all the amazing content available, you're sure to find something to binge-watch in no time.
FAQs
Q: Is Peacock Free?
Peacock has 3 plans, and the basic plan is free with content restriction. But if you want to access all the libraries from Peacock then you can go with 4.99$ pals or a 9.99$ plan.
Q: How to get Peacock on Roku?
Simply sign up with the email id and password and type in the search bar on the Roku device and type peacock and click on the add channel.
Q: Is NBC peacock available for Roku?
Yes, NBC Peacock is available for Roku but in the free version, you can not access it. You have to go with premium plans. 
Q: Is Peacock safe to use?
Yes, Peacock is completely safe for you. It does not ask you for any personal information.
Q: When will peacocks be available all around the world?
At the time Peacock is accessible only to the US and they have not confirmed when it will be available around the globe. Once the company confirms it we will let you know.