Restricted mode over internet access can save you from lots of trouble. As parents or caretakers, It is very important to keep an eye on kids when they are using the internet.
In today's era technology has changed a lot and we all more or less use the internet in our daily life. It's a good thing that we can do a lot on a computer or smartphone screen, whether it's online study or video calling with friends and family, or watching the latest movies and favorite TV shows at our home over a Smart Tv.
There are search engines like google and bing which can help you to get all the information you ever need to know. There are also streaming platforms like Netflix and youtube you can watch all your favorite video content and movies.
But every side has two parts; good and bad and these platforms also have a dark side that's why internet safety is very important.
Here in this post, we will talk about the restricted mode feature and how to enable it on google, Youtube, and Netflix.
What is restricted mode?
The Internet is a big ocean for videos and of course, there is some useful content that helps us on daily basis life.
As well as there is a lot of content like "Sexual content" Hate content "bullying Content" Abusing Content" available which can be harmful to kids.
Some of us are aware of these and some of us are not aware. It is a big concern for parents that their kids are watching on the internet.
So restricted mode feature restricts the mature content that you or others (Using your device) may not prefer to view. The feature you an option where you can set some restrictions so kids won't be able to access them. 
So let's jump into the topic and know How to enable restricted mode on Google, YouTube, & Netflix.
How To Enable Safe search on Google?
Google is a big shark, you can find on google almost every possible category of content which can be Educational, Dancing, Singing, Sexual, Offensive, and many more.
It's always a worrying thing for the elders that their kids are searching on google.
Google can't understand who is searching for it younger or older so it provides the best answer to your queries.
But as parents, you can set restrictions on a google search by turning on the safe search option so that kids can't access these kinds of content. How to do it?
Simply follow the given steps
1. Open your browser and go to www.google.com/preferences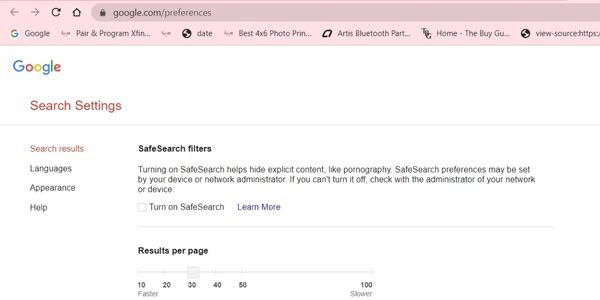 2. Check in to Turn on Safe search on google.
3. Now Click on Save to save safe search settings.
You are done with Google. Now no one can access vulgar, sexual, or abusive content on google from their device.
Note: You can also use a Chrome extension to turn On restricted mode.
How To Enable Restricted Mode On YouTube?
YouTube is the second largest search engine right after Google. So people make videos as per their interests.
Normally if you log in with a Gmail id you can't control your kids what they are watching or downloading on youtube, because the youtube algorithm works on searches.
If you play a video related to songs and you watch it fully and hit "LIKE" or "COMMENT" youtube will start showing you content on suggestions or recommendations.
So that is why you can't stop your kids from watching this kind of content on youtube.
But wait, I got the solution for you.
Simply follow the given step to Enable Restricted Mode on youtube:
After that Open youtube.com in your browser
Now tap on your profile picture
Scroll down till the end
Find "Restriction Mode On"
By default, it's off simply tap on it and it will turn on.
It turns the security on. Youtube won't show you inappropriate content.
How to Enable Restricted Mode On Netflix?
Netflix is also one of the most popular platforms for online streaming. People love to watch movies and series on Netflix.
You need to take a subscription for watching Netflix. Most producers launch their movies on Netflix because of its user base all over the world. 
Turning on the restricted mode on Netflix is super easy. You don't need to do any feature turn on or off, instead of that, you can set the password for this.
If you enable restricted mode on google or youtube, so kids also can turn it on by searching in settings but Netflix comes with high security.
You can set the password on Netflix so it will be out of reach for kids to crack the password unless you tell them. 
Or you can create an individual profile for each member for kinds you can create a new profile, for your own you can create a new profile.
So the other profile members can't access your content because it is now password protected.
To Enable Netflix Restricted Mode
All you have to do is log in to your account by clicking on your profile picture and clicking on your account option.
It will open a new screen where you will find several options there. Simply click on the parental control option.
It will ask for a PIN, enter as you can remember it. Make sure you don't share this PIN with your restricted users.
Now whenever Anyone opens Netflix to watch, will not be able to access inappropriate content.
You may also like:
Conclusion
The Internet offers you various types of content so sometimes it becomes so difficult to restrict them. 
Here in this article, I shared how easily you can block these kinds of content for your kids' safety. 
Where google, youtube gives options you can enable restricted mode by clicking on settings, and on Netflix, you can set up a password or can create an individual profile for each member.
I hope you like the article, you can share it with your friends and family members so they can also implement it.
If you have any suggestions or questions you can leave us a comment in the comment section below.