Wanna watch Live Net TV on Firestick? Here is how to get it done for free. As you know, cable TV can require great plenty of money, mainly when you subscribe to premium channels. However, with Live Net TV, you can view satellite channels completely free. Let's take a look at this Installation guide for Live Net TV on firestick.
Live Net TV brings to you a lot of live TV channels from all over the world and in various languages to your Firestick TV.
This Android app is completely remote-friendly. It allows you to easily navigate through the app and get all your favorite channels.
Live Net TV is a favorite application for free live streaming of films, TV dramas, documentaries, news, education, and a variety of channels.
So, want to know, how to install Live Net TV to your Firestick? Then, this article will help you to download Live Net TV on a Firestick, Fire Stick 4K, and Fire TV Cube.
Read More: How To Watch ESPN+ On LG Smart TV?
About Live Net TV
Live Net TV is among one the top live streaming services. This application offers on-demand live streaming channels on various devices. It has great features and a simple user interface.
It comes with different categories of entertainment media, including 24/7 Channels, Entertainment, Sports, and many more. The app is updated constantly, and most of the channels work perfectly.
Live Net TV operates by connecting to links offered by many diverse websites and it can install public TV channels that broadcasted live or private satellite or cable TV programs that, despite being commercial, can be transformed into for free.
As we know, it requires an outside media player application to stream media on your device. Live Net TV can be used with external media players such as MX Player. We suggest you use MX Player as an external media player as it offers the best results when you use Live Net TV on it.
Read More: How To Reset Your LG Smart TV to Factory Settings
How to Install Live Net TV on Firestick?
Let us discuss, how to install Live Net TV on Firestick. For this, there are basically two methods
Install Live Net TV using the Downloader app on Firestick
Install Live Net TV using ES File Explorer on Firestick
Let us discuss them one by one.
1. Install Live Net TV on Firestick Using Downloader App
1. Install Downloader App
Step-1. On your firestick/fire tv got to the Amazon App Store.
Step-2. Go to Find > Search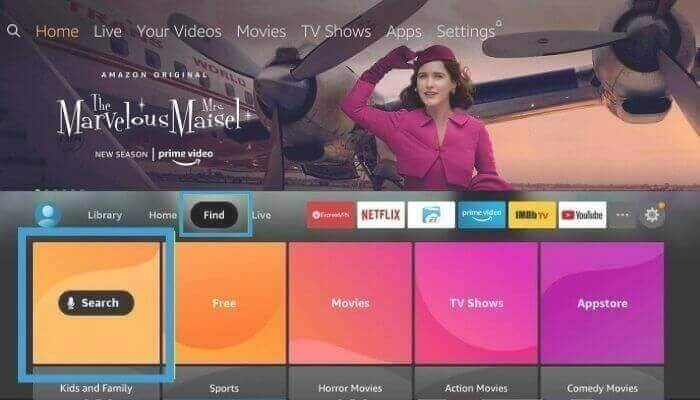 Step-3. In the search bar search for the Downloader APP and then click on the Get.
When the Downloader app is installed on your device, enable the permission option in it to get the third-party apps and install them on your device.
To enable the permissions, follow the steps:
Step-4. Open the settings menu on the firestick with the help of the firestick remote.
Step-5. Now click on the "My Fire TV" option from the list of settings.
Step-6. A drop-down list will appear, select Developer Options.
Step-7. From the two options available, select Apps from Unknown Sources then click on Turn ON.
Step-8. Now a dialog box will appear which gives the information about this option, again select Turn On to download any application on your Firestick.
Downloader is a must needed for sideloading apps onto their devices. After it was successfully installed follow the steps written below:
2. Installing Live Net TV On Firestick
Step-1. When you will be able to use the Downloader app, Opens it.
Step-2. Now on the Bar on which you write the URL type https://firesticktricks.com/ntv and select the Go button.
Step-3: New Windows will appear with the insctruction for downloading live net TV with two options. Click on Download for Amazon Firestick.
Step-4. Now the downloading will start after it is completed a window will open on which you have to click on the Install button. But you have to wait for the Live Net TV to install.
Step-5. After the app has been installed you are ready to use it. Here two options will appear, OPEN; To start the Live Net TV, and DONE; To revert to the downloader application.
Step-6. Click on the Done option for Now.
Note – You can delete the Live Net TV APK file as it is installed on your device. So, don't need it anymore.
So, this is the process of downloading Live Net TV on Firestick and installing it. Now you can set your preferred Live TV channels on your Firestick and Fire TV devices.
Read More: How To Install And Use Oreo TV on Firestick?
2. Get Live Net TV on Firestick Using File Explorer
Step-1. Again, open the Amazon App Store.
Step-2. Here you have to search for ES File Explorer.
Step-3. Now click on the get option to start the downloading of the ES File Explorer.
Step-4. After the downloading is completed, the ES File Explorer automatically opens.
Step-5. Now open the ES File Explorer and it would request you to accept the approval to access Storage, Files, etc. here you have to choose Allow.
Step-6. Now click on the 3-row menu on the left side. Choose Tools from here.
Step-7. A list of options will open, choose Download Manager.
Step-8. Click on the Plus symbol, and a dialog box will appear type here https://firesticklab.com/livenettv.apk after this click on Download Now.
Step-9. The file will open after downloading, click on Install.
Step-10. After the installation is completed. the app is ready to use.
Now enjoy the Live Net TV streaming services.
Read More: How To Install HD Streamz on Firestick?
For Safe Use Get a Firestick VPN Service
To use live NetTV safely we will suggest you have a good firestick VPN. If you do not have any VPN Service it is possible that everything you stream online is visible to your ISP, government, or a third-party app.
ExpressVPN is one of the most fastest and reliable VPNs in the industry. If you do not want to go for any other VPN Service here is how you can get and connect ExpressVPN on your firestick.
Subscribe to ExpressVPN Service.
Now from your firestick go to the search bar and type expressvpn. And select the same option when showed up in the search result.
Click on download and install the ExpressVPN app on firestick.
When the app is successfully downloaded open it and enter the login credentials to sign in.
Click on the power icon to connect to a VPN server. Now your connection will be faster and more secure as VPN has been successfully set up.
Conclusion
Live Net TV is one of the best choices for streaming online services on your Firestick or Fire TV device. It allows you to access thousands of online streaming shows, movies, documentaries, news, sports, and many more.
This is not only available in English; it offers a variety of different languages to watch your favorite stuff in your own language. It is absolutely free and not harmful to any device.
So due to its so many qualities, people are surfing for how to install it on Firestick. That's why we came up with this article and discuss the methods to download and install it.