Sportz TV is an IPTV service that offers a wide range of channels to stream your favorite content and provides free apps. However, before you can start streaming, you need to sign up for a subscription plan. In this guide, we will walk you through the process of signing up for a Sportz TV subscription and installing the app on your Firestick.
We'll also show you how to enable settings for installing third-party apps on your Firestick and how to launch and sign in to the Sportz TV app. It's important to note that streaming copyrighted content can lead to legal issues, so we'll also provide guidance on how to use an effective VPN network to keep your online activities safe and secure.
We'll show you how to download Express VPN on your Firestick, one of the best and most effective VPN services available. So, let's get started and learn how to install and watch Sportz TV on your Firestick while staying protected.
How to Install and Watch Sportz TV On Firestick
The installation process completes in two parts. Prior to installing the apk on your device but first, you have to sign up for the Sportz tv subscription. The plans include extended features with increasing money.
Step 1: Sign Up for a Sportz TV Subscription
Before signing in for the Sportz tv subscription, you show be aware that Sportz tv doesn't offer any free trials or refunds after purchasing any subscription. Presently they offer three subscription plans.
Sportz tv team currently offers monthly plans starting from $15.99 and increasing eventually. The subscription plans are as follows-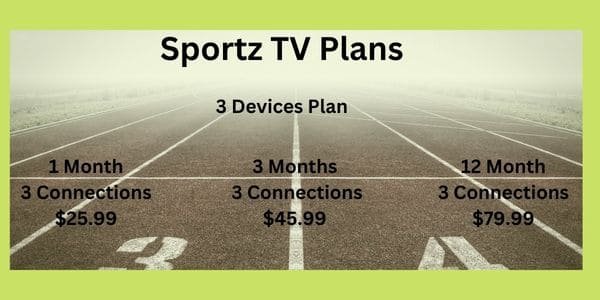 All the plans contain the same features and channels to stream. You can also add or drop some channels of your choice.
So, for signing in for the Sportz TV IPTV service, follow the given directions;
Go to the official website of Sportz TV from your mobile or computer.
Visit the website and while scrolling down, you will see subscription plans.
Click the subscription plan at your convenience and tap subscribe.
Tick on the checklist box for confirming your agreement with a subscription.
Enter the username and contact email address of your preference for the login credentials.
Select amazon firestick or fire tv from the drop-down list.
Choose whether you want to enable auto-renewal or not and click to pay using the card option.
Select "get subscription".
A prompt window will open and ask about the credit or debit card details.
After completing the details, click on confirm payment.
After the process is complete you will get an email regarding the login credentials.
You will get two emails for two different purposes for a Sportz TV subscription. 1st is for Web login whereas the other is for login at Sportz TV. generally, it will take a few minutes to get your login details.
Step 2: Enable Setting for Installing Third Party App on the Firestick
You can install Sportz TV IPTV in the form of an APK file. It is a third-party app so you can't download it from the Amazon app store you have to sideload it on your Fire TV to sideload your Sportz TV app on Firestick.
For this, you have to take permission for installing apps from unknown sources as Firestick doesn't allow apps to have security risks.
Move towards the home screen of the Fire TV and select settings.
In the settings option, go for my fire TV.
Tap on the developer options page.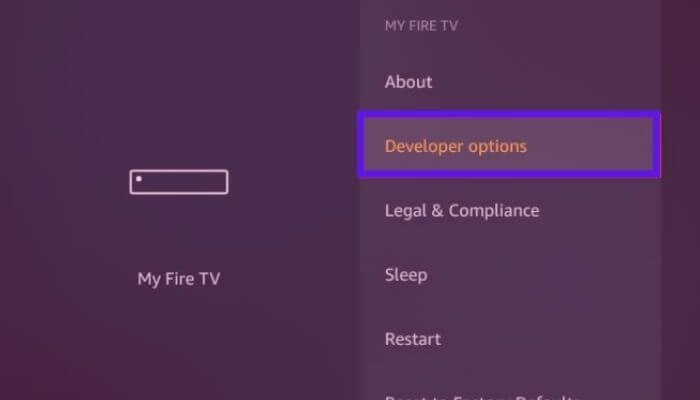 Tap on the apps from unknown sources option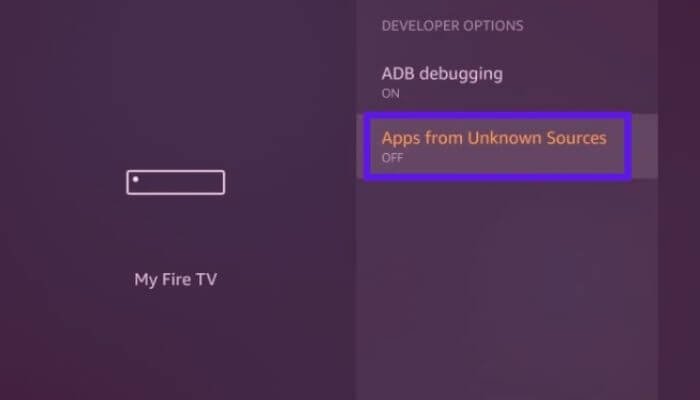 Turn On apps from unknown sources option
After enabling the services, have your app login credentials with you, and let's start downloading the app.
Step 3: Installing Sportz TV App
Go back to the home screen option and click on the search/find option.
Hit GO.
It will start downloading the apk file. It might take some time to download.
A prompt of Window will open. Click on Install to start the installation process.
After it's done, your Sportz TV is ready to launch.
Step 4: Launching and Sign In to Sportz TV
Now that your app is installed on your Firestick it's time to launch the app and sign up with your credentials.
First, launch the Sportz TV app on Firestick.
Enter your Login credential. Enter your Sportz TV username and password in their respective fields, and type in any name you want.
Now click the Add User option, then highlight your user profile on the next menu and hold the Select button on your Fire TV Remote.
Click Login from the drop-down menu. The app will begin setting up your IPTV playlist, as well as download channel logos and additional content.
Now your Sportz TV App setup is complete and you can see the app on your home screen.
You might be aware of the fact that the Sportz TV app is illegal and you might get into trouble for streaming content having copyright issues. To solve this issue, ensure that you have an effective VPN network installed on your device.
This will hide the IP address of your device. Your IP address is always visible to the government and ISP. So whenever you are streaming any movie or live channel, they will know what are you up to. Whenever you think you downloading VPN, I suggest you download the best and most effective one like Express VPN to avoid trouble in the future.
How to Download Express VPN
To download an express VPN, follow these steps,
Go to the home page of amazon firestick.
Click on the search/find option and type express VPN on the blank.
Tap on the Express VPN option shown below.
It will start downloading the app.
Launch it and sign in with the login credentials.
Stream smoothly and safely with ExpressVPN.
You may also like:
Conclusion
This guide is on how to install Sportz TV on your Firestick for Fire TV devices. I told you everything on how to sign up, log in, plan rates, access your Sportz TV, and VPN service that you need to protect yourself from streaming illegal content.
It gives you 12000+ channels and VOD content with high picture quality. It is well worth purchasing a subscription to Sportz TV.
I hope you like the guide and install Sportz TV after following the guide.
FAQs
Can we watch normal TV on Amazon Firestick?
Yes, you can watch live tv by using apps that support Live streaming. You can see what they are airing and use it as your normal tv. Some apps require a paid subscription plan to watch live tv on your device.
Are channels free on Firestick?
Yes, Firestick has many channels that give you free streaming. You can stream movies, TV shows, Games, and many more. Channels like Tubi, Plex, Xumo, and Pluto TV, give you free access to watch your favorite programs.