Many users are wondering how Snap Score is Calculated and how it works. Streaks and Snap Score hold the hype around the app. Snapchat has an interesting feature that seems to shift focus away from likes, story views, and impressions like other social media. Many people like Snap streaks features but have you ever tried to calculate your snap score on Snapchat?
Your Snapchat snap score works as your overall activity on the app, like how many snaps you send and receive. You can find your snap score on your profile. Every Snapchat user has a snap score, which is the number that shows how much you are active in the app. In this article, you will know everything about Snapchat snap scores.
We send and receive snaps daily to our friends and family. We make streaks and try every day to increase our streak scores. But have you ever thought about the question like why do we make streaks? How do streaks increase the snap score? If you want to know all these answers then I'll tell you without more delay.
What is Snap Score
The number that is shown on your Snapchat profile, is the Snapchat score. From active on the app more to coming back on Snapchat after a break, everything is taken into consideration while calculating Snap Score.
Each snap gets one point which is a Snap Score. How many are you friends with and how often do you use the app? How often do you post stories? These are all included in the snap score.
Snapchat score is the perfect answer for Snapchat growth, increasing user and app engagement. But you may have to pay attention to activities that will not increase your points, like adding celebrities to your friend list, chatting and Messaging, and watching your friend's stories and posts. So avoid paying attention to them.
You only need to increase your snap score, post your stories or send and receive snaps on Snapchat.
How do Streaks increase Snap Score?
Using the app more, adding information to your profile will increase your Snap Scores. If you don't use the Snapchat app regularly then your snap scores wouldn't increase. Thus you can compete with your friends by increasing your snap score.
There are different points of view for snap scores.
Sending and receiving Snaps.
People are regularly using the app.
Posting Snapchat stories.
Snapchat users compete to see who has the higher snap score.
The Snap score feature rewards everyone.
Steps to Calculate your Snap Score
Snap Score is calculated by going to your profile icon. It is easy to calculate your snaps score by:
1. Go to your profile from the upper left corner.
2. Under your Snapcode image, find your display name.
3. There is a number between your username and zodiac sign that is a Snapchat Score.
4. Tap on the Snapchat Score to reveal two other numbers. These are the numbers of snaps you have sent and received.
How to Calculate Average Snap Score Between Friends
Do you want your friend's snap score to be calculated? Because Snapchat doesn't provide a leaderboard where you can watch at users with the highest volume. But you can check Scores individually, by going to your friend's profile.
1. Go to your profile screen on your Snapchat.
2. Go to the My Friends option.
3. Select the Friend with whom you want to see a snap score.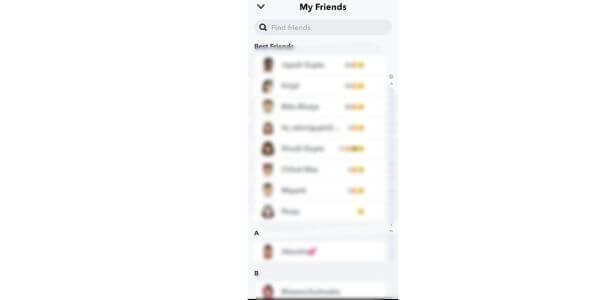 4. Tap on the Friend's Profile icon and it will take you to their display name, username, and score.
There you can see your friend's snap score.
To calculate the average snap score between friends, you would need to follow these steps:
Go to your profile screen on your Snapchat.
Go to the My Friends option.
And then, select the first Friend whose snap score you want to include in the average.
Click on their Profile icon and note down their snap score.
Repeat step 3-4 for all other friends whose snap score you want to be calculated.
Add up all the snap scores you have noted down.
Divide the total score by the number of friends whose scores you have included to get the average snap score.
For example, let's say you want to calculate the average snap score between 3 friends: Friend A has a score of 100, Friend B has a score of 200, and Friend C has a score of 150. The total score is 450 (100 + 200 + 150), and there are 3 friends. So the average snap score is 150 (450 divided by 3).
Tips and Tricks to Increase your Snap Score
You could increase your Snap Score easily. All you need to do is:
Getting and sending Snaps.
Post your Snaps on your stories.
Add information to your profile.
Playing games on Snapchat.
Add friends and subscribe to celebrity accounts.
Take a break.
Open all snaps you have received.
Stay active more.
Buy points.
If you send one snap to multiple friends that will boost your score faster than sending one time to each of your friends.
Take a snap and Send To at the bottom right.
Select the names of your multiple friends.
Tap on the Blue arrow at the bottom to send.
Your one Snap will be sent to your multiple friends.
You may also like:
Final words:
Now, you will know what is Snap Score, is and how does it work? And how could you calculate your Snap Score? If you want to beat your friends with Snap Score then keep on sending and receiving snaps, make friends and share your stories. Snapchat is fun, and you will get rewarded for it. Take a break for a while and go up with your Snaps.
So enjoy your Snapchat scores with your friends and compete with them.
FAQ's
What is the highest snap score?
The highest snap score is more than 100,000, the average snap is 50,000 to 75,000. If your number is 100,000 or so it is a good snap score. Dion-19 with a snap score of over 61 million has the highest snap score.
Does texting also include a snap score?
No, Texting and chatting aren't included in Snapchat. You can send and receive snaps and sharing videos or photos on stories will make your snap score more.
Can your snap score go down?
No, the snap score can't be decreased even if you will not use the app for a while.
Why isn't my Snap Score increasing?
If your Snap Score is not increasing that means you are not working the appropriate behaviors. First make sure that your app is updated, close the app, and reopen it. Just snap a lot, make friends and share your posts and stories with your friends. You will soon reach your high scores.