Snapchat has very unique filters that you can use you make your picture more instinctive than others. Today in this article we will be looking at one of such filters that you should be aware of. That is the Baby filter on Snapchat.
Since its launch, the filter has instantly become a huge hit among the snap chat users. Be it making videos or clicking. The baby filter has become a go-to filter option.
The special features that make the Baby filter different from other filters are that it makes a person face like a baby.
It simply works without you doing anything an adult face would be turned into a 2-year-old baby.
In addition, it has become filter very famous these days. Well, the most interesting thing is that although this filter makes you look like 2 years old. Still, that is recognizable.
Baby filters are fascinating and humorous. You should try it too. And enjoy taking selfies of yourself and others. Check out the guide for instructions on how to get a baby filter on Snapchat.
How to get a baby filter on Snapchat?
The netizens are in love with this. Internet users admire this filter. This filter does not grow a beard or change gender. But turn you into a babe. It transforms us into a baby with big, shiny eyes, cute round faces, chubby cheeks, and so on. It reduces most of the manual functions of the face as much as possible and looks like a baby.
So let's get started; Selfies / Front Camera.
Open the Snapchat app on your phone. Once you have opened it by default the front camera is displayed on your screen.
Now at the bottom Tap on the smiley face.
After that, you will notice many filters to choose from. Swipe left to find the baby filter.
Continue doing until you notice a yellow hoodie and a baby with a round face.
Click on it, once done the filter will be activated and you will be able to take a picture or take your picture.
Tap the arrow button below to save it to your camera roll and share it wherever you like.
Unable to find Baby Filter? Do this.
At times we are unable to find filters even after searching or swiping left yet with no result.
In such a scenario do this,
Open your Snapchat app, and enter your login details.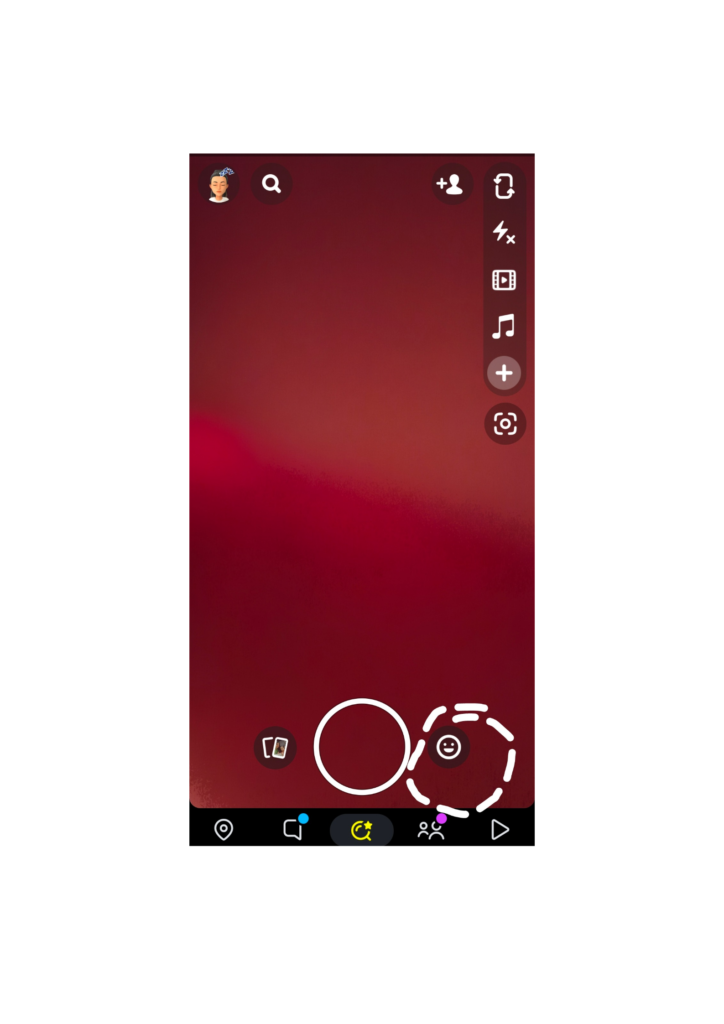 Once done click on the smiley emoji.
Now, as you can see from the picture above there ks multiple options are shown below. In that chose Explore.
In that Search for Baby filters. And you will get the relevant results based on your searches.
Wasn't that easy? Not let us move on to how you can take your friend's baby photo without using your front camera.
How to use the baby filter on other's photos
And what's interesting is that it can be used by others, even if it's not physically available. Donald Trump's babyface, which is very famous on the internet, was only captured by Snapchat's baby filter.
It is used on the face of superheroes and is a side split. This was a huge success for Snapchat company. Snapchat is constantly updating its filters, resulting in millions of active users having short-lived stories.
Open the photo on another display or laptop.
Go to the Snapchat app and enable the rear/reverse camera on your smartphone.
If you can see your face on the camera, tap it.
Go to the search bar as described in the previous step. Look for a baby filter. Please paint on the photo. Press the button below to take a picture.
Here is a picture of you with a funny face. Enroll it on the camera roll and share it with your friends and family.
You may also like:
Overview:
Snapchat's amazing and confusing filters are always a hot topic. You can get a baby filter on Snapchat using the steps above. Everyone likes Snapchat baby filters. You should also try it yourself and others to get the most out of this filter.