I am new to Snapchat and I am browsing through my friends' stories when I come across someone's profile. As I scroll through their profile, I notice a button that says "Quick Add". I am not sure what it means, but I am curious, so I click on it. Suddenly, I see a list of suggested friends that I can add to my own Snapchat account with just one tap.
I wonder how Snapchat came up with these suggestions and what the Quick Add feature actually does.
So I decided to figure out what this feature means in order to use Snapchat more effectively and connect with my friends.
In this article, I will discuss what does quick add-on Snapchat means. And explain everything you need to know about Quick Add.
Functionality of Quick Add on Snapchat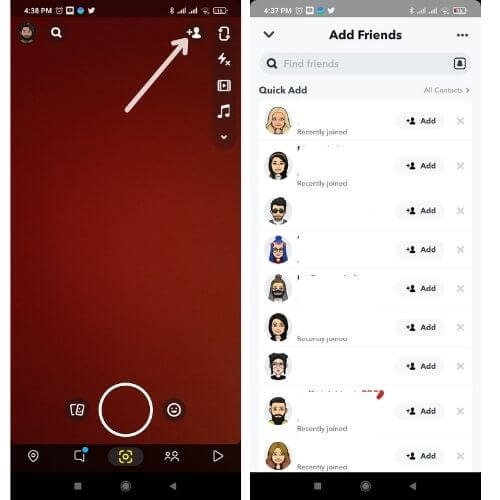 Inside Facebook, you have often seen that you get the option of People You May Know, which means that there are profiles that match your profile or their profile is connected to your mutual friend's profile.
The Snapchat Quick Add option also works on the same algorithm. It shows you the mutual profiles. If you have a friend called David in your Snapchat profile and David has a friend John in his profile.
Then there are high chances you will be suggested to John or John will be suggested to you as a Quick Add feature, because David is a mutual friend of both of you.
Sometimes Snapchat also shows you in Quick Add the profiles of newly joined users on Snapchat.
How does Snapchat Quick Add work?
There are a few things to understand to know how the Quick Add function Works on Snapchat. Below I will share some major reasons for showing people on Quick Add.
1. Location-Based Quick Add
If you are living in a new location, or you visit for some time and your GPS location is turned on, on your phone, then the Snapchat algorithm will identify you and find your location and it will suggest people nearby you. Which you can see in your Quick Add list.
2. By Mobile Number Quick Add
How often you have seen on Facebook that your phone contacts show in "People You May Know" I know your answer is very often.
That is how social media works. Social media platforms don't leave a chance to suggest your profile to others.
If you have registered your account on Snapchat with your mobile number and you clicked on allow to your contact list. Then the profile will show on Quick Add. All your contacts who have joined the same phone number as you did then profiles will be shown. Of course, you can turn it off manually. Which I will tell you below in this article.
3. Recently Joined Members
Snapchat also suggests recently joined users. But this works in some cases. For example, if a new user just joined Snapchat and he/she added some of your friends then Snapchat will understand that the new user also knows you.
So there is a high chance Snapchat will also suggest your profile to him/her, and you also will be suggested.
4. From Social Account
When you link your Snapchat account with social media accounts like Facebook, Instagram, Twitter, and others
Then all the members from other social media accounts will also get suggestions to add you. Because you were connected on social media and it will understand that you both are connected on other social platforms Snapchat will want you to connect here too.
Can I Remove Users Who Are Showing In Quick Add on Snapchat?
Yes, you can remove the user who is showing a suggestion and you don't want to add. Simply click on the "X" sign which is next to the Add button on the user's profile picture.
Click on it and the user will disappear from the quick add list. Once you do this. It means you are sending a hint to Snapchat that you don't know the person, and are not interested either. So Snapchat will stop showing the user's profile.
How To Remove Yourself From Quick Add on Snapchat?
If unwanted and unnecessary friend requests make you irritate on Snapchat and don't want your profile should not be shown on others' profiles in the suggestion or quick add then you have to turn off this feature from the settings.
Snapchat provides you with this option also with the help of these settings you tell Snapchat that it doesn't show my profile to others in suggestions.
Simply follow the given steps to turn off the Quick Add option
Open Snapchat and go to your profile by tapping on your Bitmoji or the profile icon in the top left corner.
Tap on the gear icon in the top right corner to access your settings.
Scroll down to the Privacy control section and click on "See Me in Quick Add".
Untick the checkbox next to "Show Me in Quick Add" to disable the feature.
You may also like:
Conclusions
Well, we hope that after reading this article, you are no longer in the dark about what Quick Add on Snapchat really means! We've covered everything from how it works to why it suggests certain profiles, and how you can use it to your advantage.
One thing to keep in mind is that while Quick Add can be a great tool for making new friends and expanding your social circle, it's important to use it responsibly. Be mindful of your privacy settings and don't add people you don't know or trust.
But overall, Quick Add can be a fun and easy way to connect with like-minded individuals and discover new content on Snapchat. So give it a try and see what profiles pop up in your suggestions! And remember, if you ever need to remove someone from your Quick Add list, it's as simple as clicking on the "X" sign next to their profile picture.
So go forth and snap away, my friend! And with the power of Quick Add on your side, you'll never run out of new friends to connect with on Snapchat.
FAQs
How to refresh quick add on Snapchat?
The Quick Add feature on Snapchat is automatically updated by the app based on your activity and the activity of your contacts. However, if you want to manually refresh Quick Add, you can first turn off quick add feature in the settings and then turn it back on again.
Can I Sign Up for Snapchat With a Social Media Account?
Yes, you can sign up with the help of social media accounts like Facebook, and Gmail.
Why does Snapchat Show Me, Unknown Person, In Quick Add?
All social media platforms want their users to connect with all the known users. If they found anything related between you and the users and if you are not connected on Snapchat, it will start showing in Quick Add.
If I mistakenly click on the X sign next to the "Add" option, will I be able to join them again?
Yes, you can add them again by searching their name or user ID in the search bar.