You created an extraordinary song playlist by searching hard on the internet but you got locked out of your Spotify account because you can't remember your password is quite disappointing. So, how can you change Spotify's password?
Changing a password also have a different reason like securing your account. Whether you forgot your login details or want to secure your account with a strong password, it's important to change your password from time to time.
Spotify is one of the largest music streaming service providers in the world. It has over 489 million active users. Its paying subscribers are also in the millions. It is important to change or maintain a strong password if you are a paid subscriber.
Now you don't have to worry about your hard disk getting full because you can stream your favorite song with Spotify. It offers you a personalized playlist, different genre songs, different language songs, different era songs, listening to your favorite artist, and many more.
In this article, we will give you all the information related to changing a Spotify password. So, let's begin.
How to Change Or Reset Your Spotify password?

If you know your current password, you can easily create a new one in your account settings. However, if you can't access your account, you'll need to reset your password from the login page.
You can use your PC or mobile phone to change or reset your password. Follow the steps below on your chosen platform. There are basically two ways to change your Spotify password.
One is through the web browser, where you can directly change the password.
Another one is resetting passwords with email.

Here we will understand in detail:-
Change your Spotify Password with the Browser
The mobile app does not allow you to change your password. That's why we are using Spotify on google chrome. You can use any browser of your choice.
Log in by clicking the Log In button. It's in the window's upper-right corner of the screen.
Fill in your username/email address as well as your password. If you use Facebook to log in to Spotify, you won't be able to change your Spotify password, but you will be able to change your Facebook password.
Click on Log In.
Go to your profile username and click it. It's in the window's lower-left corner of the screen.
To get started, go to Account i.e., If Spotify has launched in a Web browser, you may need to first click View Account.
Go to the menu on the left side of the screen. You can see the Option "Change Password" next to a padlock icon.
Enter your Current Password then Re-enter your New Password.
Select New Password from the drop-down menu.
Congratulations, your Spotify password has been changed, and you will also see the password updated green bar at the top.
This is how you can change your password successfully.
2. Change your Spotify Password through the Reset link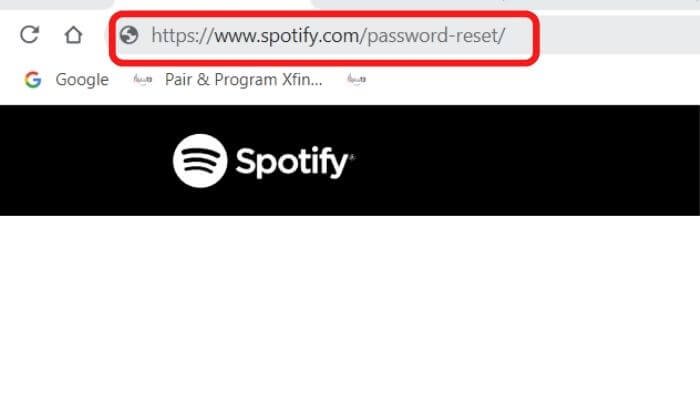 Type your Spotify username or email address. Make sure you use the same email address as your Spotify account.
Solve Captcha to verify and then click on the send button.
Solve Captcha to verify and then click on the SEND button.
An email to the email address associated with your Spotify membership will be sent.
Go to your inbox and open the Spotify message.
Go to the email's link and click it.
Enter a new password twice
Select Set Password from the drop-down menu.
This is how your password for your account can be changed.
FAQs (Frequently Asked Questions)
Why cannot I change my password on Spotify?
To reset your Spotify password, you need to enter the email address associated with your account. If Spotify won't send you a password reset email, you probably entered the wrong address.
Try other email addresses you have and if all else fails, contact a support representative.
If you did get an email, but you're still struggling to reset your password, then refer to the tips above which we have provided, and try to solve it.
When you change your Spotify password does it log everyone out?
When you change your password on one device, Spotify will log you and others out of other devices you're logged into as a security measure.
Another common reason why Spotify logs you out is if your account has been hacked.
Check your email to see if Spotify sent you a message asking you to confirm a password change.
Can someone access my Spotify Account?
Yes! if someone knows your password or your account has been hacked. Spotify platform and user records are secure, but sometimes breaches on other services like someone else may log into your Spotify account. You have to look out for, Your password not working anymore, Your email address changes, etc.
You may also like:
SUM UP
I hope you enjoyed this post. And you have got much information regarding changing passwords or resetting it on your Spotify Account. In this post, we have learned two easy techniques that you may use to easily change your Spotify password. The first is through a web browser, and the second is through a mail method.
Always choose a strong password that includes digits, upper and lower case letters, and special characters. Password is an important key to accessing your potential apps and accounts.
I'll suggest you use a password manager to save your all credentials or important data. I have tried to cover each and every query associated with the Spotify account password.
Still, if you have any questions, you can reach us at our email address or comment below in the comment section. Our team will always be there to resolve your queries.