Wanna more online orders to increase your sales? Well, I know it's not the right question to ask. But why are you stuck with only eBay or 1 selling platform when you have a list of options to get more orders online.
I'm publishing this blog for the merchants who are looking for some best sites like eBay. So here is the list of the top 5 eBay alternatives to increase your online sales and profits in 2022.
The power of eBay is undeniable since 1995, eBay has been acquiring it since then and is one of the largest marketplaces in the world. It has helped thousands of sellers to turn into power sellers.
Being such an old selling platform, because of eBay's Arbitrariness, sellers have had enough. They are paying more fees than ever and their ever-changing policies and problems like site outages.
The marketplace is no longer friendly to startup businesses and has lost its integrity over time. This has made sellers feel like they have lost their identity. As a result, they are looking for some other legit sites like eBay to sell their products.
In this post, We'll explore several legit sites like eBay. These days there are so many websites you can see on the internet, but would that be ok if you just go to any random site and start selling online?
No, many random sites also have a security issue, some are built for scams and some are just fake to earn money. Don't worry, we have got you covered.
So I have written this post about some legit Sites like eBay that are genuine and reliable. Let's check them out.
5 Best Alternatives to eBay | Sites Like eBay
1. Etsy
It was started in 2005 and it was more of a Parsi kind of crafty website which has grown since then. They have grown in a big way to where they have 1.6 million sellers on it now with all kinds of products, both new and crafted.
They also have 26.1 million buyers which are just amazing. So that's a great site for you to try out and sell your products on Etsy. All kinds of cool gadgets, T-shirts, mugs and every kind of stuff you can imagine. eBay listings will last you 10 days unless it's a fixed price and then last up to 30 days. 
When selling on Etsy, your listings last up to 4 months which is a lot longer, and it's gonna save you some money in listing fees. Etsy is also a lot cheaper when you're selling something, it's only a 3.5 percent sales fee.
Now, if you've ever tried to contact eBay support. You know that can be a challenge whereas Etsy has much better support, much easier to get a hold of somebody and get the help you need.
Etsy is more towards handmade and vintage products. So if you have something that fits in that area, you're gonna do well on Etsy. Something more unique.
2. Bonanza
Another great site like eBay is Bonanza, Bonanza even has a catchphrase that says "find everything but the ordinary ".
You're allowed to sell a much wider variety of wholesale products which opens up more opportunities for you. This marketplace is very much similar to eBay and Etsy.
On Bonanza, there are no listing fees at all. So you don't have to pay any listing fees. The most promising feature about Bonanza is that it allows you to automatically import your listing that you already have made into eBay and vice versa.
This means if something sells on eBay it automatically ends on Bonanza and vice versa.
It's nice, seamless and there is no brainer. By the way, did you know that 50000 sellers voted Bonanza's best overall marketplace over eBay and Amazon? What Bonanza does is that – it takes all of your listings and it discounts the price by 1 percent, which's recommended by Bonanza to attract more customers, and then it targets ads to your listings.
It allows you to adjust this discount percentage from 0 percent up to 100. Of course, the higher the percentage discount the more sales you'll get. 
3. Ruby Lane
Ruby Lane is more into the antique side and vintage-type items. Antiques and Vintage items are really good products for Ruby Lane. It's a legitimate alternative for eBay. 
It's been designed to bring buyers and sellers of antiques, art, vintage collectibles, and all kinds of different jewelry together. Ruby lane currently has 1.1 million unique visitors per month which is impressive for a niche marketplace.
The majority of people who are on this site are either from the UK, Australia, Canada, and the USA, and some also in Germany.
Has a global reach of 85% of women aged over 40 which is pretty good. Almost all describe themselves as collecting enthusiasts. So if your product is something that people can collect and they can buy more of.
It would be a great product on Ruby Lane which can attract more purposeful and educated buyers who may be willing to spend more money. Ruby Lane is a fixed price marketplace and niche related which means your visitors to your store are more targeted.
4. eCrater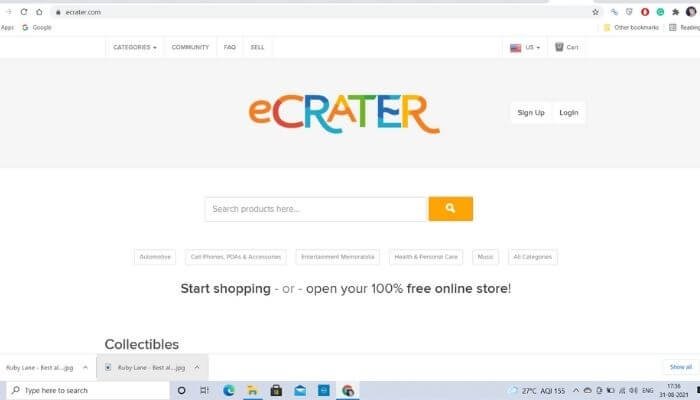 eCrater is a 100 percent free online marketplace. The main appeal of eCrater is that it's free to set up a store and it even has templates that you can use to easily create an attractive store.
It is possible to import your listings from eBay which is good if you're looking for a transition entirely. There's not much information on eCrater online.
It's said that it has 65000 active stores' on the site in the number of customers. And the amount of traffic pales in comparison to the larger e-commerce platform. 
It is best used as a complimentary marketplace. You can sell a little bit more extra goods rather than one you solely rely on to run your business. It's 100 percent free to open and run a store on eCrater.
If you sell and take 2.9% of the total sale, you keep 100% of the sales that you bring to your store through your SEO and marketing offers.
5. Newegg
Newegg is an online marketplace that claims to be number one in the market for everything technology. So if you're in a technology-based type of product. Newegg is going to be the site you're going to be on.
On this website, sellers can list products on the marketplace which reaches up to get these 36 million customers and it's based in California which has distribution facilities all over North America and also in Canada.
Has a global reach of more than 50 countries. You're going to be a lot more restricted in terms of what products you sell.
If you're not into tech products you won't be able to do it. On the flip side, if you're going to sell on Newegg, understand that everybody coming to Newegg is looking for tech products. So here also you get a much more targeted and defined audience.
It also offers a fulfillment service and they ship by Newegg called SBN which is similar to Amazon's FBA but eBay doesn't offer any fulfillment at all.
There are several membership options that you can choose from free one, $29.95 a month and $99.95 a month. The more you pay the more support tools, flexibility, and listings that you're going to get.
You may also like:
Conclusion
To conclude: Above mentioned website, you might know or you might not know. These are some great websites to get more sales and a targeted audience for your business. All these websites are legit which you can try and let me know in the comment below.
This post took thorough research about the alternative of eBay. Some are specifically niche-related and some are general where you can buy or sell anything you want. Hope this will help.