Learn how to sell on Mercari fast. Are you stressed out that your sales on Mercari are going down day by day? Have you ever wondered if there must be something wrong with the way you sell? Let's figure it out. Here we will mention some amazing and very useful Mercari Selling Tips so you can grow faster.
Online selling platforms prove quite useful when used the right way. Some people have been selling on these platforms for years and yet haven't had much success. I have got some tips and hacks you can use to sell on Mercari fast
Mercari is a great option if you want to get rid of the old trends hanging in your wardrobe. And also to fill the wardrobe again with new, stylish clothing. It is an amazing option for both buying as well as for selling.
As you are here, you must be well aware that Mercari is among the top online selling platforms like eBay or Poshmark.
Okay, so let's come to the focus point. Here through this guide, I will help you to find out some mistakes you are making while selling on Mercari or what tricks you can use to sell on Mercari fast.
Tips and Tricks/Hacks to Faster sell on Mercari
1. Continue Your Listing and Promotions
First thing first, whenever you sell something on Mercari, you have to create a listing of whatever you sell. It is also important to create your listings continuously to build a more customer base. But do you ever feel that even after listening continuously you don't get an appropriate response?
That's what happened to me. After creating hundreds of listings I was only able to sell a few. Then I realized it is not important to create a bunch of listings simultaneously but to Re-list and promote them also.
– >> When to List or Promote
Moreover, the timing at which you are creating your listing also matters a lot. Generally, people scroll Mercari on weekends and holidays or sometimes at night. Till then whatever you post doesn't get seen by other people and new things have been posted. Additionally, the items you posted had been pushed down in search. 
To cope with the situation you need to create your listing continuously and only create when the people are most likely to shop, like at the night or on weekends, and don't forget to promote the old stuff you posted. 
2. Consider Shipping Charges
Most people don't consider shipping a concern. But to charge accurately is the first thing you need to think about. Before listing an item, know the worth of your package. How much does it weigh?  Because at Mercari the shipping charges are decided by the weight of the items.
According to Mercari, there are 3 options for you to ship your product, and shipping charges are different according to the shipping option. Personally, I find the "Mercari prepaid label" most suited but you can find the best for you. Here are the details of the shipping charges by Mercari.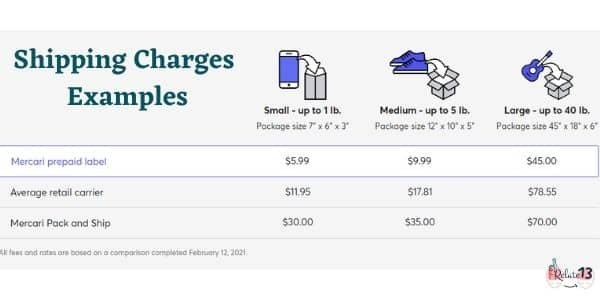 Besides Mercari, you can also analyze other selling platforms if the shipping prices are different and more suitable for you. You can consider selling on Poshmark, the shipping price under 5 pounds is $7.11.Therefore, remember to have other options too.
Sometimes, The added shipping cost can increase the price of your product unnecessarily higher which makes you lose the deal. Like having a tank top for $200. (Haha!)
3. Product Quality
The other thing you might consider is the quality of your product. You shouldn't sell something that is extremely nuisance or looks like garbage. Most individuals use Mercari as a full-time job and that's why they resell the products on it. So if you want to get rid of your wardrobe as well as to be a competitor for them you should consider the quality of your product before listing it.
Moreover, if your product has some defects then be transparent. Don't be afraid to showcase those defects as revealing those defects after it's sold, might affect your paycheck also.
Once the buyer accepts the package and gives a rating for it, then only your funds will be released. Regardless, of what you are selling, quality affects your sales very much. Even if the product is second-hand, if the quality is approved, you have made a loyal customer forever.
Just try to think it for yourself – what will you think if someone tries to sell you soleless dirty Adidas shoes for much cheaper rates? Will you give it a thought to buying it? Now you know what I am trying to say.
4. Reach out Personally
Reaching personally to your potential customer always turns out great if you wish to sell fast on Mercari. The Mercari app provides a Like feature for the users. If someone likes your listing, you can reach out to them personally via e-mail or the app and present a creative or personalized offer to them.
Also, pretend to make the offer time constraint so the buyer doesn't take a day or two to respond. Give them a few deals or offers by saying that it is only for you. You can always be the most creative yourself to increase your sales. Try it and you will see wonders in your pockets.
5. Accept or Counter Offers
Mercari encourages a bargaining system. Potential buyers often send offers to the respective sellers if they are really into the product. A piece of advice, quick responses are the key, they attract the buyer's mind at the moment. Don't give them much time to think about it, impulse buying behavior can help you here.
If you delay in responding, you may lose the to-be deal soon. Buyers wander a lot. If they like your product and you don't answer, they will quickly hop over to some other product.
So, remember it as a mantra for quick selling, "Never be late to respond"
6. Cut Some Slack for Bargaining
Setting appropriate prices for the product is good but unlike eBay, most Mercari buyers encourage bargaining features. The "Make an offer" at the center of the app is always hit by the buyers.
Therefore, always add 10% more to the cost price before posting on Mercari. So, If the buyer makes an offer, That way, you have some wiggle room in your price as a safe side.  Just make sure you are not making your product too costly by doing this.
7. Use Cross-Posting Software
Never depend on one platform to make your sale. Cross-posting software helps you to manually move all lists from one selling platform to another. It could get you several options in terms of buyers. Also, The software reduces your time to list from any other platform to Mercari.
This software always does wonders for your sales. Buyers from different platforms like eBay and Poshmark can reach out to you for your products.
Different sites bring different benefits. Some are known for their prices others are known for their Quality Services. It's always a good strategy to cross-post listings on Poshmark, Mercari, and eBay.
List perfectly and then Vendoo, OneShop, or ResellKit can be the appropriate choice for Cross posting software if you are a beginner!
8. Don't Forget to Bundle up
Who doesn't like offers? if you have a loyal buyer who always checks out your closet and buys too! You can offer them to check out multiple things from your listings in exchange for engaging discounts.
You know that discounts are attractive! this way you'll get multiple sales without any loss. I personally feel it is a win-win situation for both buyer and the seller. With this bundle, the customers are more likely to purchase more items for discounts.
I recommend you offer discounts for bundles more often to sell your items fast on Mercari. You and the buyer both will get their bundle of joy with this.
9. Put product's 100% Details
The most important thing you should keep in mind before posting anything is to create a good list that can attract more customers. It includes taking good quality photos, capturing every aspect of the item, adding the details, and the flaws, using a natural lighting that can improve the quality of the images, and appropriate descriptions which at most match the product.
Moreover, Include measurements and material in your description. This will reduce the number of questions you will receive from buyers. Other than that, you can also provide free shipping if you are ready to pay from your side.
All these factors contribute to creating an effective listing and it can clear the thoughts of buyers which will make them intend to buy.
10. Aim for Goodwill
Last but not least, you should be concerned about your ratings and reviews. Feedback and Mercari badges play a more crucial role on Mercari than on other platforms like eBay, Poshmark, or Etsy.
Mercari creates a history of your sales and before a buyer purchases anything, it warns them about the prior cancellations. Therefore it is necessary to make goodwill since the people will read your feedback first before going for the purchase. Also, communicate well with buyers and give generous offers to keep them forever.
Recommended:
The Final words
I have pinpointed all the important tricks that you can use to increase your sales on Mercari. No doubt, Mercari is a great platform and gives opportunities to its buyers and sellers to create more, earn more, and be a better self.
Hope these tricks will work well for you. Let me know if I have missed something.
Good luck!