Spectrum cable box which we receive with the Tv surely provides us many benefits but sometimes you may face some issues also. With humble respect, You don't have to panic every time when your Spectrum cable box is not working.
Sometimes the solutions are in your hands and you never think about it. Now you might be wondering how you can deal with the numerous errors showing on your Spectrum screens. We've got you!
We are here to provide you with the best troubleshooting tips, you can use and obviate the poor quality picture and blackout screens.
Why is My Spectrum Cable Box Not Working?
First thing first, before moving ahead further towards the solutions or troubleshooting tips, You must know the major issues with the Spectrum cable and their reasons. There could be many issues but I am only highlighting the common ones.
The issues faced due to Spectrum cable box are listed:
You are having picture issues on your screen
Unable to see listed program on your guide.
On-demand video purchase error
Memory failure errors or dead battery.
Receiver startup failure.
The major reason your TV is having poor picture quality or signal issues is due to loose or damaged TV cables or minor bugs. Sometimes the configuration setting also goes corrupt in your cable box which shows errors.
Moreover, If you are experiencing the same issue again and again, then it's not you, it's the receiver. You have to replace the Spectrum box with the new one.
Most of the issues are temporary and can be solved by restarting or rebooting the cable box. Further, I have given the solutions in detail, you can opt for them and obviate the obstacles that prevent you from smooth streaming.
Read More: Spectrum Internet Not Working-Fixed
Troubleshooting tips and hacks if your Spectrum cable box now working
Now that you are familiar with the issues and the reasons behind those issues, we can get to the main part that is how you can fix the Spectrum cable box if it's not working.
Many times the reasons are your HDMI cables and cords. Therefore, Prior to going further with the given solutions, double-check if the eternal cables and power cord are properly plugged in with the receiver and tv, Also, you are not having any internet connection problems.
1. Reset the Spectrum cable box
To reset the Spectrum cable box follow the given step
Step-1. Login to your Spectrum account
Step-2. On the left pane, you will see the services tab. Click on it.
Step-3. Now, click on the TV tab.
Step-4. You will see an option experiencing issues? next to the equipment of your choice.
Step-5. Select Resett equipment.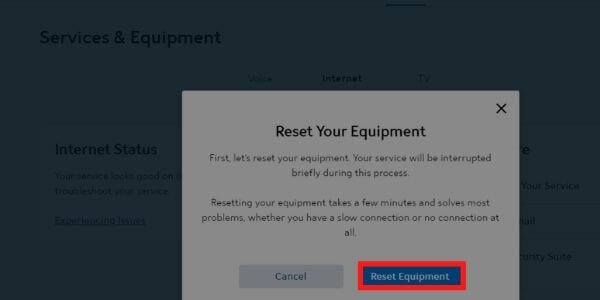 Alternatively, You can also use my Spectrum app to reset the Spectrum receiver.
Step-1. Download My Spectrum app, if you haven't downloaded it yet.
Step-2. Sign in to your account with the Spectrum login credentials.
Step-3. Click on the services tab.
Step-4. Choose tv.
Step-5. Again go for, Experiencing issues?
Step-6. And then on reset equipment.
Resetting the Spectrum equipment can restore a broken connection get rid of minor bugs and help you to add storage by clearing up clogged cached memory.
Moreover, it also adds benefits of resyncing to your modem to your home internet connection
Read More: How To Get Spectrum App On LG Smart TV?
2. Reboot Your Spectrum equipment Manually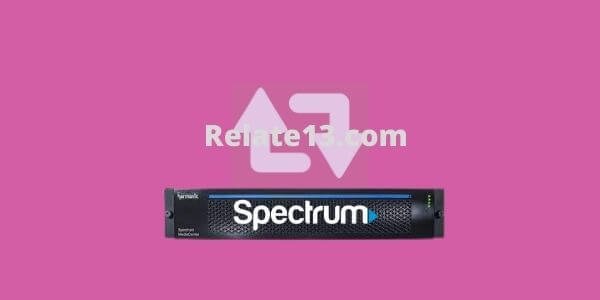 I think we got you! But after resetting also, you are facing the issue, then try rebooting once.
I'll walk you to the steps for rebooting your Spectrum cable box.
Step-1. Firstly unplug the Spectrum receiver from the power outlet
Step-2. Press and hold the power button for 10 seconds on the remote.
Step-3. Release the power button and wait for 60 seconds until it processes.
Step-4. Now plug the cable back and turn the TV on. 
But make sure that all the cables are connected securely the coax cable is connected to the cable outlet on the wall and the HDMI cable is connected to the HDMI connection of the TV if applicable.
Read More: How To Get Spectrum app On Your Firestick?
How To Install Spectrum Internet?
How Much Does Spectrum Internet Cost?
Frequently asked questions
How do I know if the Spectrum is having an outage?
You can use your smartphone to check if Spectrum is having an outage or not. To do this with the Spectrum storm Centre page and ask your query on the Spectrum chat window.
How to reset Spectrum cable box manually?
To manually reboot the Spectrum cable box, unplug the receiver, wait for at least one minute and then plug it back in.
What is Spectrum Limited mode error?
If your dialogue box is showing a Limited mood error message on the screen then there may be issues with the Spectrum services.
What to do if the cable box is not working properly even after applying above given solutions?
If your cable box is not working properly even after applying above steps, then I have bad news that your Spectrum cable box has gone bad and you have to replace it.
How long does it take for a Spectrum cable box to reboot?
The Spectrum cable box needs 60 seconds or 1-minute maximum to reboot.
Why is there no picture or signal appearing?
It can possibly be caused by a service outage in your area. Verify that the TV is on the corrected input by pressing input/source or TV video on your remote control.
After that, you have to also ensure that both the receiver and the TV have powered on. check the power settings if you are facing the issue again.
You May also like:
The wrap-up
Spectrum cable box issues can be really frustrating sometimes. Let me know in the comments section whether you have opted for the given solutions in the guide.
Most probably, the issues can be solved via reset and reboot. If not, contact customer support at last to resolve the problem.