Cash App Alternatives | Online money transfer apps are our basic need nowadays. As you know it's easy and more convenient instead of carrying cash. There are many sites and apps like cash apps for online money transactions. So here we are with 10 best money transfer apps in 2022.
If you are in the US or UK, you would have heard of Cash App. In this day and age, wireless transactions are the way to go. Sending money has never been easier than today. There are many apps like Cash App in today's era.
Gone are the days of handing out a $5 bill in-person to your friend to whom you owe the money. You can now instantly send money to anyone using apps like Cash App which was earlier known as Square Cash. With over 36 million active users currently, its popularity only goes to show where the next industry trend is.
Being available only in the US, and the UK, you can neither send nor receive any international payments. It keeps you from getting scammed by those international scams that go around. On top of that, you can also buy, and sell bitcoin using the Cash App.
However, this is not the only money transfer app out there in the market that provides you with these services. We have compiled a list of the 10 best apps like Cash App so that you don't have to keep searching for a substitute.
10 Best Apps Like Cash App – Cash App Alternatives for Money Transactions
With our personal experience after using so many money transfer apps, we bring you the list of 10 best apps like the cash app. Take a close look at the list of these best apps like the Cash app.
Cash App has the drawback of being domestic to US and UK markets. This app closes that gap. In our opinion, it is the cheapest app out there to transfer money internationally. Its primary demography is the people who want to send money to people in other countries as cheaply as possible.
This app works with both GPay, and Apple Pay, and it is currently available in 200 countries. The way it works is, that you add your visa card to your Gpay or Apple pay service, and then make payments.
All international transactions are fulfilled using the exchange rate in real-time unlike most banks, which charge you a marked-up rate instead of the exchange rate. You pay what you see.
Transparency sets this app apart from the rest. Keep in mind that you can send money to people with bank accounts only. Online services like PayPal will not work with this app.
If you are anyone who pays or gets paid, then PayPal is one of the easiest ways to keep your money transfers going. It's fast, reliable, and robust. It is one of the most widely used payment services out there. One can send money, receive money, and even hold money.
Not only can you send money to other PayPal users, but you can also transfer money to bank accounts as well. It is also widely accepted in online e-commerce stores globally.
Even though sending money is free via PayPal, receiving is not. PayPal charges you a fee for receiving money. Its popularity also makes it vulnerable to scams and phishing attacks.
It also automatically converts foreign currency to your local currency.
Revolut app has a lot of features like – Issuing credit cards, debit cards, and peer-to-peer transfer, this app is already sounding great. That's because it is.
This financial service provider also lets you set a limit when you are on vacation so that you don't go overboard and spend all your hard-earned money. And most of all, stick to your budget for the holiday.
The app also provides you with a budget planner for all your monthly bills. Parents also get the option of opening an account for their children and letting them start learning about money management at an early age. Here is the cherry on top, it also automatically converts foreign currency in real time.
Now Google Pay is one of the most competitive digital wallets out there. This digital wallet and payment system was developed by Google itself. Its user interface is super easy to understand. You have to just link your bank account with Google Pay and you are done. You can now make payments or send/receive money from family or friends.
With Google's wide market penetration, you can make payments for your online transactions and even pay at physical stores that accept NFC payments. The only drawback that this app has, is that it is only available in a few selected countries as of now. So if you are someone who conducts international business, this may not be your best option.
Owned and created by PayPal, Venmo was built to transfer money between friends and family. You can split bills for lunch or dinner with your family or friends.
But unlike PayPal, Venmo is mobile-only, there is no web version for it. It is available on both Android and iOS. Once you link your bank account with Venmo, you can instantly start sending and receiving money. Apart from this, the app has a social element to it. The app features a social feed and an option to like a transaction and even share it.
Initially developed as a direct competitor to PayPal, Payoneer has come a long way and created its own identity. It has a lot of the same features as PayPal naturally. You can request a Mastercard debit card that comes with an annual fee and you can also use it to withdraw money from an ATM machine.
You instantly start sending and receiving money once you have linked your bank account to your Payoneer account. It is widely popular among US and European merchants, and it is accepted for international transactions as well.
Drawbacks include – slightly higher fees and support for fewer currencies. However, transactions are highly secure, fast, and reliable.
If you are someone who often sends a large amount of money, Paysend is your best option. The app charges you a flat $2 per transaction fee. This app is an affordable solution in this space.
No matter how big or small an amount that you need to send, you only pay $2.
You have options to send money from it including a bank account, credit card, debit card, or the funds that you have in your Paysend account.
This app is available in over 100 countries, and it also converts exchange rates automatically. On top of that, unlike other Cash Pay alternatives on our list, it charges you a 0% exchange rate fee.
The only drawback is the lengthy process of opening an account. It can take up to 3 days to verify your account. After having an account with Paysend this is the most usable for the ones who are doing regular and large amount transactions.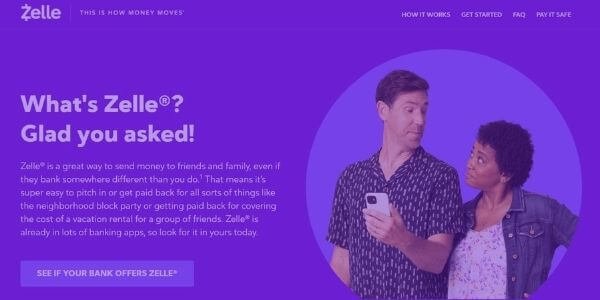 If you have a bank account that is already partnered up with Zelle, then all you need to do is go to your bank account in your mobile app and activate it and voila! You now have Zelle and start using it for peer-to-peer transactions. It is integrated with most US banks. It is one of the most hassle-free financial apps on the market today.
Zelle comes with a decent limit on money transfers. However, it does the job well. A simple and fast way to send money to friends and family.
If your bank is not partnered with Zelle, do not worry. You can still get the app by downloading it on your Android or iOS mobile and linking your bank account. Even though sending or receiving money from Zelle is free, your bank might charge you a fee.
A direct competitor to Google Pay, It has a higher transfer limit than Google Pay. Transferring money from your linked bank account or debit card attracts no fees. However, paying your friends, family, or businesses with your linked credit card attracts a fee of 3%.
It is exclusively available for iOS users only. But if you have an iOS, you can do a peer-to-peer transfer of funds conveniently with iMessages on your iPhone or Apple Watch.
N26 is not just an app, it is a digital bank. It is a bit different from all the other apps on this list including Cash App. It is also a leading digital bank in the US and Europe. The peer-to-peer money-sending solution is called "MoneyBeam" and it works exactly how it sounds.
Once your account is up and running with N26, you can go to your mobile app and activate "MoneyBeam" and start sending and receiving money directly from friends or family. You can also access its current account service to receive your salary, shop with it online, or make payments in physical stores.
Also, you can avail of their services for debit or a credit card and use it at ATM machines to withdraw money or pay for goods and services even while traveling abroad.
You may also like:
Conclusion
No matter which app you choose for your payment needs, the options are seamlessly easy and convenient in all the apps like Cash App. And there are plenty of them available each with its own merits and demerits.
Almost all of them work in the same way or the other. Register, link your bank account, and you are done.
Since all of them can serve your purpose, what you need to look for are the fees, costs, and limits on your transactions. Although most of them are available on both iOS and Android, it is always encouraged and a good idea to check out the app stores first.
We would recommend that you clearly understand and define your needs and go with the one that best suits your requirements.
We have briefed the apps with their unique features in our list, we would encourage you to go to their respective websites and dig deeper before making a commitment to a particular app.