Zoom App helps to connect people to different locations through the web. A virtual meeting is very useful when you are connecting to long-range friends or relatives and It will be icing on the cake if you get the Zoom app on LG Smart Tv.
We have seen those zoom meeting boxes that look so tiny on our laptop screens as well as on our mobile screens. But after you get the zoom app on your tv screen this will no longer be a problem. A big screen means clarity and double fun.
Today in this article, we will be talking about how to install Zoom App on your LG smart tv.
After the covid 19 pandemic, people changed their way of living. If you are not able to attend an office meeting, or your college/school class don't worry! You can present these meetings and classes with video conferencing/calling on your LG Smart tv through apps like Zoom, google meet, and Skype .etc.
Students have to continue their studies through online classes right? So the Zoom app can be your best solution to do online classes, attending work meetings, etc. Companies also prefer people who can do work from Home. If you are confused, the Zoom app is similar to google meet, skype, or hangout. The most important thing is you can use Zoom on your smart tv at your home.
Well, I am here to tell you all about it from the basics of the Zoom App and how to install and download the zoom app on an LG Smart TV.
Let's talk about Zoom App First!
*Most likely, you know this already, so please scroll down 😉 but if you don't know, keep reading 🙂
Practically you can not live in this techno world without video calls and video conferencing, and Zoom App provides that in the best quality.
Zoom App is your solution when you are looking to take an online yoga class, join an office meeting, video call friends or family members, have an online webinar, do online studies, etc. Basically, it's one of the best tools for working remotely at home nowadays.
Zoom app is available on so many platforms which makes it easier to connect with different people having different devices around the globe. This App is doing better than all its competitors which makes it almost everyone's favorite video-audio calling app.
Features: What do we like the Zoom app for?
The amazing Video and Audio Qualities of the Zoom platform are unbeatable.
Super easy to understand the user interface even for non-techno people.
You can create a permanent room for regular meetings.
The Basic Zoom plan is free for all of its users with its useful features.
You can also choose from Zoom Subscription for more features.
Available on all the platforms like Android, iOS, Mac Windows, Linux, Smart TVs, and many more.
You can use or change a virtual background on Zoom as per your choice.
Now, Let's go to the topic that you are searching for:
How to Install Zoom App on LG Smart TV?
With an LG smart TV, it is quite easy to connect the Zoom App to your television. LG Content store makes it easier to install the Zoom App as You can download it easily on the LG app store.
It is only a process of a few minutes which is understandable by anyone. Well, here is the simplest guide on How to Install & Download Zoom App on LG Smart TV.
Follow this Step by Step Guide:
Step-1: Turn on the switch for your LG Smart TV.
Step-2: Press the home button on the remote of your LG smart TV.
Step-3: You will find the LG content store on the home page.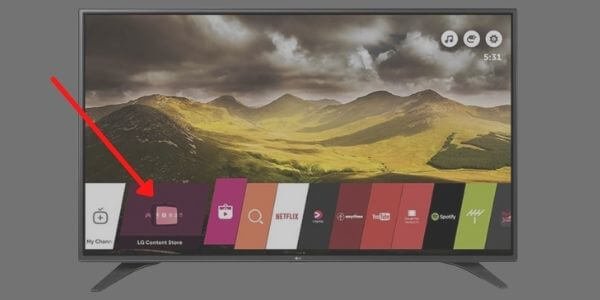 Step-4: Click on the LG Content Store to launch the app store.
Step-5: Click on the tiny search button which looks like a magnifying glass.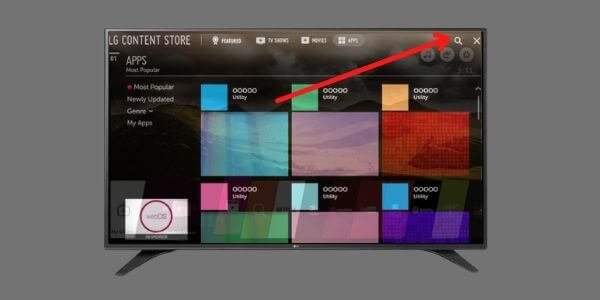 Step-6: Type Zoom App and hit enter.
Step-7: Locate the Zoom App icon and click on it.
Step-8: On the Zoom App Details page click on the install.
Step-9: Wait while the app automatically downloads and gets installed on your device.
Step-10: You can launch it straight from here or from your home screen
That's it. Now enjoy zoom calls after signing in.
Although these steps are very easy to perform and you can use the Zoom app on your LG TV. But in any case, if you are unable to perform the above-mentioned steps then take a look at these Alternate ways to Install Zoom on LG TV:
Alternative Ways to Use Zoom on LG TV if you failed to perform the above steps
I have also made you a list of alternative methods for connecting the Zoom app to your smart TV. If you are not able to download and install a zoom app on your smart TV from the LG app store for some reason you can try the alternatives. I hope you can find them helpful
1. Using Chromecast
Just Simply sign in at the Zoom meeting with your phone and you can connect your smartphone to your TV via Chromecast and enjoy the Zoom App on LG TV.
2. Connect Your Tv Through HDMI
If you have an HDMI port on your Laptop and TV, you can simply connect your TV and laptop through an HDMI cable and Connect your Zoom meeting to your Laptop.
3. Using Amazon Firestick
Amazon Firestick also helps you in downloading and installing the Zoom app on LG smart TV as Zoom App is easily and officially available on the Amazon app store.
4. Download and Install Apk File
You can download the Zoom app Apk from your PC and then transfer it to your TV using a pen drive. Now, simply click on that apk file and install the Zoom app on your LG smart TV.
You may also like:
Conclusion
Stop imagining having those amazing video calls from that big screen and start taking these mini-steps, you will be done as soon as you start.
Enjoy Amazingly clear and standard office video conferences, online classes, and family video calls so you can feel closer and connected to your family.
I hope you will enjoy your video calling through the Zoom app on LG Smart Tv after going through all the steps mentioned above. So Enjoy, Stay Happy, and Stay Connected.