Zoom, the popular video conferencing platform, has revolutionized the way we communicate remotely. While it has been predominantly used on computers and mobile devices, integrating Zoom on your LG Smart TV can elevate your virtual meetings and gatherings to a whole new level.
In this article, we'll guide you through the process of getting Zoom on your LG Smart TV, so you can experience seamless communication on a larger screen from the comfort of your living room.
Zoom has become an essential tool for online meetings, video conferences, and virtual gatherings, and now you can enjoy the convenience of using it on your big-screen TV. With Zoom on your LG Smart TV, you can join meetings, host webinars, and even connect with friends and family in a more immersive way.
We'll provide you with step-by-step instructions on how to download and install the Zoom app on your LG Smart TV, ensuring that you can stay connected and productive from the comfort of your living room.
So, let's get started and unlock the full potential of your LG Smart TV with the Zoom app!
Check Compatibility:
Before diving into the installation process, ensure your LG Smart TV is compatible with the Zoom app. Generally, LG Smart TVs released after 2018 are equipped with webOS 4.0 or higher, which supports the installation of Zoom and other third-party apps.
To verify compatibility, visit LG's official website or refer to your TV's user manual for specifications. For the LG TVs models before 2018, We also have some alternative ways to get Zoom on LG TV below in this post.
How do I install Zoom app on my LG TV?
With an LG smart TV, it is quite easy to connect the Zoom App to your television. LG Content Store makes it easier to install the Zoom App as You can download it easily on the LG app store.
It is only a process of a few minutes which is understandable by anyone. Well, here is the simplest guide on How to Install & Download Zoom App on LG Smart TV.
Follow this Step by Step Guide:
Step-1: Turn on the switch for your LG Smart TV.
Step-2: Press the home button on the remote of your LG smart TV.
Step-3: You will find the LG content store on the home page.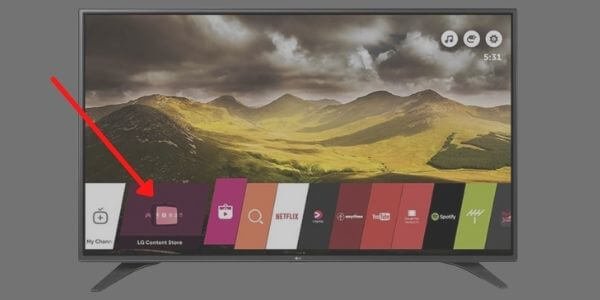 Step-4: Click on the LG Content Store to launch the app store.
Step-5: Click on the tiny search button which looks like a magnifying glass.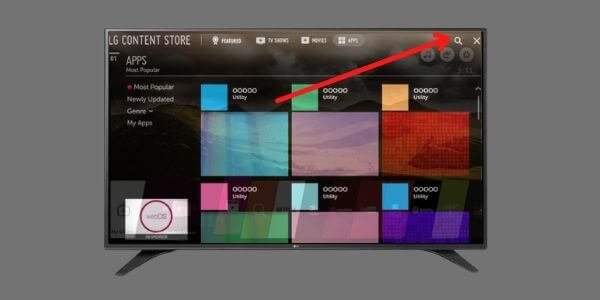 Step-6: Type Zoom App and hit enter.
Step-7: Locate the Zoom App icon and click on it.
Step-8: On the Zoom App Details page click on the install.
Step-9: Wait while the app automatically downloads and gets installed on your device.
Step-10: You can launch it straight from here or from your home screen
That's it. Now enjoy Zoom calls after signing in.
Although these steps are very easy to perform and you can use the Zoom app on your LG TV. But in any case, if you are unable to perform the above-mentioned steps then take a look at these Alternate ways to Install Zoom on LG TV:
Alternative Ways to Use Zoom on LG TV if you failed to perform the above steps
I have also made you a list of alternative methods for connecting the Zoom app to your smart TV. If you are not able to download and install a Zoom app on your smart TV from the LG app store for some reason you can try the alternatives. I hope you can find them helpful
1. Using Chromecast
Just Simply sign in at the Zoom meeting with your phone and you can connect your smartphone to your TV via Chromecast and enjoy the Zoom App on LG TV.
2. Connect Your Tv Through HDMI
If you have an HDMI port on your Laptop and TV, you can simply connect your TV and laptop through an HDMI cable and Connect your Zoom meeting to your Laptop.
3. Using Amazon Firestick
Amazon Firestick also helps you in downloading and installing the Zoom app on LG smart TV as Zoom App is easily and officially available on the Amazon app store.
4. Download and Install Apk File
You can download the Zoom app APk from your PC and then transfer it to your TV using a pen drive. Now, simply click on that APK file and install the Zoom app on your LG smart TV.
Features: What do we like the Zoom app for?
The amazing Video and Audio Qualities of the Zoom platform are unbeatable.
Super easy to understand the user interface even for non-techno people.
You can create a permanent room for regular meetings.
The Basic Zoom plan is free for all of its users with its useful features.
You can also choose from Zoom Subscription for more features.
Available on all the platforms like Android, iOS, Mac Windows, Linux, Smart TVs, and many more.
You can use or change a virtual background on Zoom as per your choice.
Conclusion
By following the simple steps outlined in this guide, you can effortlessly install the Zoom app and unlock boundless opportunities for seamless video conferencing from the comfort of your living room. Stay connected, collaborate effectively, and enjoy the convenience of Zoom on your LG Smart TV.
You may also like:
FAQs
Can I connect a computer or mobile device to my LG Smart TV for Zoom meetings?
Yes, you can connect your computer or mobile device to your LG Smart TV to join Zoom meetings. If your LG Smart TV supports screen mirroring or casting, you can mirror your computer or mobile device screen onto the TV. Then open the Zoom app on your device.
Alternatively, you can use an HDMI cable to connect your computer to the TV or use a wireless HDMI transmitter if available. This way, you can use the Zoom app on your computer or mobile device while viewing the meeting on the TV screen.
Is it possible to use a Zoom-enabled device, like a webcam or smart camera, with an LG Smart TV?
If your LG Smart TV supports USB connectivity and allows for external device connections, you may be able to use a Zoom-enabled device, such as a webcam or smart camera, with your TV.
Connect the device to your LG Smart TV using the USB port and adjust the TV's input settings to select the connected device as the video source.
However, please note that compatibility and functionality may vary depending on the specific LG Smart TV model and the Zoom-enabled device you're using.
Can I install the Zoom app on a smart TV?
It is possible to install the Zoom app on some smart TVs, but it depends on the make and model of your TV.
If your smart TV does not have a built-in Zoom app, you may be able to use screen mirroring or casting to display. Your Zoom meeting on the TV typically requires a smartphone, tablet, or computer with the Zoom app installed to act as a source for the content.
Is Zoom on Roku TV?
Yes, Zoom is available on Roku TV. However, the Zoom app is not natively supported on Roku TV devices, so you need to download it from the Roku Channel Store or from the web using the Roku web interface.
Can I use a webcam on my LG smart TV?
No, LG smart TVs do not typically have built-in support for connecting and using webcams. While some smart TVs from other brands may offer webcam functionality, LG smart TVs generally do not include this feature.
LG focuses primarily on providing a high-quality display and smart TV functionality for streaming content, rather than integrating webcam capabilities.
Can I use FaceTime on my LG Smart TV?
No, FaceTime is an Apple proprietary video calling service and is not available for use on LG Smart TVs.