Using different digital payment wallets like PayPal, skrill, WePay, or Google Pay at the same time often leads to confusion and can make us forget passwords. To prevent this from happening, you must use only those payment options with which you are comfortable.
In this guide, I am going to show you how you can get rid of one of these digital wallet providers Skrill, and help you how to delete your skrill account step by step.
Best Ways to delete a Skrill account?
Skrill was established in 2001 to offer online payment and money transfer services to its users. Currently, it is offering 40 different currencies in more than 120 countries.
You can use Skrill for transferring small payments via its official website or Skrill mobile app. It is used to make payments to merchants effortlessly Further, it can also be deactivated by skrill's website or mobile app. Generally, there are three ways to delete your Skrill account,
Skrill website
Skrill mobile app
Email
We'll explain each of the methods in detail to delete your skrill account
1. How to delete the Skrill account using the Skrill website?
Perform the given steps to deactivate the skrill account,
Step-1: Visit the official website
Use any web browser of your desktop or mobile and visit the official website of Skrill
Step-2: log in to your Skrill Account
Once the website is prompt on your screen. Log in to your Skrill account and verify your account with a six-digit authentication code.
Step-3: Access the settings
On the right corner of your page, click on the username. A drop-down menu will prompt, choose to settings.
Step-4: Close your account
Click on the account settings. On the account status, click on close account.
Step-5: Enter the reason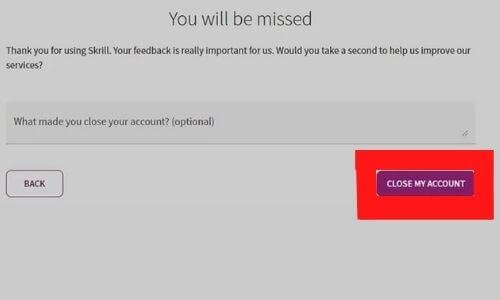 Closure permission will be prompt regarding the deactivation of the account. Mention the appropriate reason for the closure and click on close my account.
That's it! You have successfully deleted your skrill account.
2. How to delete the Skrill account using the Skrill mobile app?
Skrill can be operated via its mobile application namely Skrill, and its interface is quite user-friendly. It is available on Android as well as iOS devices. Using skrill's mobile application, the payment transfer has become accessible and uncomplicated. The steps to deactivate the Skrill account are as follows;
Step#1 open skrill's mobile application.
Step#2 In the top left corner, tap on profile.
Step #3. Click on contact us from the given options.
Step#4 It will give you two options. Contact via message or call. Choose to message us.
Step #5 Now, you have to draft a message regarding the closure. Select the account category, close my account and draft the reason why you wanted to close the Skrill account.
Step#5 Click on send.
It's done!!
These are the basic steps for the deactivation of a skrill account. However, you can also use an alternative method if you don't remember the login credentials of your skrill account.
3. How to delete a skrill account using Email? 
To delete your skrill account through email, perform these steps;
Open your mail account. 
Click on compose. 
For the receiver's end, use help@skrill.com, data.privacy@paysafe.co 
As the subject, you can use 'Request for account deletion' or 'Skrill account deletion'.
Enter the appropriate reason to delete the skrill account in the body section and request to delete it by sending the mail. 
Now, They will process the account details and delete your account as soon as the process ends. Refer to the image for a sample email to delete the skrill account.
Terms and conditions while closing Skrill account
You can close your Skrill account anytime you want by contacting customer support or via the above three methods. Additionally, if your account has been inactive for some time, it will cost you a fee.
Before closing the Skrill account, make sure you have withdrawn all the funds from the account. Although, at the time of closure, the Skrill team gives you a reasonable period of time (up to six months) to clear out your account.
Your account will only be accessible for withdrawing the remaining balance. But, we suggest you withdraw your remaining funds as soon as possible as they will not earn any interest while in your skrill account.
You may also like:
The Closure
Here are three basic methods to delete the Skrill account. You can close the account via any of these methods. However, the last method is more preferred by users to delete skrill account. Prior to this, remember that Skrill account deletion is irreversible so, make sure you've made up your mind.
For any queries regarding this, feel free to comment to us below.