Deleting your Skrill account is a straightforward process, but it's important to note that once you delete your account, you won't be able to reactivate it. So, before you proceed with the deletion process, make sure that you've withdrawn all your funds and that you won't need your Skrill account in the future.
In this article, we'll show you how to delete your Skrill account step-by-step. We'll also provide you with some tips on what to do before and after deleting your account to ensure a smooth process.
So, if you're looking to delete your Skrill account and you're not sure where to start, just follow the steps in this guide, and you'll be able to do it in no time.
Best Ways to Delete a Skrill Account
First launched in the year 2001 Skrill provides online payment and money transfer services to its users. So far more than 120 countries and 40 various currencies can be used to trade on Skrill.
Skrill can be used to transfer small payments via its official website or the Skrill mobile app. It is used to easily make payments to merchants. Furthermore, it can be deactivated via the Skrill website, mobile app, and email. 
There are three ways to delete your Skrill account in general.
Skrill website
Skrill mobile app
Email 
We'll explain each of the methods in detail to delete your Skrill account
1. How to delete the Skrill account using the Skrill website?
Want to delete or deactivate your Skrill account using the official site then follow the steps given below and you would be good to go.
Step-1: Visit the official website
Open up any browser of your choice and click on the "Skrill official" website link.
You can open this on any of your devices. For instance, laptops, computers, iPhones, tablets, and even Android. This method works for all.
Step-2: log in to your Skrill Account
Once you have opened the website enter the login credential details and verify your account with a six-digit authentication code.
Step-3: Access the settings
Then once you have logged in on the right-hand corner of your screen click on your username and under that a drop-down menu will prompt you, to choose settings.
Step-4: Close your account
Then under the settings, choose "Account settings" Once your Account setting is opened then to "Account status", click on "Close account".
Step-5: Enter the reason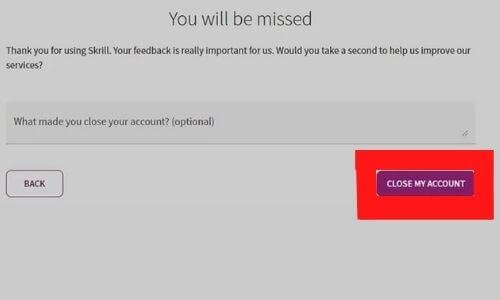 To delete your account you will need to enter the reason why you want to delete your Skrill Account. State your reasons and click on delete my account. Once you have followed all the steps mentioned above precisely your Skrill account will be deleted 
That's it! You have successfully deleted your Skrill account.
2. How to delete the Skrill account using the Skrill mobile app?
Skrill can be operated via its mobile application namely Skrill, and its interface is quite user-friendly.
It is available on Android as well as iOS devices. Using Skrill's mobile application, payment transfer has become accessible and uncomplicated.
So if you have installed the Skrill app on your device then you can follow these steps to delete your account.
The steps to deactivate the Skrill account are as follows: –
Step#1 Open Skrill's mobile application on your respective phone.
Step#2 login to the account if not log in then once you have entered your credentials. On the top left corner, you will see your profile click on it.
Step #3. Then click on "contact us" and choose from the following options.
1)Contact via message or call.
2)Choose to message us.
Step #5 Select the "account category" then choose "close my account" and draft the reason why you wanted to close the Skrill account.
Once you have drafted the message send it and it's done!! These are the basic steps for the deactivation of a Skrill account.
However, you can also use an alternative method if you don't remember the login credentials of your respective Skrill account.
3. How to delete a Skrill account using Email?
If you don't remember your Skrill account details then don't worry. By using this method you can delete your account easily.
To delete your Skrill account through email, perform these steps;
Step 1:- Open your mail account which you have used at the time of login.
Step 2:- Click on Compose to draft the email. Under the receiver's end, use help@skrill.com, and data.privacy@paysafe.co
For the subject, you can use 'Request for account deletion' or 'Skrill account deletion'.
Step 3:- Enter the appropriate reason to delete the Skrill account in the body section and request to delete it by sending the mail.
Step 4: – After that, the Skrill team will process the account details and delete your account as soon as the process ends.
Terms and conditions while closing Skrill account
You can close your Skrill account at any time by contacting customer service or using one of the three methods listed above.
Furthermore, if your account has been inactive for an extended period, you will be charged a fee.
Check that you have withdrawn all funds from your Skrill account before closing it. However, when your account is closed, the Skrill team gives you a reasonable amount of time (up to six months) to clear it out.
Your account will be available only for withdrawals of the remaining balance. However, we recommend that you withdraw any remaining funds as soon as possible because they will not earn interest while in your Skrill account.
Pros And Cons of Delete Your Skrill Account?
When considering deleting your Skrill account, it's important to weigh the pros and cons. Here are some potential advantages and disadvantages:
Pros of Deleting Your Skrill Account:
Privacy: Deleting your Skrill account can help protect your personal information and financial details from potential security breaches or unauthorized access.
Reduced Exposure to Fraud: By closing your Skrill account, you eliminate the risk of any fraudulent activity associated with the account, providing peace of mind.
No Maintenance and Fees: Closing your Skrill account means you won't have to pay any account maintenance fees or transaction fees associated with using Skrill's services.
Reduced Online Presence: Deleting your Skrill account can contribute to reducing your online footprint, which some individuals prefer for privacy or security reasons.
Cons of Deleting Your Skrill Account:
Loss of Convenience: If you frequently use Skrill for online transactions or money transfers, deleting your account means losing the convenience and ease of using the platform.
Loss of Access to Funds: Before deleting your Skrill account, ensure you have withdrawn or transferred any funds remaining in the account, as you may lose access to them once the account is closed.
Limited Payment Options: Skrill is accepted by many online merchants and websites as a payment method. Closing your account means losing this payment option, potentially limiting your choices when making online purchases.
Account Recovery Challenges: If you delete your Skrill account and later decide to reopen it, you may encounter difficulties or restrictions in recovering your account or previous transaction history.
Impact on Money Transfers: If you regularly send or receive money through Skrill, closing your account may disrupt these transactions, requiring you to find alternative platforms or methods.
No Buyer Protection: Skrill provides buyer protection for certain transactions, ensuring a level of security and assistance in case of issues. Deleting your account means losing access to this protection.
You may also like:
To conclude
In conclusion, deleting your Skrill account is a straightforward process. By following our step-by-step guide, you can easily deactivate your account and ensure that your personal and financial information is secure. Remember to withdraw any remaining balance before proceeding with the account deletion.
FAQs
Is there an age limit to open a Skrill account?
Yeah, there are certain terms and conditions that you need to meet before you can get your Skrill account. Your age should be at least 18 years old.
How many days can I close my Skrill account after opening it?
After 14 days of opening your Skrill account, you are eligible to close your Skrill account.
Can I reopen my deleted Skrill account?
Yes, you can, you just need to compose mail to the Skrill team and they will re-activate your Skrill account.
If I don't use my Skrill account, will I be charged?
Yes, as per Skrill terms and conditions, you need to use your respective Skrill account every 6 months or so.
I have deleted my Skrill account, but I still have funds in my account. What to do now?
Don't worry Skrill will give you a notice period to move your account funds and you can only use it to move your funds once you are done your Skrill account will not be active anymore.