Today we are starting a new topic which is how to turn on Vizio TV without a remote, if you are also looking for its solution then stay with us till the end of this blog.
Every digital and electrical item nowadays comes with remote control for a more convenient user experience. We can access them from a suitable distance using remote control devices. The best example of the benefit of remote control is smart televisions.
Everyone these days has a smart TV. Smart remotes are included with smart TVs. Most of the time, however, we misplace our remote or it stops working at an inconvenient moment when we are unable to get a new remote for our television.
If you're having trouble with your Vizio TV Remote, you've come to the right place. In this post, we'll show you how to turn on Vizio Tv or do anything else without using the remote.
All you have to do now is read the entire article and follow the directions. You'll then have a solution to your difficulty. Let's take it one step at a time to address your problem:-
How to Turn on a Vizio Tv Without a Remote?
Without a remote, there are two ways to switch on Vizio TV. The first method is to use the physical buttons on the television, and the second method is to use the Vizio Smart cast application.
Method 1: Turn on Vizio Tv With Vizio Physical Buttons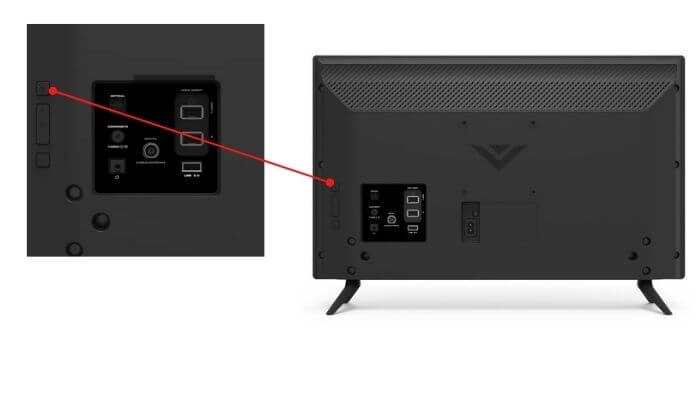 The Vizio TV buttons are located on the TV's left rear. So, all you have to do now is locate the Vizio TV's power button and push it once to turn it on.
You may also view more controls for your Vizio television, such as volume, channels, and other regulators. So, if you want to adjust the volume, change stations, or do anything else, you may do so without having to use your television remote.
If using the physical buttons on your TV is difficult for you, you can link your TV to their mobile application. Please read the following sections to learn how to link your Vizio TV to their mobile app.
Method 2: Turn on Vizio Tv With Vizio SmartCast app
Vizio smart TVs are one of the most well-known brands in the smart TV market and are well-known for their intelligence. Like other Android smart TVs, Vizio Tv lets you manage and add SmartCast apps for iOS and Android devices.
Users can control their Vizio TV without using a remote with the help of this official software. Users may also manage the volume and access the TV menu section without using the remote.
In this scenario, all you have to do is turn on the wifi and turn on the physical buttons on your Vizio TV. After that, all of your work will be done on your phone.
If you don't know how to connect your Vizio TV to the Vizio app, follow the steps below:-
Enable the same wifi on both your TV and your mobile phone before using the Vizio SmartCast app for tv.
On your Smartphone, download and install the VIZIO SmartCast Mobile app, then launch it. You may either sign in or skip this section.
Now press the menu button, scroll up the screen, and choose "set up a new device" from the drop-down menu.
From the welcome screen, touch "get started" >> choose your desired "language" >> and tap "pair your device display" from the new window.
To begin pairing with your Smart TV, place your phone at the bottom right corner of the Vizio TV.
When it's paired, go to the bottom of the screen and click the Control icon.
Your phone will now display the "Vizio remote layout." To turn on your TV, press the Power button.
You can easily control many other Vizio TV functions with the smartphone app.
Vizio TV's application is now available for your use.
After that, you can use an Android or iPhone mobile application to turn on/off or control your television. It will also allow you a wide variety of control over your Vizio TV. As a result, android or iOS apps can be used for anything.
Note:- Many Android devices now come with a universal remote control app or a Peel smart remote app pre-installed. Users may utilize their smartphone as an all-in-one remote using these apps.
For example, the Xiaomi smartphone's Mi Remote app. To switch on your Vizio TV, you can use the official Vizio smart cast app or any other third-party app.
What do you get out of the Vizio smartphone app?
Almost every button on the physical Vizio remote is represented in this application.
There are unique buttons in the app to turn on Amazon Prime Video and Netflix.
Moreover, Four buttons in the middle of the screen allow you to modify the volume and channels.
In addition, there's the OK button. These buttons aren't just for changing channels; they can also be used to move or select items in the menu section. The back and Guide buttons are also visible above the four-color buttons. Below there, you'll find more volume and channel controls.
Finally, you can get the numbers to move quickly to the channels or fill the numbers in whatever way you like.
Frequently Asked Questions (FAQs)
Q:- On a Vizio, where is the power button?
Ans:- It will be attached to the back of your television. Refer to the image above for further details.
Q:- What should I do if I misplace my Vizio TV remote control?
Ans:- To operate the TV, you can use the Vizio SmartCast app on your smartphone.
Q:- Is there a power button on all Vizio TVs?
Ans:- The Power button for Vizio TV models from 2014 and up will be on the backside. Check the image above.
You may also like:
Conclusion
We mentioned two ways to turn on or control your Vizio TV without using a remote earlier in this article. If you follow these steps step by step, they will work properly.
We hope you find this post useful. You can write in the comments area if you have any questions or recommendations. We are delighted to assist you.