With the increasing popularity of sports streaming services, ESPN Plus has emerged as a go-to platform for sports fans to catch up on their favorite games and events. And if you're the owner of an LG smart TV, you're in luck because you can easily access ESPN Plus on your television set. However, the process can be a bit confusing for those who are not familiar with it. In this guide, we'll walk you through the step-by-step process of how to watch ESPN Plus on LG Smart TV,
I am a sports fan who loves to watch different games on my tv. I recently bought a new LG OLED C1 Series for a better watching experience but the problem is ESPN Plus app is not available on LG TV.
Earlier I didn't know that LG tv is not come up with an ESPN app, although there are many sports streaming apps in the LG content store but I am very fond of the ESPN app and using it for a decade. It is very easy to stream and gives a large variety of sports to watch.
So, I do some research and found some workaround solutions to run ESPN App on LG Smart tv so you will always be updated with your favorite sports.
Can I get ESPN+ on my LG TV?
If you are looking for a way to get installed ESPN plus app on LG smart TV then I have to say that I had tried many ways to install it on my TV but there is no way to get Espn+ directly on your LG TV. But that's not mean you can't enjoy your favorite tv streaming service on LG TV.
There are some ways that can help you to stream it on your TV. You can use a streaming device like Roku, amazon firestick, Apple Tv, Google Chromecast, or Airplay to stream ESPN+ on your LG Smart tv. You can use your LG WebOs browser.
You can connect your tv to your laptop or computer through an HDMI cable to run the ESPN app. But to use the service on your streaming device you need to get an ESPN subscription first.
How to Sign Up for ESPN+?
You must have an ESPN+ subscription in order to watch your favorite shows and movies. Here is how to sign up for ESPN+: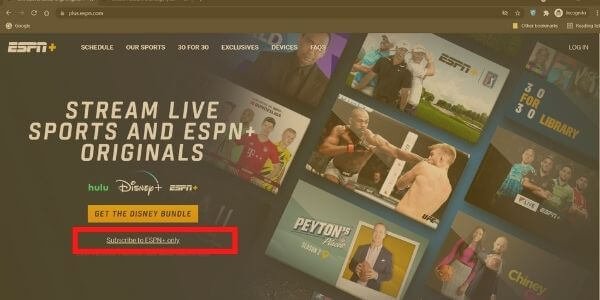 Now Create an Account on ESPN+
Enter the payment information.
Now have to choose an ESPN+ subscription plan
Now you can enjoy and watch your ESPN Programs.
How To Watch ESPN Plus on LG Smart TV?
Let's take a look at these simple and best 3 ways to install and then watch ESPN Plus:
1. Buy a Streaming Device To watch ESPN+
One of the most reliable and easy ways to watch ESPN+ is to buy any streaming device that will serve your purpose.
There are different types of Streaming devices available in the market and almost every device supports ESPN plus.
Simply set up the device with the Smart TV and follow the local instructions to install it. These devices will not kill your budget planning as they are not so expensive and they give you the best services.
for example, you can try the Amazon firestick or Roku device. I will explain how to set up Roku to watch ESPN plus, But, you can set up any streaming device in almost similar ways.
How to Install ESPN+ On Roku?
Open the ESPN Channel on your Roku device.
Go to the setting option.
Click on Provider account and then watch live TV, and activate live tv.
Now go to espn.com/activate on a computer or laptop.
Enter the activation code which you got on your Roku device.
Choose your cable.
Sign In with your TV Service provider user id and password.
Now select the ESPN account then login to the ESPN account.
Go to the given link (es.pn/Roku) on the computer.
Again enter the activation code which you got on the Roku device and click continue.
Now the final step, log in to your ESPN+ account.
In case you don't have an ESPN+ account, you can have it for free for a trial.
Pros:

# Picture quality and audio quality will be at their best.
# One time setup will work lifetime.
Cons:

# The extra device will be added along with your LG Smart TV.
# Have to buy a device to execute this.
2. Use a Browser
If you don't want to spend any money on any device rather than Smart TV or you don't like to install any other device with your smart tv.
Then this option is for you. Go to your TV And open the default browser (WEBOS). A browser will open on your screen, simply go to ESPN's website and log in with the subscription Username and password.
Once you logged in, you can have access to all the content for ESPN and ESPN plus on your LG Smart TV. If you are using slow internet then you may face some lagging issues with steaming So fix your internet connectivity.
Pros:

# No need for any extra cable or wire
# It can be performed within the TV
Cons:

# You must have a good internet connection (4G or 5G)
# Most of the time Wifi will not work properly so a wired connection will be a good option.
3. Use Your Laptop or Computer
If you have an HDMI port on your computer or laptop and one spare HDMI cable then you can give this option a try. Simply Plugin the HDMI cable into your computer or laptop and the other side into your LG Smart TV.
Play ESPN+ on your computer or laptop and it will be shown on the LG Smart TV via HDMI Cable. You can enjoy your content on that big screen and eat your snacks.
Pros:

# You don't have to buy any device like Roku and others.
Cons:

# All-time you will need a computer or laptop
# Should have an HDMI cable to perform this process.
In this post, I have shared with you the best and easiest way to watch Espn Plus on your LG Smart TV. But still, if there are any questions that are coming to your mind, related to this topic, therefore I have kept the FAQs below so you can see the answers to some common questions there.
ESPN Features you will enjoy after your subscription
Here are some best features you will get with an ESPN Plus subscription:
You are allowed to access UP to 5 Devices at the same time.
Expect Normal breaks, During the program's play, you will get no Ads displayed on your screen.
You can watch every domestic game event that is streaming daily and also the live sport that is out of the television market.
If you are a subscriber, you can purchase UFC Fight Pass and watch MLB.TV, NHL.TV directly from the ESPN+ App.
You will have access to watch all the original shows on ESPN.
You may also like:
Frequently Asked Questions (FAQs)
1. Do LG smart TVs have ESPN Plus?
Unfortunately, you don't get ESPN+ on LG Smart TV. But you can still watch it on LG Smart TV, you just need to follow any one of the 3 ways mentioned above.
2. What are the best ways to watch ESPN+ On LG Smart?
Well, According to my experience, Streaming devices are the best ways to watch ESPN plus but it can differ for everyone's situation.
3. What is the Subscription cost of ESPN Plus?
As you can see in the above image there are only two subscription Monthly plans for ESPN+. If you are choosing only ESPN+ then it will cost you $4.99 monthly but the bundle subscription includes disney+ Hulu will cost you $12.99 only.
4. How do I Subscribe to ESPN+?
You can Subscribe to ESPN+ via the ESPN+ website (which I already mentioned above) or you can also get the subscription through ESPN Plus App.
Conclusion
LG tv runs on the WebOS Platform and only supports LG Content store apps, and ESPN is not one of them. But we told you different ways to get espn+ app on your LG tv and it is worth buying an LG tv.
Streaming devices like Airplay, Roku, Firestick, etc are the best ways to watch ESPN Plus on LG smart tv. Or you can also use the built-in WebOS TV browser or your personal computer to enjoy espn+ on your tv.
If you have any queries related to the topic on ESPN+ on LG Tv, feel free to ask in the comment section.
Thank you for your time.