Lenox Media Player On Firestick Installation Guide 2022 | Are you also the kind of person who uses an external media player to stream content rather than an inbuilt media player? If so, then I have something you will definitely love!
That is Lenox Media Player. The guide mainly focuses on steps to instalL Lenox Media Player on Firestick. It is the kind of external media player which streams all formats of content whether it is music, video, or audio files.
Lenox media player is only compatible with smart devices which use an android OS like firestick. Lenox is not compatible with those smart devices that use iOS-based operating systems like an apple Tv. Moreover, It uses subscription charges to offer services to its users.
The guide will cover all the aspects regarding the Lenox media player and how you can install the Lenox media player on your Firestick devices.
What is Lenox Media Player?
Lenox media player is an application that requires subscriptions from your service providers to view their content. It does not have any content of its own like live channels, movies, or radios.
Lenox is a software development unit that developed the Lenox media player app, designed as a media player for providing ad-free streaming to their end-users. The users can use this app with a username and password and log in with the specific service provider.
Features of Lenox Media Player
Some of the features which make Lenox media player different from other media players are;
Add to favorites
In the Lenox media player, you can select your favorite channels and place them in a different file. It will help you to get easy access to the selected channels.
Create profiles
Each member of the family can create their own profile and select their favorite channels for it. For instance, you can create a generic profile for kids with just cartoon channels or sports channels for you, etc.
Live TV Anywhere
Using a Lenox media player, you can stream up to 5 devices at a time including a TV, smartphone, computer, or tablet.
Control
It gives you access to pause, replay, fast forward, or rewind functions for a few channels.
No IP Lock
You can make full use of VPNs and can connect any compatible devices while traveling also.
Now, Let's get the installation procedure started;
Download and install Lenox media player on firestick
Lenox media player can be installed on Firestick in two ways. They can be
Using Downloader app
Using ES File Explorer.
We will discuss both methods in detail. Stick along till the end to know about both methods.
How to download a Linux media player using the downloader app?
The downloader app is used on firestick to sideload the apps which are not available on the Amazon app store. Since Lenox media player is also not available, we can sideload it using the official URL link. The whole procedure will complete in three basic steps;
Enable unknown sources on Fire TV
Install downloader app
Download and install the Lenox media player
a. Enable unknown sources on Fire TV
1. On the homepage of firestick, hover over settings
2. Click on MY FIRE TV
3. And then developer options.
3. Tab on ADB Debugging and turn it ON
4. Tap on Apps from unknown sources and Turn it ON.
b. Install downloader app
1. Go back to the home screen and tap on find.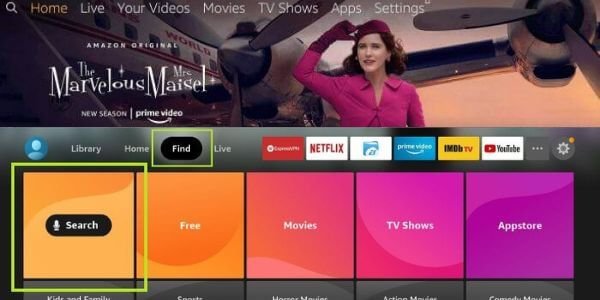 2. Select the search icon and type the downloader app on the search bar.
3. Select the official app from the searched results.
4. Click on the get button and the app starts downloading.
5. Launch the app by clicking on the open button to access the app on your device.
c. Download and install Lenox media player
1. Under my apps and games section, select downloader and open it. A search box will appear. copy and paste the given Lenox media player URL lenoxmp.com/app.apk
2. Once you paste the URL click on go and it will start downloading its APK file. After the file is downloaded, click on the install button.
3. A notification will prompt up regarding the status of the APK file. Delete it instantly to save some storage for your favorite channels and videos.
4. And that's it. The Lenox media player is installed on Firestick. You can get access to it under the apps section.
How to install Lenox media player using ES File explorer
Alternatively, you can also use ES File Explorer to install the Lenox Media player on firestick.
This is again the easiest and most straightforward way to install Lenox. Perform the given steps to download the Lenox Media Player app.
1. Hold the menu button on your firestick remote and press the search tab.
2. Type the ES file explorer and tap on the official app of the browser.
3. Now, at the bottom, you will find a + new option. Tap on it.
4. In the specified field, enter the official URL link of the Lenox media player app mentioned above.
5. Name the folder and click download.
6. Wait for a minute or two, and it will show a prompt. Click on open then on install and the app is successfully downloaded on the firestick device.
How to update the Lenox Media player app on Firestick?
Once you have installed the app and started streaming, firestick eventually allows several updates from time to time. Every time an update notification arrives, an improved version of the Lenox media player is available for the user with the bugs fixed. In order to update the Lenox Media player app, walk through the steps given;
Go towards the setting option.
Select my fire TV and then about.
Click on check for updates and it will show you if there is any update available.
If it is then choose to install the update.
While updating the user must not press any key on the remote otherwise it will stop updating
You may also like:
The wrap-up
You can use any of the above two methods to install the Lenox media player on Firestick. The app is a combination of more in one. Use the app to save storage as well as quality streaming.
Let me know if you face any trouble installing the app on firestick in the comment box.