Samsung Galaxy watches Track Sleep like Active2 and Watch3 have the ability to track your sleep when you wear your watch and then sleep. It can also track the different sleep stages it also including REM sleep and provides insight into your sleep quality on a nightly basis.
Also, it gives you a script score which is based on the duration of your sleep and also it measures your heart rate while you are in your bed.
So, if you want to track your sleeping pattern then you have to go to your apps tray and open Samsung health on your device.
Simply just tap on sleep and there you can see all your sleep tracking information. When you are totally ready for bed then tap the start button to begin the tracking then you can see if you are getting a restful night's sleep.
How do the Samsung smartwatches track sleep?
Basically, the Samsung smartwatches also track your sleep like the other smartwatches. The smartwatches use onboard accelerometer motion sensors and their own algorithms to detect when you stop moving around and when you shut your eyes.
Smartwatches also have some additional sensors like heart rate and a spO2 sensor to track additional biometric data.
Sometimes if you forget to track a night or sleep then you can easily manually record by the Samsung health phone app. You just have to go to the sleep style on the app and scroll a little down for the option to add a sleep record.
Read More: Apple Watch Series5 Smartwatch
From where you can view sleep data?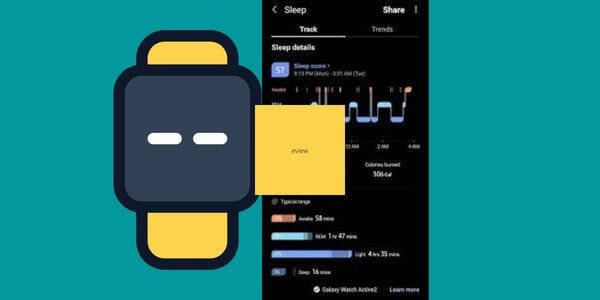 On the smartwatch, there is a widget that helps you to review your most recent night's sleep. If you want deep data about your sleep then you will need to download the Samsung health app to your phone.
Basically, this app is separated from the main Samsung Galaxy variable app. You will also need to initially set up your Samsung Smartwatch. 
Read More: How To Charge A Smart Bracelet
What can Samsung Smartwatch track during sleep?
Common smartwatches are Fitbit, Garmin, Huawei, and other fitness bands. The other things that you can expect to see are as follows:
Duration of Sleep
Burned calories
The actual time of sleep
Various sleeping stages like (REM, Awake, light, and deep sleep as well)
Sleep stages according to time
Sleep score
Consistency of sleep
The oxygen of blood during sleep
Snoring data
Read More: Ways To Find Apple Watch Serial Number
What are the four stages of sleep?
So the four stages of sleep are as given below:
The lightest sleep
The light sleep
Deep sleep
The REM sleep
Lightest Sleep
This is the sleep of 5 to 10 minutes before the actual sleep begins. This sleep is a battle between consciousness and sleep. It is also called awake sleep. 
Light sleep
Basically, this is the point, where the heart rate begins to slow down and the body temperature begins to drop slightly to compensate for the slower heart rate.
This sleep is about 15 to 20 minutes and can last for an hour. if you have a bad night's sleep. 
Deep sleep
This sleep takes approximately 20 to 40 minutes. Basically, this is a stage of sleep where a person feels this oriented. It can be called the maintenance mode of sleep.
The REM sleep
The full form of REM is Rapid Eye Movement. At this point of sleep, the heart rate of the person and the brain activities both are at their peak and it results in dreaming. REM sleep also becomes longer and can last up to 90 minutes. 
Read More: How To Spot A Fake Apple Watch
How can you set up sleep tracking using the Samsung health app?
If you haven't done it, then ensure that the sleep tracking is correctly configured.
The very first send you have to do is you need to pair the Samsung Galaxy watch with a smartphone. Why do you use sleep tracking Independently, your smartphone keeps the result over days we and even months of sleep tracking.
Read More: How To Fix Fitbit Charge 4 Not Turning On
How to pair your Galaxy watch with a smartphone?
To pair your Galaxy watch with the Samsung smartphone you have to follow the given steps:
You have to install the Galaxy variable app on your device.
Enable the Bluetooth option from your smartphone.
Then open the Galaxy Wearable app on your phone with your Samsung Galaxy watch nearby.
After that, you have to pick your Galaxy watch.
And complete the pairing process by following the instruction that is given on the screen.
How to install the Samsung health app?
Once your parent process is completed then you can download and install the Samsung Health app and if it's not already on your phone then you can follow these ways.
You will use the app to monitor your sleeping pattern using your Samsung Galaxy smartwatch.
If you have installed the Samsung help app on your device then don't forget to set up using your Samsung account.
Read More: How to Stream Hulu On Samsung Smart TV
How to turn on the automatic heart rate monitoring?
To turn on the automatic heart rate monitor you need to follow these steps:
Open the Samsung Health app on your device.
Then scroll down and tap on heart rate.
After that navigate to the bottom of the screen and then choose HR and stress management or auto HR settings.
Now turn on the measures continuously or you can also allow your watch to track sleep stages.
You May Also Read:
Final thoughts
I think you have got what I am trying to tell you through this article. We have answered the question how does Samsung Galaxy watch track sleep?
If you have any issues related to this content ask them in the comment section. I will try to solve your queries as soon as possible. Thank you.
Keep smiling and keep shining