Very often when you browse on internet or use any apps for first time you would often stumble upon the situation where you would be asked whether to allow cookies or deny cookies access. Yes? In today's article we will be looking at how you can allow cookies on iPhone.
Before we start let us understand what Cookies is. So, cookies are nothing but small text like files that store your data on your respective devices. It can be your phone, computer, tablet and many other devices.
The main objective of saving or storing data in Cookies format is that when you visit any sites and if you have ever bought any products or save any personal data on it all of those data would automatically be saved in cookies format and letting your surfing much easier next time.
So, suppose if you want to buy anything from the sites which you have purchase something from before. Just by saving cookies you do not need to reenter your data and site sittings. For example, country you live in, gender and age.
And things like your Id and password for any particular sites would be saved automatically if you have allowed cookies and next time your password would be shown immediately when you try to login.
One of the best things about cookies are they neither do harm to your phones nor do they steal any information from your phones. If they do not do much harm, why no use it for your advantages.
With this thought i have curated this article on hoe you can allow cookies on iPhone in simple and easy way.
Since we are now cleared about what the cookies are all about now let us get started with our article.
Allow cookies on iPhone
The iPhone allows you to take advantage of cookies. You can enable cookies on your iPhone by doing some simple steps.
WAY 1: – Enable Cookies on iPhone (in safari)
The very first thing we will be looking at is how you can enable cookies in your iPhone irrespective of which model you are using. This method will work in all models of iPhone just follow the steps as mentioned down below and you would be good to go.
Open your iPhone and search your "Setting" option. Once you have found it tap on settings.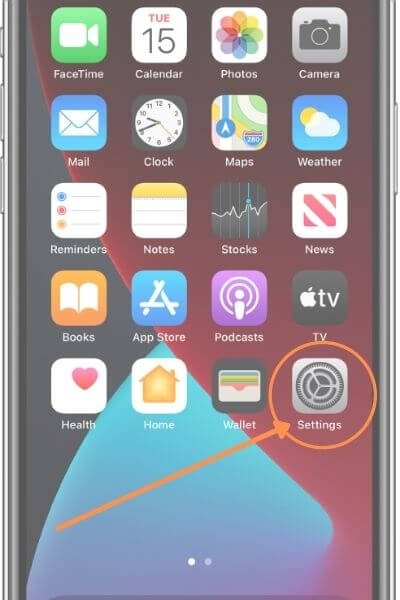 2. Either you can directly search for Safari on the search bar, or you can scroll down and manually locate Safari.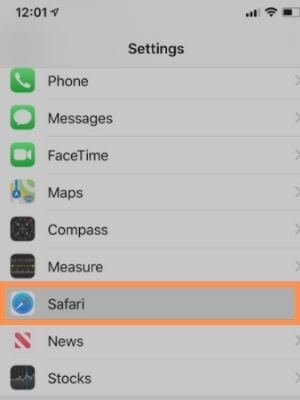 Click On "Block All Cookies" under Privacy & Security.
3. Once you have opened your Safari on your iPhone you will notice one option whether to Block all cookies or not.
4. Once you turn it on you will asked which setting you would like to go with. Either you can go with "Always Allow" or "Allow from Websites I Visit".
This should be enough to allow the cookies on your iPhone models. But what if this method does not work? What to do in such case? Don't worry I got you all covered up.
WAY 2: – Alternative to allow cookies on iPhone
If the above steps don't work, you can also try these:
Open your Setting option in your iPhone.
2. Open the Safari, Under the Privacy and Security section, turn off "Prevent Cross-Site Tracking" by swiping the slider to the left.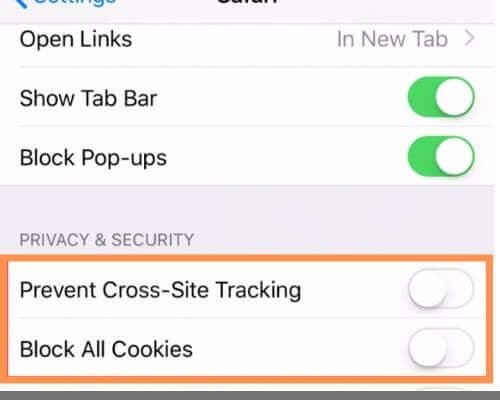 3. Make sure that "Block All Cookies" is turned off by swiping the slider to the left.
Hope this method has help you out in allowing cookies in your iPhone.
Read More: Why Does My iPhone Keep Restarting Itself?
WAY 3: – Mozilla Firefox
If you are using other browser as your default browser on iPhone here is the instructions to allow cookies on different browsers.
Open your Firefox app on your respective iPhone.
2. Now click on the three vertical dots that is given on the right-hand corner of your screen.
3. Under that click on the settings option given.
4. Under the privacy and security setting click on the site permission.
5. Once done click on the cross-site cookies.
6. Now all you need to do is click and select the ask to allow option and when it is time for you to save cookies you will notice allow and deny option this way you can allow and deny cookies on your call.
WAY 4: – Google Chrome
Open on Settings in chrome preferences.
Now choose Show Advanced Settings.
Tap on Content Settings under privacy.
Make sure to uncheck "Block third-party cookies and site data."
You don't need to enable cookies with browsers like Firefox and Chrome, if you want to browse without cookies being stored on your phone, you should use the "Incognito" mode (in Chrome) or "Private" mode (in Firefox).
Because in the main browser there is no way to turn off cookies.
Read More: How To Reset Network Settings On An iPhone?
Why Enable Cookies on My iPhone?
In this day and age, we are all very focused on privacy. Also, for privacy and security reasons, we do not use cookies.
But don't forget how cookies can help. We understand that in some place's privacy is the first consent, but in most places using cookies is very beneficial.
For example, today's Internet users have a myriad of identities on various platforms. And as a normal person, we cannot remember all these IDs and especially passwords.
The cookie remembers your login information for certain of her websites, so you are always logged in when you return to those her websites.
No more pressure on your brain to remember passwords you'll never get. If you don't use cookies, you'll have to reset your password every time you forget it.
The work of cookies does not end here. Cookies remember your preferences for a particular website or domain, as well as other preferences you have previously made. This saves a lot of time from annoying popups that keep asking questions.
The shopping cart is the best example to understand the importance of cookies when shopping online. Because they use cookies to store all the items you like.
Simply put, cookies are stress-relieving and timesaving at the same time. This is why you need to allow cookies on your iPhone.
Read More: How to Reset iPhone Back to Factory Setting?
How to clear data and website history or Cookies
When you disable cookies, and you don't want any data or cookies to be left on the website then all you need to do is follow the below mentioned step and you would be good to go.
Step 1: – Open setting option in your respective iPhone.
Step 2: – The scroll the way down till you see Safari.
Step 3: – Click on it and once you have opened it again scroll down and locate Clear history and website data.
Step 4: – Click on Clear History and Data and this shall clear up all the existing data and history then you have saved so far. Do remember that all your logins would also be deleted if you do this.
Read More: 4 Ways to Restore Deleted Apps On iPhone
In the end:
Now you know the steps to follow to allow cookies on your iPhone. Also, who needs to do the same in other browsers. Enabling cookies on your iPhone can be very helpful as it repeatedly saves the information you need.
It's best to enable cookies for certain websites. This puts both your interests and privacy first and saves important information. I hope you found this article useful.
Keep reading and keep growing.
FAQs
How to disable cookies on Firefox?
Disabling cookies is quite simple all you need to do is go to open Firefox > then click on the three vertical dots > Open Settings option > under Privacy and security click on delete browsing data.
Is it safe to allow cookies?
This is a grey area. Using cookies can be safe as well as harmful. Although your phone is not harmed that does not mean someone who steals your data would not be able to use them.