For security concerns, we all should change our account passwords or login details frequently. Same for the social media account also. It helps to protect your account from unauthorized access. There can be many reasons you wanted to change your social media account's login details and passwords.
Well, I don't want to waste your time talking about reasons for changing passwords and login details. You are here means you want to change your Facebook messenger password so let's talk about only how to change your password on messenger.
Important– Changing your Facebook account password will automatically change your messenger password as they both are interconnected to each other. Although you can also change passwords directly through your messenger app.
Quick steps to change your messenger password – Open messenger app >> tab on profile >> Account Settings >> Security and login >> Change password
Continue reading the guide to learn a step-by-step process of how to change password on messenger.
A brief overview;
Facebook is the most popular and leading social media platform that has millions of active users right now. Facebook introduced a messenger app for instant message service which allows Facebook users to connect with each other by sending instant messages, photos, videos, emojis, Doodles, etc.
Besides this, The messenger also provides services of support groups, sharing location, bills, and many more. Also by adding a camera feature, it supports video chatting and filters that make it more interesting.
How to change my password on messenger?
Facebook Messenger is the tributary of Facebook itself therefore, the passwords you change on the Facebook app will automatically change the password on messenger. (yay!)
There are ample ways to change Facebook passwords whether it is for security/privacy or any other purpose. Look at the below-detailed methods to change passwords on messenger.
How to change a password on android or PC?
If you have a laptop/ PC, you can also try this method to change your Facebook password instantly. Follow the steps to change the password;
Step-1: Launch the Facebook app on Android or move to the official Facebook page on your laptop/PC.
Step-2: Login to your account and once you are on your profile page, click the dropdown facing Arrow from the right corner of the screen.
Step-3: Hit the security & privacy option.
Step-4: Click the security and login option under the settings tab.
Step-5: Keep scrolling and go to the login section. Click on edit and then on change password.
Step-6: A new change password screen will catch your sight. Now just enter the current password and new password.
Step-7: Retype the new password and click on save changes to apply the changes.
Congratulations!! You have successfully changed your password including on the Messenger App.
How to change the password on the messenger app?
Changing passwords on messenger is not hard as it seems. Here are the steps you should proceed with to change the password on the messenger app.
Now let's walk through the steps to change your Facebook Messenger password in the Facebook Messenger app for iPhone, iPad, and Android devices.
Step-1: Launch the Facebook Messenger app on your iPhone, iPad, or Android devices. you will land on your Facebook messenger home screen.
Step-2: Tap on the profile icon in the upper left corner of the screen. A menu appears.
Step-3: Scroll down to the account and support section, and then tap account settings in this section. The settings screen appears.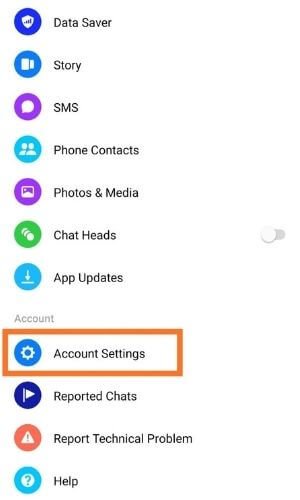 Step-4: Tap Security and login from the security section. The security and login screen appears.
Step-5: Tap change password in login section change. The password screen appears.
Step-6: Enter your existing Facebook password in the current password field. Then, Enter the new password you want to use for both Facebook and Facebook Messenger in the new password and retype the new password fields.
Step-7: Tap save changes after entering the required information. Logout of other devices screen appears asking if you want to be logged out of Facebook on all devices
Step-8: Choose either to review other devices or stay logged in.
Step-9: You will be returned to the security screen.
Step-10: You will need to use your new password going forward for both Facebook and Facebook Messenger.
And that's it! You have changed your password on messenger.
How to change your Facebook password (when logged out)?
If you don't know your current password then also you can reset the password.
In any case, if you are unable to access your account then you need to follow the steps to change or create a messenger password without even logging in to your account.
On any web browser, go to find your Facebook account page.
Enter your user name, full name, mobile number, or Email address to find your account.
Once you have entered your username or your mobile number or Email address they will ask you to select a mode to get a verification code to reset your password.
In the next step, you will get the code to reset the messenger password either through email or SMS.
By Following the instruction that appears on the screen, you can reset a new password for Facebook Messenger.
Now, you have successfully changed your password to a secured one.
Steps to Set up Two-way Verification on Facebook
Enabling two-factor authentication (2FA) on Facebook is a great way to add an extra layer of security to your account. The steps to set up two-way verification on Facebook are:
Log in to your Facebook account and click on the downward arrow on the top right corner of the page.
Select "Settings & Privacy" from the drop-down menu and click on "Settings."
Click on "Security and Login" on the left-hand side of the screen.
Click on "Edit" Under the "Two-Factor Authentication" option.
Click on "Get Started" and choose the verification method you prefer – either via text message or through an authentication app such as Google Authenticator or Duo Mobile.
If you choose text message, enter your phone number and then click "Continue". You'll receive a verification code via SMS that you'll need to enter on the next screen.
If you choose an authentication app, download the app and follow the instructions to set it up. You'll then be prompted to enter the code generated by the app on the next screen.
Once you've entered the verification code, click "Finish". You can also choose to set up a recovery code in case you lose access to your phone or authentication app.
You'll now see that two-factor authentication is enabled on your account. You can choose to turn on notifications so that you're alerted whenever someone tries to log in to your account from an unrecognized device.
That's it! Two-factor authentication adds an extra layer of security to your Facebook account, making it much more difficult for hackers to gain access.
You may also like:
FAQs
Do messenger and Facebook use the same password?
Yes, they both use the same passwords for the same Facebook account.
Does changing the Facebook password will change the messenger password too?
Yes, as mentioned they both use the same password. So, while you change the password on messenger, it will change the password for Facebook also.
Can we change passwords without a messenger?
You can change the password even if you don't have a Messenger App by the steps discussed in the guide.
How do I reset my messenger password without the Facebook app?
When you are already logged in on a messenger app, you can easily reset your password via the steps given for changing your password on messenger.
How to change your password without using your password?
All you need to do is click on the Forget password at the time you are logging in and during the time you were generating the password you might have put QA questions in case you forget your password. Or either you can use your email id to reset the password for the same.
Conclusion
If you've realized that your password isn't strong enough, go and change it now with the discussed methods above. Whether changing passwords for this reason or another, you must know the importance of strong passwords.
All these methods aforementioned to change the password on the messenger app or through any other source will certainly help you to accomplish your task without any struggle.