In today's fast-paced world, the ability to quickly and securely send and receive money online has become increasingly important. PayPal has emerged as one of the most popular and trusted payment platforms, allowing users to transfer funds easily and efficiently. However, many people may be hesitant to create a PayPal account because they do not have a credit card or prefer not to use one for online transactions. Fortunately, there are several options available for obtaining a PayPal account without a credit card.
In this guide, we will explore various methods for setting up a PayPal account and discuss the advantages and disadvantages of each approach. Whether you are a small business owner, freelancer, or simply looking for a convenient way to transfer money online, this guide will help you get started with PayPal without a credit card.
You do not need to pay anything to create Paypal accounts as we all know paper accounts are free to create and require nothing, only some basic details. There is no need for credit cards to set up a PayPal account. You just need to add a bank account from which you want to transfer your money.
Just fill in all the basic information to get your personal PayPal account. You will also get confirmation funds from Paypal which were deposited into your account. Like it's magic, where we can get an online transaction account without using a credit card. Directly transfer money from one account to another.
You just need to link your bank account to your PayPal account. When you do any transaction, the money will be directly transferred from your account to another person's account. You don't have to share your personal data with a PayPal account. This process is easier than you might think.
PayPal also works as Paytm, PhonePe, GooglePay, and many other money transaction apps. Sometimes, Paypal occurs login problems. Everyone can set up a PayPal account. Even you can also set up a Student PayPal account.
Do You Need a Credit Card For PayPal?
PayPal doesn't limit users for any particular subject, therefore you are eligible to use PayPal without a credit or debit card.
Although you will be required to open a free account with PayPal using your bank. Once the PayPal account is successfully created you can link your bank account to the PayPal account.
PayPal may take 3 to 5 business days to approve the account, but as soon as your account is activated and the bank is linked with PayPal you can send and receive money directly from your bank account.
The process does work in the same manner, as a debit card or credit card works. It withdraws money from the bank account in the receiving time, it deposits money straight to your bank account. Cool isn't it?
How To Get A PayPal Account Without a Credit Card?
Well, registering on PayPal is a simple process though you need to pay close attention to this to understand it properly. Follow the given steps.
To begin, go to PayPal.com and select the "Sign Up" option in the upper right corner.
Choose from an Individual Account or Business account. (According to your need). The individual account won't allow you to receive money. Though a business account allows you to both send and receives payment.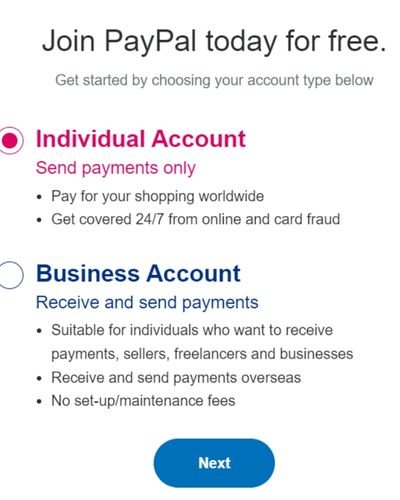 Tap on the Next button.
Enter Mobile Number An OTP (One time password) will be received on the given mobile number.
Enter the OTP and follow the on-screen instructions.
Once the account is ready, you can click on the settings and click on the link to a bank.
Fill up all the details and send them for review. It might take up to 5 to 7 business days.
Within this period, PayPal will send you two small payments (up to 1.5 RS) to the registered bank.
When you receive the amount enter it into the PayPal account.
Congratulations !! you are now ready to receive payments.
PayPal Account Verification
As we mentioned above, before you transfer money through the bank to vendors or vendors to your account, you will need to activate the account.
So the process of this is pretty simple: simply go to the PayPal site or app, log in with the login details and find the add bank. It will ask you to enter, your full name, bank account number, and IFSC code. (You can get these details on the checkbook, or you can contact the bank to get them).
Once you enter the details and proceed, the PayPal team will review your account, and once they are satisfied with the details, they will approve your account verification. (this may take up to 7 working days)
PayPal Account Limits
Can you use PayPal without a credit card & without any limit? We are sorry to say but NO!!. There are a few limits for the users which you must know before you create an account with PayPal.
If you just open the PayPal account and don't link (Bank account, Credit card, and debit card) then you can't make a transaction on PayPal. You will have to enable any of the above methods.
Yet, there are some limitations on transactions. You can send up to 10,000$ at a time and it may vary depending on the currency and the location you are making transactions.
But keep the thing in mind that, creating a Paypal account with a bank account is more beneficial, compared to creating an account with a credit card and debit card.
Why are we saying this? Well, Good question.
Wait let us explain, Once you link the bank account with Paypal, you can withdraw the money to the bank or spend it anywhere you want but the case is different with the credit card and debit card.
When you link any card with PayPal, and later someone sends you money in Paypal it can't be used anywhere except within PayPal, like (Shopping). So before linking anything you should be aware of this.
You May Also like
Conclusion
In conclusion, getting a PayPal account without a credit card is entirely possible, and there are several options available to achieve it. One can link a PayPal account to a bank account or use a prepaid debit card. It is essential to consider the advantages and disadvantages of each option and choose the one that best suits your needs.
Regardless of the method chosen, having a PayPal account opens up a world of opportunities for online transactions, making it a convenient and secure way to pay and receive money. With the right approach, anyone can create a PayPal account without a credit card and enjoy the benefits of this widely accepted payment platform.
However many had some doubts about the linking process with PayPal, therefore we have written this article, and we hope in this post we covered everything regarding Do You Need Credit Card For PayPal.
We also hope this article was helpful for you and solved all your queries regarding whether Can you use a Credit card on PayPal and others.
If you still have any questions or suggestions regarding Do You Need Credit Card For PayPal you can leave us a comment below.
FAQS
Q: Do I need a credit card to create a PayPal account?
A: No, you can create a PayPal account without a credit card.
Q: What are the alternatives to using a credit card for verification purposes?
A: PayPal offers several options for verifying your account, such as linking a bank account, adding a debit card, or providing your social security number.
Q: Can I receive payments without a credit card?
A: Yes, you can receive payments on PayPal even if you don't have a credit card. You can link your PayPal account to a bank account or use another payment method to receive funds.
Q: How do I add a bank account to my PayPal account?
A: To add a bank account to your PayPal account, go to your PayPal wallet and click "Link a bank account." Follow the on-screen instructions to provide your bank details and verify your account.
Q: Can I use a prepaid debit card instead of a credit card?
A: Yes, you can use a prepaid debit card to verify your PayPal account. However, make sure that the card is accepted by PayPal and has enough funds to cover any transaction fees.